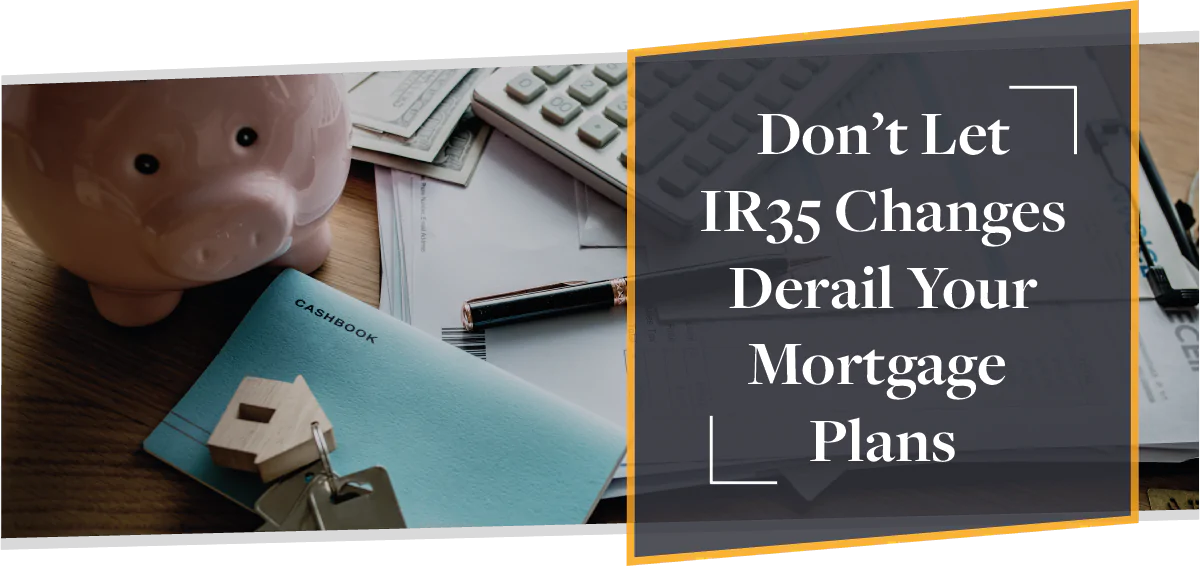 February 3rd, 2021
It's hard to believe it's February already but the changes to IR35 are just around the corner. Most contractors will now be aware of the changes and how it may affect their work and pay but have you considered how IR35 changes might affect your mortgage plans?

IR35 Changes: A Recap
By this stage, you've probably read more about IR35 in the last few months than you ever thought you would, but just in case you've managed to miss it – here's a recap on IR35.
IR35 as defined by HMRC means off-payroll working; ultimately, the legislation is designed to make sure workers are taxed fairly and to identify contractors and businesses which are avoiding paying the appropriate level of tax.
If you operate 'Inside' of IR35 you must pay the same tax as an employee, 'outside' of IR35 does not make you tax-exempt, however, you can pay yourself a salary and withdraw further income from dividends.
The shift in focus to employers rather than contractors has been delayed until 6th April 2021. The delay, announced in 2020, was helpful to contractors for a number of reasons but particularly due to the fact that for many it provides the chance to maintain their current role or to secure another on more lucrative terms.

Did You Know?
First mentioned in 1999, then referred to as the 'Intermediaries Legislation', IR35 was first implemented properly in the Finance Act for April 2000, and since then, has had a huge impact on contractors nationwide.

Why Consider This Now?
If you are considering getting a mortgage now could be the ideal time to do so if you expect your income to decrease once you begin working within IR35.
Providing evidence of regular income is one of the first items that potential lenders will review for a contractor.
We asked our experts everything you need to know about deposits and documentation here.
Checking your credit history and staying up to date with your credit score is also important.
Reviewing this regularly will allow you to see where you can improve your profile, which is essential to providing evidence that you are a reliable borrower.
Try an app like Credit Karma to keep an eye on your credit health.

Your Mortgage Plans
          Remortgage 
If you're considering ways to save money ahead of the changes to IR35, now might be an excellent time to review your circumstances.
Remortgage could potentially save you money by taking advantage of the lower interest rates. With house prices still on the rise, your house may be worth more now than when you originally took out your current mortgage deal, meaning you may not only be in the wrong interest bracket for your current house value but that you could potentially take advantage of being in a more favourable loan to value (LTV) bracket to raise additional funds at a lower rate.
CMME have a free guide to Remortgage for Contractors here or if you want more information on how you can use remortgage to improve your home, check out our recent blog on Remortgage for Home Renovation.
         First Time Buyer
 If you're a first-time buyer, you may find that your expectations for your deposit will need to be adapted in order to proceed with the reduction of high LTV mortgages this year.
With IR35 on the way, this could be a challenge if your income drops, that's why we'd advise looking at your mortgage plans sooner rather than later.

Try Our Calculator & See How Much You Could Borrow
         Buy To Let
Buy-To-Let mortgages, though often more expensive than regular mortgages, can be an excellent opportunity for contractors to boost their income.
Why Buy-To-Let Might Be For You?
Generate an income
Take advantage of the growing popularity of 'Staycations'
Grow or start your investment portfolio
Take a look at CMME's Free Guide on Buy To Let mortgages here.

Useful Resources:
Whether you want to talk specifics or are just after some general advice, CMME can help. Speak to us today on 01489 223 750 for a completely free, no-obligation mortgage consultation. Or click the button below.