When you have made the jump from a permanent position to contracting, you may be wondering how the new working status will affect your chances of securing a mortgage. The reality is that the majority of lenders have designed the mortgage application and processes with standard employees in mind.
However, there are an ever-increasing number of lenders who are willing to work with specialist brokers, like CMME, who have complete understanding of the financial side of contracting.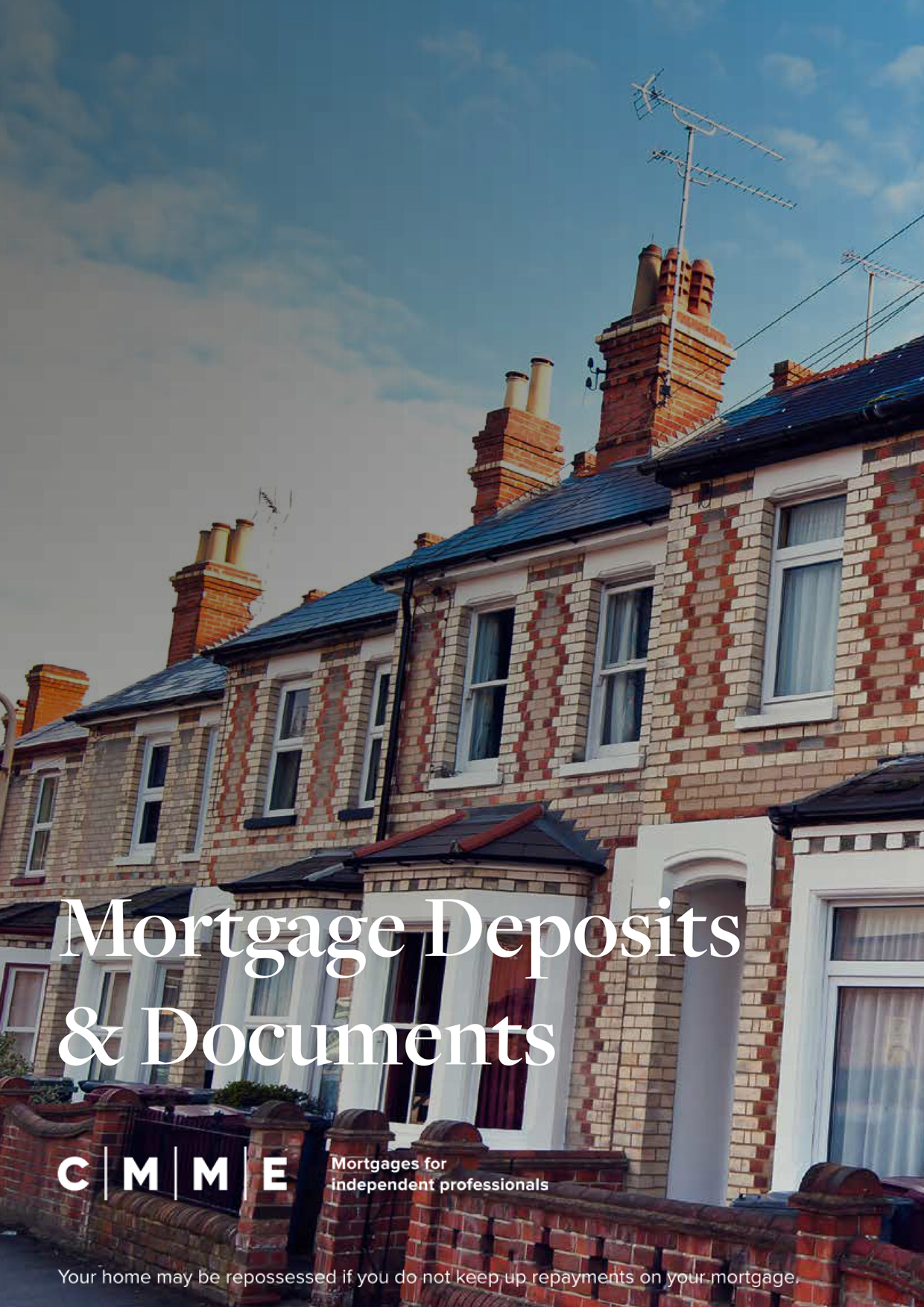 By choosing to use the services of a specialist, the contractor can be sure that their application is presented in the best way, minimising the risk of a decline.
When it come to your mortgage it's best to be prepared with the correct documents and deposits, our guide will outline what you need and what can help your chances of getting the mortgage you deserve.
What's in the guide?
What deposit will you need?
Inheritance or gift deposits
What deposit will you need?
Lenders tend to favour individuals with higher deposits, this is true for anyone looking for a mortgage.
To gain access to the most competitive rates you should ideally aim to save a deposit of anything between 10% and 25%. There are mortgage options out there for less than that, but they will be on a much higher rate.
The interest rate lenders charge varies depending on the size of your deposit, with the greatest differences usually between 5% to 10%, 10% to 20%, and 20% to 40%. On this basis, the larger the deposit you have, the more competitive the interest rate will be, and the cheaper your monthly repayments will be.
Once you've established what you can comfortably repay a month, and the amount of deposit you can put down, you'll get a pretty good idea of the purchase price of properties you can look at. You can also work out an appropriate purchase price through an affordability assessment with a mortgage lender. This will show you the level of advance available based on your income and ongoing monthly commitments. Combining this figure with your deposit amount will provide you with an indication of the maximum property purchase price you could look to buy at.
Inheritance of Gift deposit?
It's not unusual for your deposit to come from a gift or inheritance, often family members will want to help first time buyers get on to the property ladder. but if you are receiving your deposit in this way there are some things you will need to bear in mind.
If your whole deposit is from a gift or inheritance or part of your deposit is a gift or inheritance, most mortgage lenders require a full and thorough trail to the source of the deposit. This is to ensure it is a gift of inheritance rather than being a loan or a right to some ownership of the property, there is a risk for the lender that your parents might claim the money was a loan.
In the case of a gift deposit a lender will normally seek current bank or savings account statements which show the build-up of funds over a three-month period. They will normally require a supporting letter from the provider of the gift, which will need to confirm there is no expectation that the monies are to be repaid or that they expect to receive proceeds from any future property sale.
This letter should include the following:
That the gifter is assisting the buyer (son or daughter, for example) to buy a home (include the address of the property)
How much is being gifted
Understanding that this gift is an act of kindness and love, not motivated out of any commercial interest
Understanding that the gift is unconditional, non-repayable and does not give any right over the property and will not interfere with the security of the mortgage (include the lender's name)
A confirmation of finances – showing they are in good order at the time of writing and there is no reason to believe there is a potential for bankruptcy in future.
Signature, name, and date and signed by a witness
In the case of an inheritance sum to be used for a deposit most lenders would be satisfied with legal documents that confirm the funds are due to be bequeathed to the borrower.
Next steps
To get more information or to speak to our expert team contact us on 01489 555 080or email us at enquiries@cmme.co.uk

To download your own version of this guide with even more information and tips please enter your email below.

In providing the details above I hereby consent to CMME contacting me regarding my enquiry and keeping me updated regarding their products and services*
*You will have the option to opt out of this at all times. CMME will not disclose information about you or your accounts to anyone, other than where we have your specific consent, or are required to do so by law.