In the absence of a permanent employment package and Statutory Sick Pay (SSP) contractors can be vulnerable to financial risk. Should you find yourself in a position where you are unable to work due to an accident, injury or illness, then Income Protection is there to help support you in those times of need.
Whether you are off sick for a few days (short-term) or unable to work until retirement (long-term), an Income Protection Policy can provide you and your family with peace of mind.
Finding the right Income Protection plan takes time, as there are a variety of options available on the market.
What's in the guide?
• What is Income Protection
• What is covered by the policy, and what isn't
• Types of Income Protection
• How premiums are calculated
• How you can pay for your protection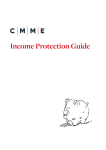 What is Income Protection?
Income Protection covers you if you can't work due to illness or injury. It replaces the income you would usually be earning until you can start working again or until you retire or die for more serious cases.
If you become ill more than once within your cover, you can claim on your policy as many times as you like.
What is not covered?
Unfortunately, Income Protection does not protect you from unemployment caused by anything other than ill health or injury.
Types of Income Protection
Long-term Income Protection
This policy pays out until your return to work, fixed age or death. Because it is underwritten at the time of application, you will know exactly how much you are covered for from day one.
Short-term Income Protection
Rather than being set up to pay out at death or retirement, this policy has a fixed payout period, usually between one and five years.
How benefit premiums are calculated
Because of the ever changing nature of contract roles, your income may vary depending on contract availability. Because of these fluctuations in salary, contractors can apply for Income Protection Policies that provide a varying level of cover depending on the provider.
The policies on offer allow contractors to insure up to 50 – 60% of their taxable income, and given this variation of cover on offer, it is important for contractors to seek appropriate advice regarding their needs and provider variations on available benefit.
How to pay for income protection
Paying for your policy couldn't be easier. You fund your Income Protection policy through personal channels, with the premiums you pay coming directly from your personal bank account.
If you happen to make a claim, the payments you will receive are paid directly into your bank without any tax implications. This is because tax and NI have already been paid on the monthly premium for the cover.
Using this channel allows you to insure yourself up to 60% of your gross salary and dividends.
Deferred period
The 'deferred period' is the amount of time you wait for the policy to be paid out after claiming. This can be anywhere between 4 weeks and 1 year. The longer your chosen deferred period, the less your policy will cost, i.e. because you may recover prior to the waiting period ending, meaning less risk for the insurer, and therefore you're cheaper to cover.
A deferred period of a month will cost you more but is more likely to pay out due to the shorter waiting period.
Depending on any savings you may have, you could choose to defer your benefit for a longer period such as 3 to 6 months. This means that you couldn't claim for any short term problems but would be covered against a more serious injury or long term illness.
What CMME will do for you
Your experienced protection consultant will talk you through what might work best for you once they have assessed your requirements.
They will then search the market looking for your perfect income protection policy. You can then feel assured that you are getting the best cover for your needs. Our admin team are on hand to guide you through the application process to ensure this is done efficiently.
If you need to make a claim on the policy, our dedicated team will be there to help you through what can be a frustrating and stressful time.
Next steps
To get more information or to speak to our expert team contact us on
or email us at enquiries@cmme.co.uk
Why not download a free copy of this guide?