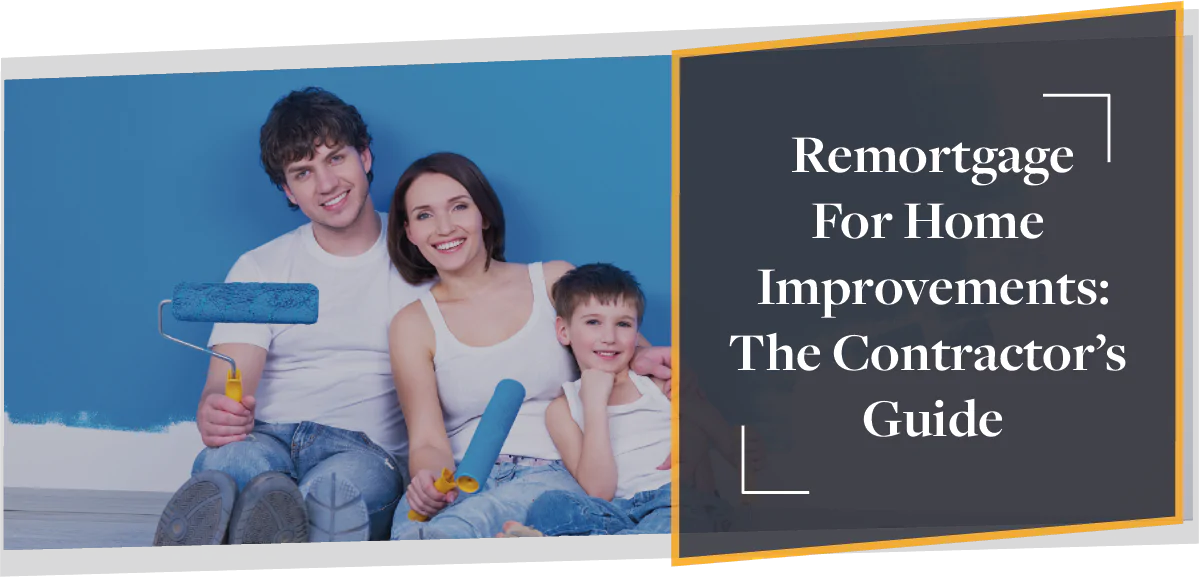 November 6th, 2020
Remortgage for Home Improvements
With a second lockdown announced earlier this week, home is the one place you will be spending a lot of time. Looking back to March (which may feel like a long time ago), many of us might have wished for a heads up about working at home, queuing everywhere we go and making the most of our homes during a lockdown.
This time, heading into lockdown, we know how to work-at-home and we've mastered queuing and now it's time to make the most of your home.
Whether that means finally committing to the home office or adding a conservatory to capture the winter sun, remortgaging could be a way to realise those goals.

Remortgage: The Basics
Let's go back to the basics – put simply, a remortgage is where you take out a new mortgage on the property you already own.
There are a number of reasons you might consider doing this from finding a better rate to raise funds for home improvements – in this handy article we'll cover all this and more. 
Can I Remortgage For Home Improvements?
Yes, you can! As with all mortgages, your ability to remortgage will depend on your personal circumstances and the value of your property. Homeowners remortgaging typically raise funds home improvements, debt consolidation or special occasions such as weddings.
Over half of remortgages in 2019 were equity withdrawn mortgages according to Finder – using remortgage to achieve your home improvement dreams is entirely possible.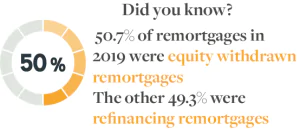 According to Finder, 2020
Will My Current Lender Let Me Remortgage For Home Improvements?
NatWest found in their 2020 remortgage survey that 19% of homeowners remortgaged to fund home improvements – with this percentage of homeowners using remortgage, for this reason, it seems reasonable to suggest that many lenders will support remortgage for this purpose.

What Do I Need To Consider Before Applying For A Remortgage To Pay For Home Improvements?
Are you on a great deal already?
Has your home value dropped?
Have you had severe credit issues since your first mortgage?
When Should I Remortgage: Before Or After The Home Improvement Work?
For the most part, many will not have the extra funds to hand to fund your home improvements prior to remortgage.
Certainly, there are potential benefits to having your home improvements done prior to your remortgage if you have the budget to complete the work you would like to have done – after improvements, your lender may value your house higher resulting in a lower Loan To Value and you'll potentially have access to better, deals and lower mortgage rates.
There's an element of risk with this method in terms of mortgage and interest rates changing whilst you're having work done.

What Is The Cost Of Home Improvements (And Remortgage)?
As with many purchases, this is going to really vary depending on what work you're having done and the scale of it.
GoCompare conducted a survey into the most common home improvements, we've figured out how much they would typically cost so you don't have to:
1. Adding an extra bedroom 
The Telegraph stipulate that adding an extra bedroom could cost anything between £15,000 to £40,000 depending on the size and other variables – but outline that it could add up to 10% to your property value.
2. Getting a loft conversion 
For a full loft conversion Homebuilding & Renovation estimate, this will set you back anywhere between £15,000 and £55,000.
3. Fitting solar panels 
The price of a typical solar panel system, including installation, is about £6,200 according to Money Saving Expert.
It's important to remember that solar panels can potentially add value – but they could also reduce the value of your property – it's worth considering the length of time you will be in the property before you think about adding solar panels, 
4. Knocking through rooms 
According to CheckATrade to knock through a load-bearing wall costs, on average, anywhere from £1,250 to £1,750 to remove the wall and £800-£950 to install suitable supports.
5. Building an extension 
Homebuilding & Renovating calculate that a single or two-storey extension of good quality will cost you approximately £1,700 to £2,000/m2.
6. Installing double glazing 
The Double Glazing Network state anywhere between £150 to £600 per window is pretty reasonable for double glazing installation here in the UK.
7. Having a garden makeover 
Landscaping your garden can get very pricey depending on what you want to have done, which is why we've included this breakdown as to the estimated costs you may be charged by tradesmen:
| | |
| --- | --- |
| Landscaping job | Estimated cost |
| Patio | £800 for 4m x 2m area |
| Decking | £800 to £1000 for 4m x 2m area |
| Remove patio & replace with lawn | £500 for 4m x 2m area |
| Real grass | Around £560 per 40m2 area |
| Artificial grass | £3000 for 40m2 area |
| Fencing (1.83m high panels) | Around £1000 for 4m x 4m garden |
| Brick wall | £650 for 1m x 12m wall |
| Raised vegetable beds | £200 to £800 for 4m x 1.5m depending on the height |
| Pond | £400 to £800 for 1.5m diameter |
| Railway sleepers | £1040 for about 50m |
8. Installing a new boiler or central heating system 
According to The Heating Hub, a new combi or system boiler will cost between £600 – £850 for a budget model, £800 – £1,100 for a mid-range model and £900 – £2,000 for a premium model depending on boiler size. A heat-only boiler will cost between £500 – £1,500 according to size and quality. This of course does not include the cost for installation.
9. Installing a new kitchen 
The average price of a new kitchen installation in the UK costs around £5,000 to £6,000 reports MyBuilder.com, however, this can really vary depending on how much your new kitchen itself costs.
10. Having a new bathroom fitted 
Victoria Plum estimates that overall, the average cost of installing a new bathroom in the UK is £4,500 though similar to a kitchen installation this varies significantly depending on the bathroom suite you select.
You should also account for any early exit fees from your current mortgage deal however it is frequently the case that the associated savings or funds raised with your new mortgage rate could be worth accounting for the early exit fees. 


15 Steps To Remortgage For Home Improvements
1. It's worth beginning by estimating the costs of your home improvements – what work would you like to have done? Roughly how much do you think it will cost? Don't worry too much about specifics at this stage, just give yourself a guideline.
Consider whether you will need to apply for and obtain Planning Permission from the local Council to be able to make the improvements you want to; if you're thinking of something like an extension or loft conversion.
2. Remember there may well be fees involved in remortgage, consider things like early exit fees and arrangement fees before you think about remortgaging.
3. Check how much you could potentially save with our Remortgage Savings Calculator
4. Get before and after valuations for your house
 5. Check out our Free Remortgage Guide for contractors
 6. Now it's time to get quotes for the work you'd like to get done and also time to figure out any additional costs you might incur with your home improvements
 7. Speak to a specialist mortgage broker about your remortgage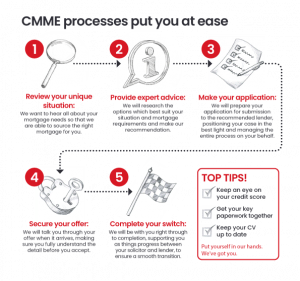 8. With the help of your specialist mortgage broker, apply for your remortgage
 9. Submit your application, tidy away the paperwork and get ready to improve your home
 10. Wait for the valuation and underwriting stage to be complete
 11. Get your approval (woo hoo!)
 12. Raise your funds
 13. Get the work done – make dreams a reality
 14. Collect any certificates you might need for when you come to sell your property
 15. Sit back and relax in your newly renovated home. Enjoy it!

 Useful Resources:
CMME can give advice and support to self-employed people in these unprecedented times and offer bespoke advice on your individual situation. If you would like to know more, please contact us today.