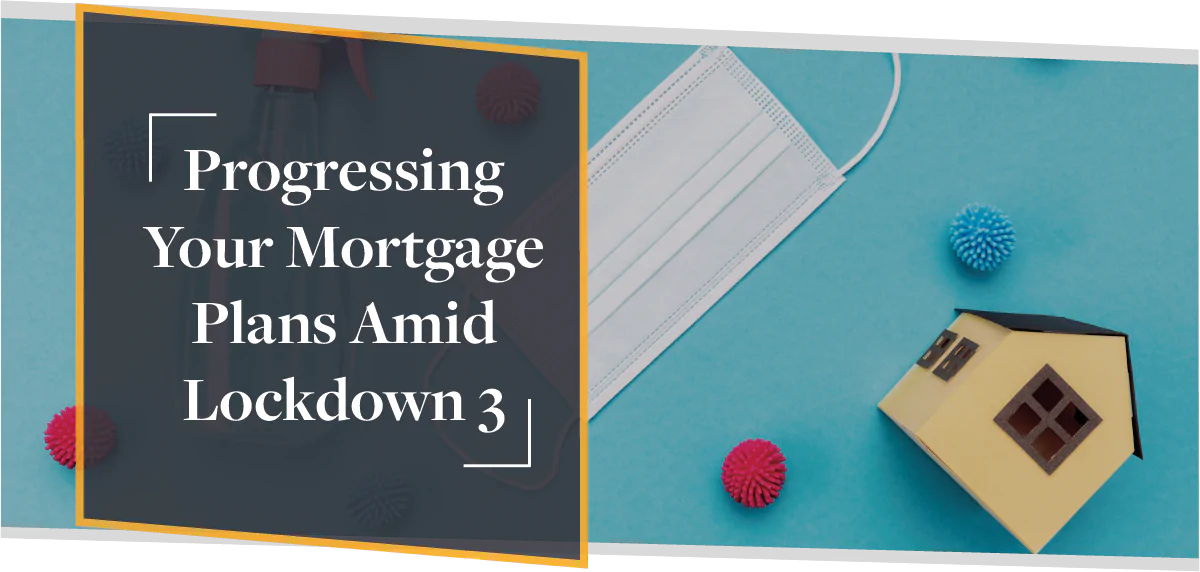 January 12th, 2021
Thinking About Buying A House Or Moving Home During Lockdown 3?
Buying or moving home on the agenda for 2021? A new year, new mortgage resolution? Worried that lockdown 3 will get in the way of those plans?
Fear not, CMME explains what the government's latest guidelines detail and how they compare to the previous lockdowns for the mortgage market.

What Are The Lockdown Rules This Time Around?
As we become more practiced at a lockdown as a nation the rules will seem more and more familiar, as a refresher, this is an overview of the rules for the latest lockdown:
You should only:
Shop for basic necessities, for you or a vulnerable person
Go to work, or provide voluntary or charitable services, if you cannot reasonably do so from home
Exercise with your household (or support bubble) or one other person, this should be limited to once per day, and you should not travel outside your local area.
Meet your support bubble or childcare bubble where necessary, but only if you are legally permitted to form one
Seek medical assistance or avoid injury, illness or risk of harm (including domestic abuse)
Attend education or childcare – for those eligible
More details about the latest restrictions can be found on the government's official website.

What Do The Guidelines Say About Mortgages?
Specifically, the guidelines around the mortgage market are much more optimistic for those with home moving plans over the next few months. Unlike with the first lockdown, the market won't see much of an impact from the latest government guidelines:
This time:
Estate agents and removal firms will remain open
You'll still be able to move home. People outside of your bubble should not help you move unless absolutely necessary
You're still allowed to go to property viewings as long as social distancing is observed
Where possible, take advantage of virtual viewings instead of in-person viewings

How Does This Differ From Lockdown One & Two?
 So how does this differ from the first two lockdowns?
Without preparation, the first lockdown hit the mortgage market in a big way, unable to predict the national lockdown the market came to a standstill as a result of the lockdown – valuations and viewings of properties could not continue and lenders, in an emergency response, withdrew many of the more affordable products to help stem the flow of business to accommodate staff shortages and perceived increased risk.
For the second lockdown, though a decision that came at short notice, mortgage plans won't have been affected too significantly, as with the latest lockdown.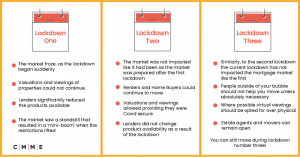 With Covid-secure planning and social distancing now in place, and many areas already accommodating more severe tiered restrictions, renters and homebuyers could continue to move.
The only notable difference between this lockdown and the last is that additional help from family and friends should be avoided unless absolutely necessary in line with social distancing and the latest restrictions around socialising.

Mortgage Approvals & House Prices?
Recent figures from the Bank of England showed that the number of mortgages approved by banks and building societies for home purchases had leapt to 105,000 in November – the highest figure since August 2007 the month before the financial crash began. Arguably, this is the prime time to action your mortgage plans as mortgage approvals haven't been higher in thirteen years!
What's more, house prices are still at an all-time high after months of steady increase. According to Halifax, the average price of a house in the UK reached a record high of £253,374 in December but growth is slowing, and prices may fall over the year.
It's worth remembering that even if you are mid-mortgage deal, your house price increasing could mean that you could save money through remortgage, as you may have entered into a band of lower interest.
Check our free guide on remortgage for contractors to find out more.


Anything Else You Should Consider?
There's a couple of factors to consider as a self-employed professional considering your mortgage plans this year:
Stamp Duty
There's a limited amount of time left to benefit from the Stamp Duty holiday implemented by Chancellor Rishi Sunak last year in order to stimulate the market post-lockdown.
Stamp Duty Land Tax is a tax normally required for most people when purchasing a property, but until the end of March 2021, there are significant savings to be had on your property purchase as the thresholds for Stamp Duty have been raised. This means that someone purchasing a property in London could save up to £15,000!
At that amount, it's really not worth missing out on. Especially if your plans are already in the works.
You can find out more about the Stamp Duty holiday in our recent article here or on the government's official website here.
IR35
After the changes to IR35 were delayed in March 2020 (in order to lessen the potential effects on freelancers alongside the pandemic), the amendments will come into action this year as of 6th April 2021.
The way you work may change when these new rules come into force, if you are considering getting a mortgage, now could be the ideal time to do so if you expect your income to decrease once you begin working within IR35.
You can read more about how IR35 might affect the way you work and your mortgage in our article here or on the government website here.

In Summary?
Put simply, you shouldn't worry too much about the third national lockdown when it comes to your mortgage plans – though things may be a bit trickier, and you'll have to fore-go the house-warming party (unless you do it via zoom) the market continues to function and your dreams can become a reality.

Useful Resources:
Whether you want to talk specifics or are just after some general advice, CMME can help. Speak to us today on 01489 223 750 for a completely free, no-obligation mortgage consultation. Or click the button below.