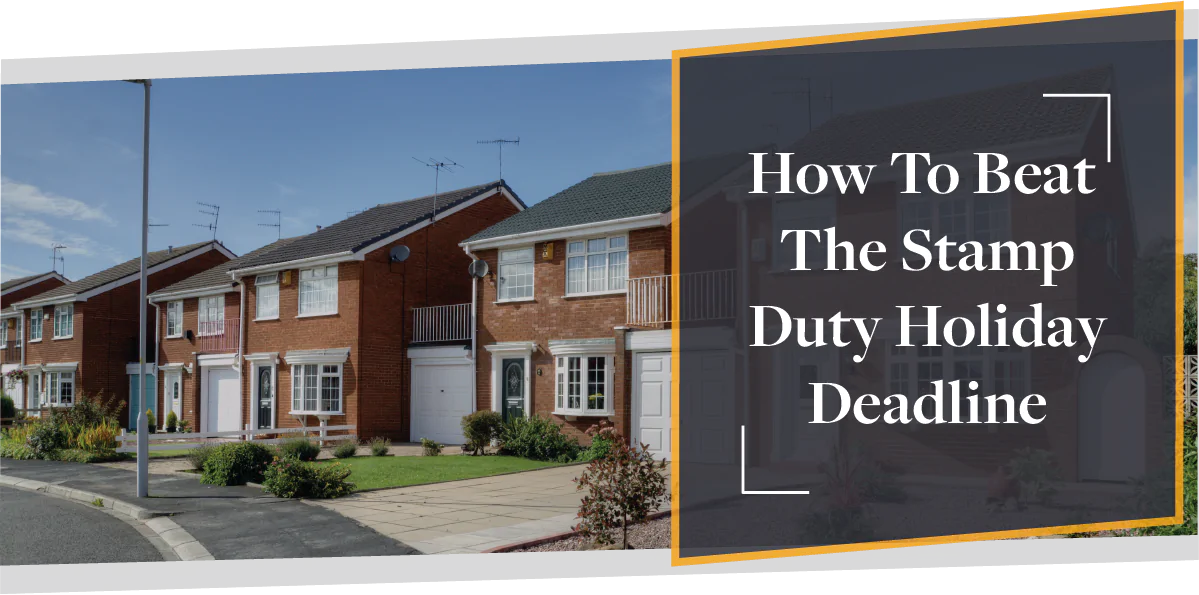 November 11th, 2020
The Stamp Duty Holiday Is Due To End
If you're looking to take advantage of the Stamp Duty holiday before the current March 2021 end date, homebuyers are advised to act quickly to get ahead of this deadline.
Between the increasingly high demand for mortgages, the pressures of coronavirus on the market – and now, the potential issues of a 2nd national lockdown – delays have been created in the process.


A Brief Recap: The Stamp Duty Holiday & What It Means For You? 
The changes announced to Stamp Duty by chancellor Rishi Sunak in July mean that you could still save thousands of pounds on your house purchase – depending upon the percentage of tax that would, ordinarily, be due based on the value of the property you intend to purchase.
There is, until the end of March 2021, a Stamp Duty exemption on properties up to £500,000 and considerable savings above this threshold.
Here's a breakdown of the Stamp Duty changes within the brackets:
| | | | |
| --- | --- | --- | --- |
| Property price | Previous stamp duty bill | Revised stamp duty bill | Stamp duty saving |
| £150k – £200k | £0.5k – £1.5k | £0 | £0.5k – £1.5k |
| £200k – £250k | £1.5k – £2.5k | £0 | £1.5k – £2.5k |
| £250k – £300k | £2.5k – £5k | £0 | £2.5k – £5k |
| £300k – £350k | £5k – £7.5k | £0 | £5k – £7.5k |
| £350k – £400k | £7.5k – £10k | £0 | £7.5k – £10k |
| £400k – £450k | £10k – £12.5k | £0 | £10k – £12.5k |
| £450k – £500k | £12.5k – £15k | £0 | £12.5k – £15k |
| £500k – £925k | £15k – £36.3k | £0 – £21.3k | £15k |

How Has It Affected The Market?
The holiday, intended to stimulate the mortgage market following the first lockdown, has certainly done the job.
Halifax stated that over the last three months it has received more mortgage applications from both first-time buyers and home movers than any time since 2008.
As the UK's largest mortgage lender Halifax has attributed the increase in mortgage applications to both a desire for more room in the work-at-home era and to the Stamp Duty holiday.


When's Your Last Chance To Take Advantage? 
With the market as stimulated as it is, the processing time for mortgage completion can take up to 115 days at the moment according to recent market research. By this standard, your last opportunity to take advantage of the stamp duty savings theoretically sits at the 6th December 2020.
It's important to remember however that as many home buyers may still have plans to utilise the Stamp Duty holiday and influx may be expected in mortgage applications ahead of this deadline causing potential delays.
To be certain that you will be able to make the most of these savings we recommend beginning your mortgage process as soon as you are ready.
To find out more about the Stamp Duty holiday, see the official government website.

5 Quick Mortgage Ready Tips 
Know the market
When you're thinking about house purchase, whether it's your first home or your moving to a new house – check out the market – it's important to know what's in your budget. Research and account for any associated property costs like council tax, utility bills and insurances.
Make sure your credit score is looking healthy
As a part of your mortgage application, your lender will need to conduct a credit check. Whilst poor credit doesn't mean you won't be able to get a mortgage it's worth checking your credit report is healthy.
Don't undertake credit searches before you look at mortgages and pay off as much debt as possible in order to boost your credit score.
Use a free service like Credit Karma to check your credit score.
Get your deposit ready
This is one of the biggest hurdles to your mortgage process and having a deposit ready will help streamline the process. Whether you're saving or getting gifted a deposit by direct family – have you deposit ready for when you start the mortgage process. 
Take a look at our experts Q&A on deposits and documents here.
Work out your stamp duty savings
As we've just outlined the Stamp Duty holiday will only last until the end of the tax year – March 2021 – so if you're looking to benefit from these savings you have to act fast!
Try this calculator to see how much you could save!
Get your paperwork in order
 Typically, you'll need three months' personal and business bank statement, a valid photo ID,  and a valid proof of your current address; along with proof of your earnings and proof of deposit for your mortgage application.
Having these ready to go can save you a lot of time and help speed along your mortgage journey!

Useful Resources:  
CMME can give advice and support to self-employed people in these unprecedented times and offer bespoke advice on your individual situation. If you would like to know more, please contact us today.