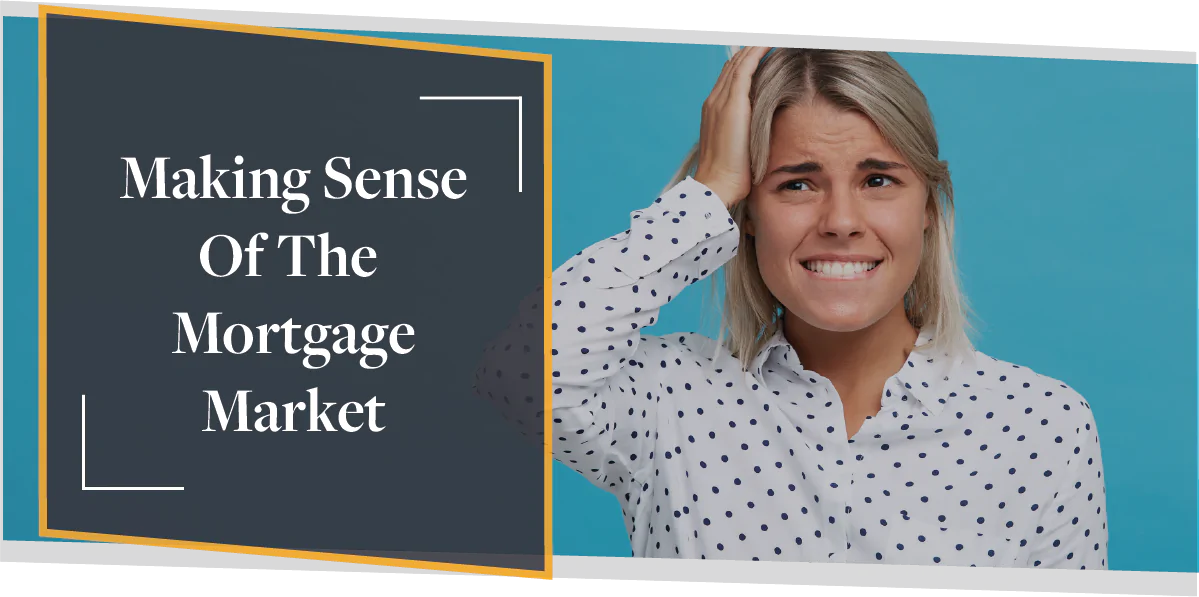 October 30th, 2020
It can be a headache to stay ahead of what's happening in the mortgage market this year even with one eye on the news.
With the market changing daily, legislative changes and the continuing dilemma of working through COVID-19, the market is both stimulated and difficult to navigate.
CMME reviews the market conditions right now, expected delays and what this means for you here.
A Stimulated Market: What's Affecting The Mortgage Market?
When everything ground to a halt in March, many expressed concerns for the UK mortgage market.
Whilst those concerns were natural, the market has bounced back with zeal. Between virtual valuations and the Stamp Duty holiday, the market is bustling.
This is, in some ways, a double-edged sword. Some have predicted that the mortgage market cannot sustain this 'mini-boom' and that we may experience a crash next year. Others argue that the stimulated market is beneficial for homeowners this year.
 The Stamp Duty holiday announced in July 2020 will be coming to an end in March 2021. Intended to stimulate the market, Chancellor Rishi Sunak's plan has certainly been effective. A particular boon to buyers looking at more expensive properties, the Stamp Duty holiday has meant huge savings for home buyers.
You can find out more about it in our recent article here or on the government's official website.
2020 has also seen house prices rising at the fastest rate in four years. These rises take the average house price in London up to £666,264 in October according to Zoopla. In other parts of the country like the South East house prices are averaging at £390,471.
Understandably, this has expedited many people's desire to move. 

What's Happening With Rates?
The Bank of England are due to meet next week to discuss the base rate, however here's what's happened so far this year:
Early this year, in an emergency response to the Coronavirus pandemic, the Bank of England slashed the base rate from 0.75% to 0.25%, and then once further to 0.1% in March 2020, where it remains at a historic low. This was a measure intended to reduce the risk of inflation increasing.
What does this have to do with the mortgage market? The Bank of England base rate affects all loan and mortgage interest rates in the UK.
By maintaining the current BoE base rate at 0.1% borrowing is cheaper, but it also means that the returns on savings will be less as well.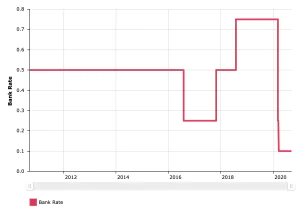 The history of the bank rate changes from the Bank of England
 This means that not only will new mortgages benefit from a lower rate but those with existing tracker mortgages will likely have seen the benefits of this drop in their monthly repayments already.
For those on existing fixed rates or SVR, there is the potential to take advantage of these low rates through remortgage though some may encounter early exit fees if mid-term.
So, Is Remortgage The Solution?
The current base rate does make remortgage an appealing solution for many. Growing more and more prevalent, there are a number of reasons to consider whether remortgage is for you in 2020.
Base Rate
A principal reason to consider remortgage, as has just been highlighted, is the current Bank of England base rate.
You could fix your mortgage on a new lower rate whether your mortgage is due for renewal or if you're mid-term subject to the benefits of lower repayments outweighing any early exit charges, particularly if your promotional has offer ended and you're on your lender's typically higher Standard Variable Rate.
At the centre of this debate is the simple fact that the base rate isn't likely to remain low forever. Similar to the stamp duty holiday, if you want to take advantage of the interest rates, this is something you should consider imminently.
House Prices
 With house prices rising, selling your house and moving on isn't the only way you can take advantage of the property boom. If your house is worth more now than when you took out your current mortgage deal you may be able to release more funds than expected through a remortgage.
Typically, people use the additional funds raised through a remortgage to help with dreams: dreams of renovating their home, consolidating debt or putting together that dream wedding – those funds could turn your dreams into a reality.
 Happiness
 Can remortgage really increase your happiness? In short – yes.
NatWest found in their 2020 remortgage survey that 3 out of 4 homeowners say remortgage has had a positive overall impact on their lives. They also found that 3 in 5 would consider remortgaging again to finance home improvements in light of COVID-19. Participants cited stress-relief and mental well-being among the other impacts of remortgage.
Remortgaging gives homeowners the opportunity to build funds by saving money on their repayments or simply make their mortgage work better for them.
Are Delays Expected?
 There are a number of reasons delays could be expected in the mortgage process this year.
Between the Stamp Duty holiday and the boom after the market shut down for March's lockdown, the mortgage market is bustling, however, lenders may not have been prepared for this sudden increase in mortgage traffic.
Lenders have issued apologies regarding the increased processing times, citing staff shortages, surveyor delays and COVID-19 as instrumental in slowing the mortgage process.
Whilst the nation has been affected by these factors too and we are all growing used to queuing, the added complexity of COVID-19 to the mortgage process should be accounted for when you're thinking about your plans for the coming months.
This is especially important if you're looking to take advantage of the Stamp Duty holiday or get the ball rolling for your plans before IR35 at the end of March 2021.

What Does That Mean For My Mortgage Plans?
Now is a great time to consider your mortgage options, though this year has been difficult to navigate there are a lot of incentives to proceed with your mortgage plans this year.
If you're a first-time buyer, you may find that your expectations for your deposit will need to be adapted in order to proceed with the reduction of high LTV mortgages this year.
It's worth remembering that this could be a prime opportunity to look at property investment and remortgage, really 2020 presents a unique chance to explore the avenues for your property plans, maximising your available choices.
5 Top Tips To Navigating Mortgage Madness
1.Check your credit.
Look at your profile/report to ensure you have a healthy score. Close credit and store cards that you do not use to boost your score, as mortgage lenders treat unused but open credit as potential debt.
Do not undertake credit searches before you look at mortgages. Pay off as much debt as possible.
2. Get a deposit.
Either save, get a gift from direct family, or look at products like Barclay's Family Springboard mortgage or Lloyd's Lend-A-Hand (where parents or family members place money in a savings account connected to the mortgage).
Generally speaking, the bigger the deposit, the lower the interest rate.
3. Clarity is key.
Ensure the spending evident on your bank statements over the past three months is reasonable (no missed/late direct debits/stay in the black.)
4. Review the marketplace.
Know what house prices are doing and investigate all costs associated with the property including council tax, insurance, and utility bills.
5. Get your paperwork ready.
You will need three months' personal and business bank statements, in-date passport and/or a driving licence, proof of your earnings (contracts or trading accounts if you don't work via contracts) and proof of deposit.
Useful Resources
Here's some useful resources for finding about more about what we've covered in this article:
How To Stay Ahead Amid Lender Changes
How Does Remortgage Work For A Contractor?
CMME can give advice and support to self-employed people and offer bespoke advice on your individual situation. If you would like to know more, contact us today.