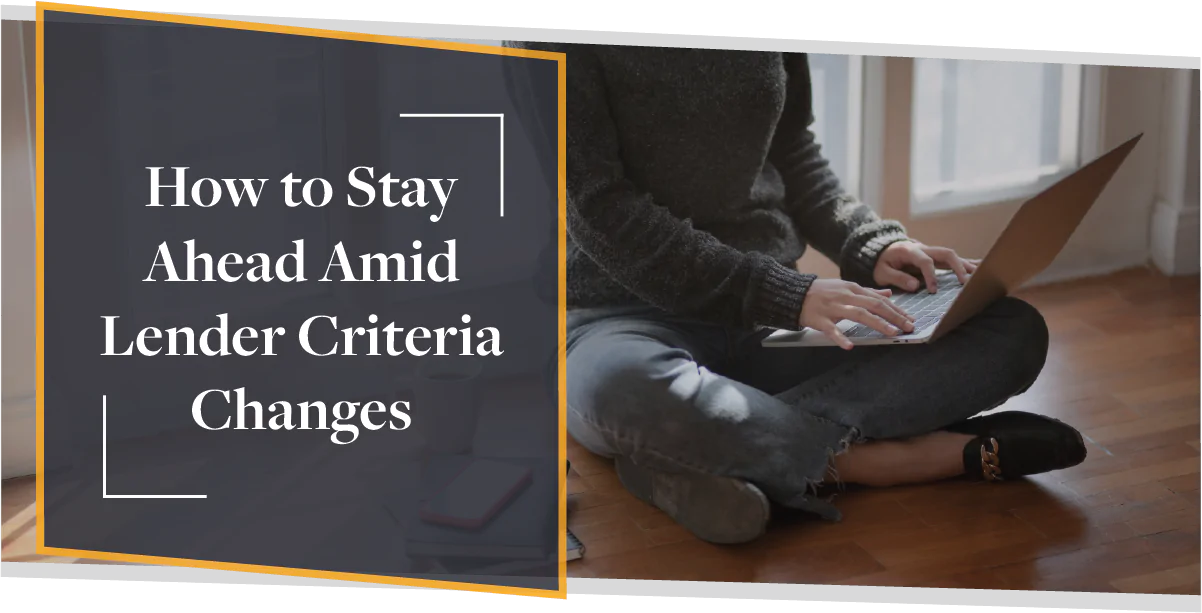 October 12th, 2020
If you're thinking about buying this year, it's worth bearing in mind that amidst the mortgage market highlights this year there have been many lender criteria changes too.
Here at CMME, we want to make sure you're as prepared as you can be for your mortgage journey and that means accounting for these potential changes when considering your lending options.
Why are lenders making changes?
Over the course of the Coronavirus pandemic, lenders have had to adapt quickly to market conditions – between the Chancellor's announcements regarding income support, Stamp Duty and other plans to support the economy, regional lockdowns and virtual valuations, lenders have had to be ready for changes at every turn.
Whilst some change to lending criteria is perfectly normal, 2020 has seen a disproportionately high number of criteria changes. According to FT Adviser, in June 2020 there were 746 changes to residential lending criteria, in comparison to 390 in the same month in 2019.
For any prospective home buyer's this year it's important to be prepared for anything and having an expert team at your side may help to smooth the mortgage process.

What changes are being made? 
Here are some of the key changes that may affect your mortgage plans:
Potentially the biggest impact on house buying at the moment, the temporary withdrawal of many 90-95% mortgage products may impede buyers with a lower deposit or first-time buyers who don't have the potential to increase their deposit quickly. This measure, whilst temporary, has put the few high LTV mortgage options still available in high demand. Preparing yourself and your expectations about the mortgages available is vital in light of this change – be prepared for longer processing timescales than would normally be the case.
Though virtual property valuations helped the housing market to begin moving again as lockdown eased, there are some drawbacks to this new mode of valuating.
Virtual property valuations may potentially result in your current property being valued at less than it may with a physical valuation. If a second national or regional lockdown occurs it's worth bearing this in mind when it comes to selling your property.
Whilst contractors may expect some increased push back against their complex income from high street lenders, Covid-19 complicates things further. For many contractors, gaps in contracts will have occurred this year – though this doesn't mean you won't be able to get a mortgage, it may reduce the number of lenders available to you.
What do criteria changes mean for me as a contractor? 
As a contractor it can be useful to get expert help in any case with your mortgage journey – being independent makes you different from the norm, too often that means conventional service providers can end up leaving you in the lurch.
At CMME, we're dedicated to supporting Britain's growing community of independent professionals – particularly in the wake of COVID-19s impact.
For us, your mortgage is as unique as you are and we know the value of listening carefully, asking the right questions and being ready to work hard on your behalf. 
Tips to stay ahead of potential changes:  
When you apply for a mortgage, as with most credit agreements, lenders will need to conduct a credit search. Don't let a poor credit score get in the way of the mortgage you deserve. Check your credit report to ensure you have a healthy credit score.
Use a free service like Credit Karma to get an idea of your credit health and how to improve it.
In light of the changes, it may be best to increase your deposit where possible and have it ready when you start your application. Either save, get a gift from a direct family member or consider a Family Springboard mortgage* (where parents or family members place money in a savings account connected to the mortgage).
Typically, the bigger the deposit, the lower the interest rate. With the reduction of 90% mortgages available this year, a bigger deposit is going to be required, but does come with additional benefits due to the lower rates and improved underwriting timescales with most lenders.
*This is a Barclays Bank product but other lenders have equivalent products; Lloyds Bank's 'Lend a Hand' Mortgage or Halifax's 'Family Boost Mortgage', for example.
2020 has seen record numbers of house sales and increased house prices – between this and the stamp duty holiday, the UK mortgage market is bustling.
As you begin the mortgage process, figure out what you're looking for, what fits your dream criteria and what's a dealbreaker? What are the associated costs with the property you're considering, like council tax and utilities? 

Is now a good time to get a mortgage?
There have been lots of highlights for the UK mortgage market in 2020, with record highs in house prices, historical lows for interest rates and the stamp duty changes.
Simon Butler, head of mortgages at CMME, had this to say:
"Contractors looking to get onto the housing market will be acutely aware that the lack of Stamp Duty for properties under £500,000 provides a considerable saving. As IR35 is still looming in April 2021, it's wise to consider a purchase now while you have a more favourable income stream under your current contract terms. Newly secured contracts are likely to be less lucrative, due to the increased tax burden under some contract terms, so there are many plus points to considering a home move before the new year."
We've discussed some of these highlights in our recent articles:
If you're thinking about a mortgage or remortgage in the near future, it might be worth contacting an expert to help you navigate the mortgage market amidst COVID-19's continued impact.
CMME can give advice and support to self-employed people and offer bespoke advice on your individual situation. If you would like to know more, contact us today.