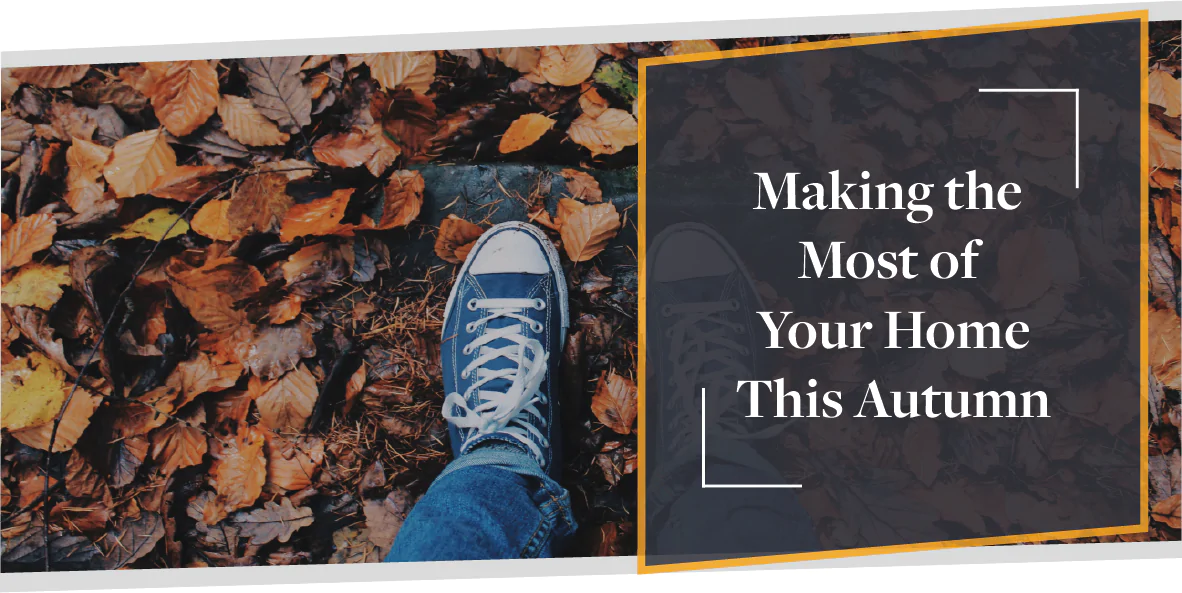 September 30th, 2020
Now that pumpkin spice is filling the air, things are getting a bit colder and the leaves are crispier, Autumn seems to be here in full force. With summer slowly slipping away, being at home gets more and more appealing.
Whether you're looking forward to Sunday Roasts and curling up on the sofa or to crunchy Autumn walks, Autumn is undeniably the season for appreciating the great Indoors.
If you love home or you're ready for a new one, CMME has put together some tips for making the most of your home this autumn!
If you're thinking of moving in time for Christmas:
Declutter your life
Whether you're a Marie Kondo type where minimalism works and everything has its place or you sweep it under the rug and quietly apologise for the mess – decluttering can make your home more valuable and potentially help you sell faster.
Start small and remember not to remove all the personality from your property – potential buyers are looking for a place to make their own – leave enough personality that they can imagine their own family, happy in this space.
Check out the market
When you're thinking about selling up and going somewhere new it's really worth reviewing the marketplace – know what house prices are doing and investigate all costs associated with the property including council tax, insurance, and utility bills.
Figure out your Stamp Duty savings
With the changes to Stamp Duty announced by Chancellor Rishi Sunak in July, home movers have until March 2021 to take advantage of the Stamp Duty savings when they purchase a property. This means that an average home buyer in London stands to save up to £15,000* with these changes. If you're thinking about moving it's definitely worth checking how much you can potentially save with these changes.
For more information on the Stamp Duty changes check our recent article here or the government's official website for more detailed guidelines.
* Before the changes: 0% on up to £125,000, 2% on £125,000 = £2,500, then 5% on £403,965 (£653,965 – £250,000) = £20,198.25. Total Stamp Duty expense = £22,698.25 After the changes: 0% on the first £500,000 + 5% of £153,965 = £7698.25 Total saving: £22,698.25 – £7698.25 = £15,000.25

When you're happiest at home:
Make sure your home and your family is protected
Autumn is the season to feel safe and warm, it's all big jumpers and hearty soups – when you're happy it's important to stop and enjoy it. That's why it's worthwhile thinking about how the things that make you happiest are protected in the event that anything happened.
From storm damage to health issues, it's important to be aware of the protections you should have in place and make sure you're happy that you're covered in a way that works for you.
Some protections to think about as a self-employed professional include:
Home insurance
Income Protection Insurance
Critical Illness Insurance
For more information on protection check out CMME's breakdown of contractor insurances.
Separate home and work
According to the Office of National Statistics in April 2020 nearly half of people in employment did some of their work at home and whilst in the warmer months being tucked away at home might've been a bit of a drag, as the days get shorter working at home can feel like a victory.
Say goodbye to the dark and cold morning commute and say hello to Autumn at home. But whilst we're working from home, it's really important that our working environment and our home lives are separate – it's called working at home not sleeping at work, after all!
Whether this means converting that spare bedroom into a new study or extending your house to make room, now may be a good time to look at getting a Further Advance from your current lender; if they're unwilling or unable to assist you could consider a Second Charge Mortgage to help fund those renovation plans.
Here's some useful resources that can help you make the most out of your mortgage:
CMME can give advice and support to self-employed people and offer bespoke advice on your individual situation. If you would like to know more, contact us today.