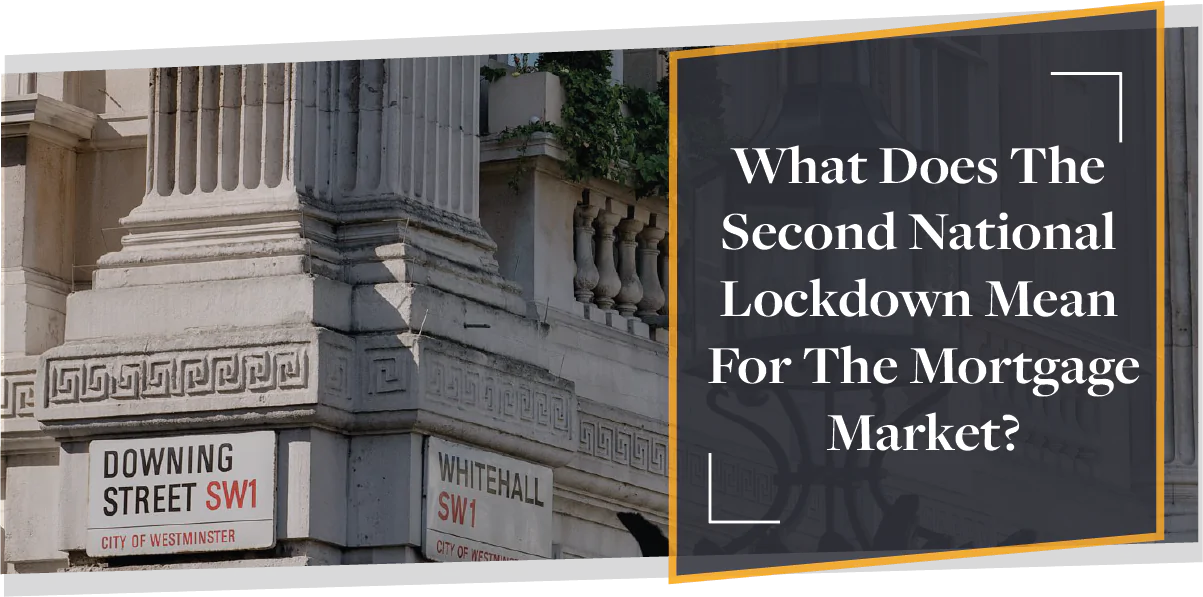 November 2nd, 2020
With a second national lockdown announced for England on Saturday, many of us will be wondering what the rules are and what this means for your mortgage plans.
In summary, the announcement detailed:
A second national lockdown beginning Thursday 5th November and ending Wednesday 2nd
Pubs, restaurants and non-essential shops to close
Entertainment and leisure venues to close – including cinemas and gyms
Hairdressers and salons to close
No mixing households allowed
Work from home where possible
More details can be found on the government's official website.
Boris Johnson Announces Lockdown  


What Does That Mean For My Mortgage?
Housing secretary Robert Jenrick took part in a Q&A on Twitter Saturday evening following the announcement and it clears up some of the concerns for mortgage market in this second lockdown.
He made it clear that the mortgage market would remain open – home movers could continue as planned; estate agents and removal firms would continue operating and tradespeople will still be allowed to enter homes if following social distancing guidelines.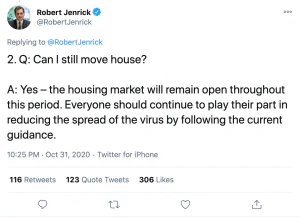 Jenrick also stated that the FCA would be publishing further details on a mortgage payment holiday extension later today.
This means that with the mortgage market still moving, the impact of this second lockdown should not be similar to the first on your mortgage plans. Though with the first lockdown things ground to a halt, this second one comes with experience and with seemingly a better system in place for the mortgage market here in the UK.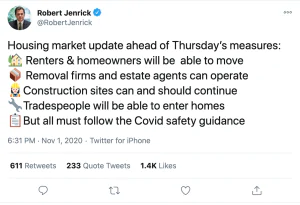 Your Mortgage Plans?

Home Movers  
If you had plans in place to move home, fear not, you'll still be able to move house and continue with your plans as expected – unlike the first lockdown with removal firms and tradespeople still in action you shouldn't expect delays in light of the lockdown.
Remortgage
 This may be the perfect time to review your circumstances, with the Bank of England base rate at a historic low and in light of the second lockdown, likely to remain that way when the board meets this week to discuss the rate, remortgage could potentially save you money by taking advantage of the lower interest rates.
What's more, with work-at-home now increasingly likely to be the new normal for some time, you could potentially  remortgage to raise funds for your home renovation plans – and tradespeople and construction can continue as normal.
With house prices still on the rise, your house may be worth more now than when you originally took out your current mortgage deal, meaning you may not only be in the wrong interest bracket for your current house value but that you could potentially take advantage of being in a more favourable loan to value (LTV) bracket to raise additional funds at a lower rate.
First Time Buyers
At a slight disadvantage thanks to the reduction in high LTV (loan-to-value) mortgages, first-time buyers have had a more difficult time in 2020. This doesn't mean however that there aren't still competitive products available for you!
More than this, with the market continuing to move forward and remain open, product availability is not predicted to be reduced further as it was with the first lockdown.
Simply put, no matter your mortgage plans, you should be able to continue as planned even in light of this second lockdown.


CMME's Head of Mortgages Simon Butler had this to say:
"The Government's decision to allow the property market to remain open, despite implementing a national lockdown for the second time in 2020, demonstrates just how important a part the market has to play in propping up an ailing UK economy.
The Eat Out to Help Out scheme provided a boost to economic recovery in August but the positivity this provided has faded very quickly.
It would not be a surprise to see the Government revising terms of the current Stamp Duty holiday, which is due to expire in March 2021.
The vast levels of purchasing activity this has pulled forward over the late summer months has helped to maintain confidence in the housing sector. A further extension would help to stem the potential economic downturn that the lockdown is likely to bring."

Useful Resources:
Check out these useful links for understanding the current market and where to find support over the next month:
IPSE's Coronavirus Hub For Freelancers
Top 10 Tips For Work-At-Home Happiness
Making Sense Of The Mortgage Market
How To Stay Ahead Amid Lender Criteria Changes
CMME can give advice and support to self-employed people in these unprecedented times and offer bespoke advice on your individual situation. If you would like to know more, please contact us today.