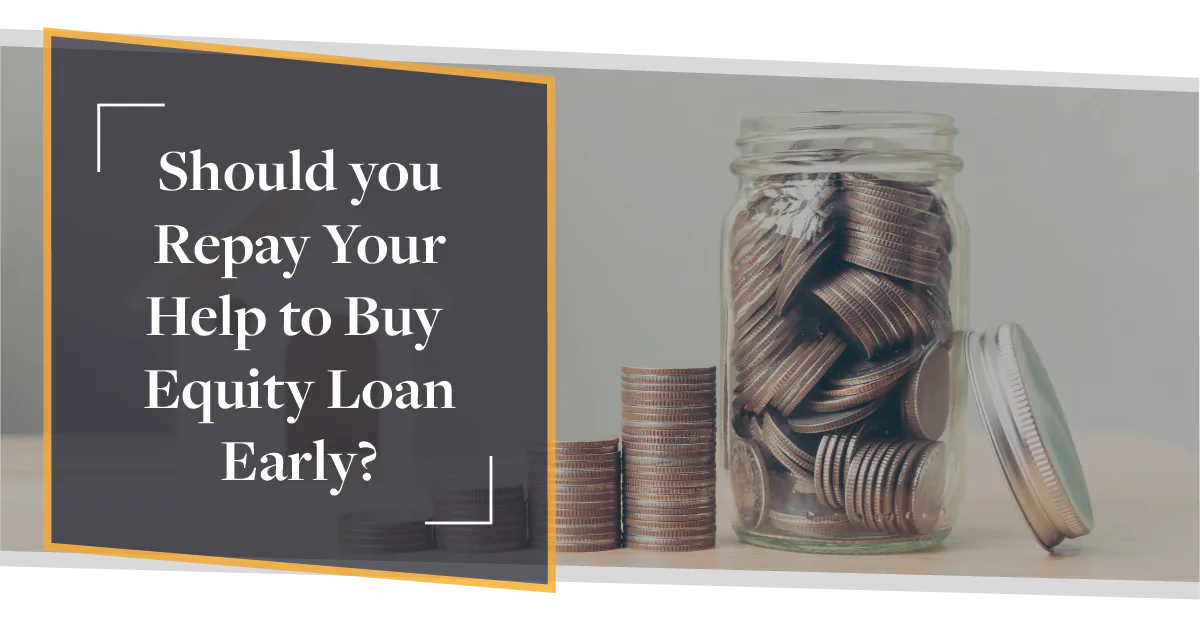 May 24th, 2021
Back in 2016 we wrote about repaying your Help to Buy Equity loan, now, 5 years later we're asking the same question – should you repay your Help to Buy Equity Loan early? Can it be done? What're the pros and cons? CMME explains all.  

What's in the Blog?
The Help to Buy Equity Loan: Summarised  
Can I Repay the Loan Early? 
Why Consider Repaying the Loan Early? 
Peace of Mind
Useful Resources 

For most contractors and independent professionals, looking after their finances and investments, like their home, is a priority. That's just good sense. Whilst many people utilised the Help to Buy scheme for a boost onto the property ladder (with a relatively low deposit) as savings begin to build up or work becomes more lucrative, many seek to overpay on their mortgage and to repay the government's equity loan.  
This is something the Government incentivise, given that it is in their interest that you repay the loan as soon as possible. 
But first, let's take a quick look at what the Help to Buy Equity Loan looks like in 2021.  

The Help to Buy Equity Loan: Summarised 
From the Government website: 
Help to Buy: Equity Loan (2021-2023) 
Deposit required:

 At least 5% of the price of the home.

 

Ownership:

 Full ownership. Government has an equity share up of to 20% (up to 40% in London), until you repay the equity loan.

 

Headline benefits:

 Enables people to buy a new-build property with a small deposit.

 

Headline requirements:

 Homebuyers must contribute 80% of the home's price, for example, with a minimum 5% deposit and up to 75% mortgage. In London, homebuyers must contribute at least 60% of the home's price.

 
It's worth noting the regional price caps for the use of this loan are as follows: 
North East: £186,100

 

North West: £224,400

 

Yorkshire and the Humber: £228,100

 

East Midlands: £261,900

 

West Midlands: £255,600

 

East of England: £407,400

 

London: £600,000

 

South East: £437,600

 

South West: £349,000

 
So that means, to illustrate, in London the maximum you could borrow through the equity loan would be £240,000, which is 40% of £600,000. You'd need a deposit of £30,000 to utilise the scheme with a new build in London. 
 You can find out more about the Equity Loan and the brackets on the Government website here. 

Can I Repay the Loan Early?
In simple terms – absolutely, yes you can. Whether you should, will always be on an individual basis but here's the important things you need to know about repaying the loan.  
You don't have to pay off the whole equity loan in one go; it sounds straightforward, but this is something that is definitely worth noting. However, for repayment the rules state you need to – at minimum – repay at least 10% of the property's current value.  
This means, for example, you could repay 10% of the property's current value if you took out a 20% loan, or repay 10%, 20% or 30% of the property's current value if you borrowed 40%. If you borrowed less than 20% though, e.g. a 15% Help to Buy equity loan, you could only repay the loan in full, as you must part-repay in multiples of 10%. 

Why Consider Repaying the Loan Early?

Considering repaying the loan early is something you should consider when you're financially prepared to do so and here's why: 
Interest-free 5 years
One of the key features of the Help to Buy Equity Loan scheme is that the loans are interest-free for the first five years. Not only a brilliant incentive for first time buyers looking to utilise the scheme but also for repaying the loan early.  
That means that if you repay the loan in the first five years in full you won't pay a penny in interest on the loan itself.  
It makes sense if you're positioned to do so to pay off the loan, that way you're on wasting money on interest when you don't need to be.  
After the first 5 years:
After the interest-free years, you'll be charged 1.75% on the outstanding amount as interest. This fee will increase each year by RPI (Retail Price Index) plus 1%.  
Property Value Contingency
The agreement with the Help to Buy Equity Loan is that the Government owns a stake in your home. In essence this means that your equity loan is equivalent to 20% of the value of your property, then the Government in a simplified view owns 20% of your home until you repay the loan.  
The important element here is that whilst the percentage stays the same regardless of the home's value, if the property value rises or falls then the value of the Government's share will rise or fall with it.  
Without accounting for interest:  
If the property price rises, you'll have to give the Government more than it originally lent you. If the property price remains the same, you'll have to pay back the same amount you borrowed. And if the property price falls, you'll have to pay back less than the amount you borrowed. 
That is to say, that though we're experiencing generally a stimulated housing market with house prices experiencing a high in this last year if the value has dropped then that may make it a good time to pay the loan back if you have the spare cash, even if you don't plan to sell your property at this time.  
With a 20% (£20,000) Loan on a £100,000 property over five years

 

Property price change

 

New equity loan value

 

Change in repayment

 

30% fall

 

£14,000

 

– £6,000

 

5% fall

 

£19,000

 

– £1,000

 

No change

 

£20,000

 

£0

 

5% rise

 

£21,000

 

+ £1,000

 

30% rise

 

£26,000

 

+ £6,000

 

Peace of Mind
Remember: you don't have to repay the equity loan itself until you come to sell your property or at the end of your main mortgage term – whichever of these comes sooner. However, you don't have to wait until either of these points. You can pay back the equity loan at any point you want, if you are financially able to, and there are definite advantages to doing that before the interest is added to your loan.  
For more information about Help to Buy check out CMME's free guide here. 

Useful Resources
Whether you want to talk specifics or are just after some general advice, CMME can help. Speak to us today on 01489 223 750 for a completely free, no-obligation mortgage consultation. Or click the button below.