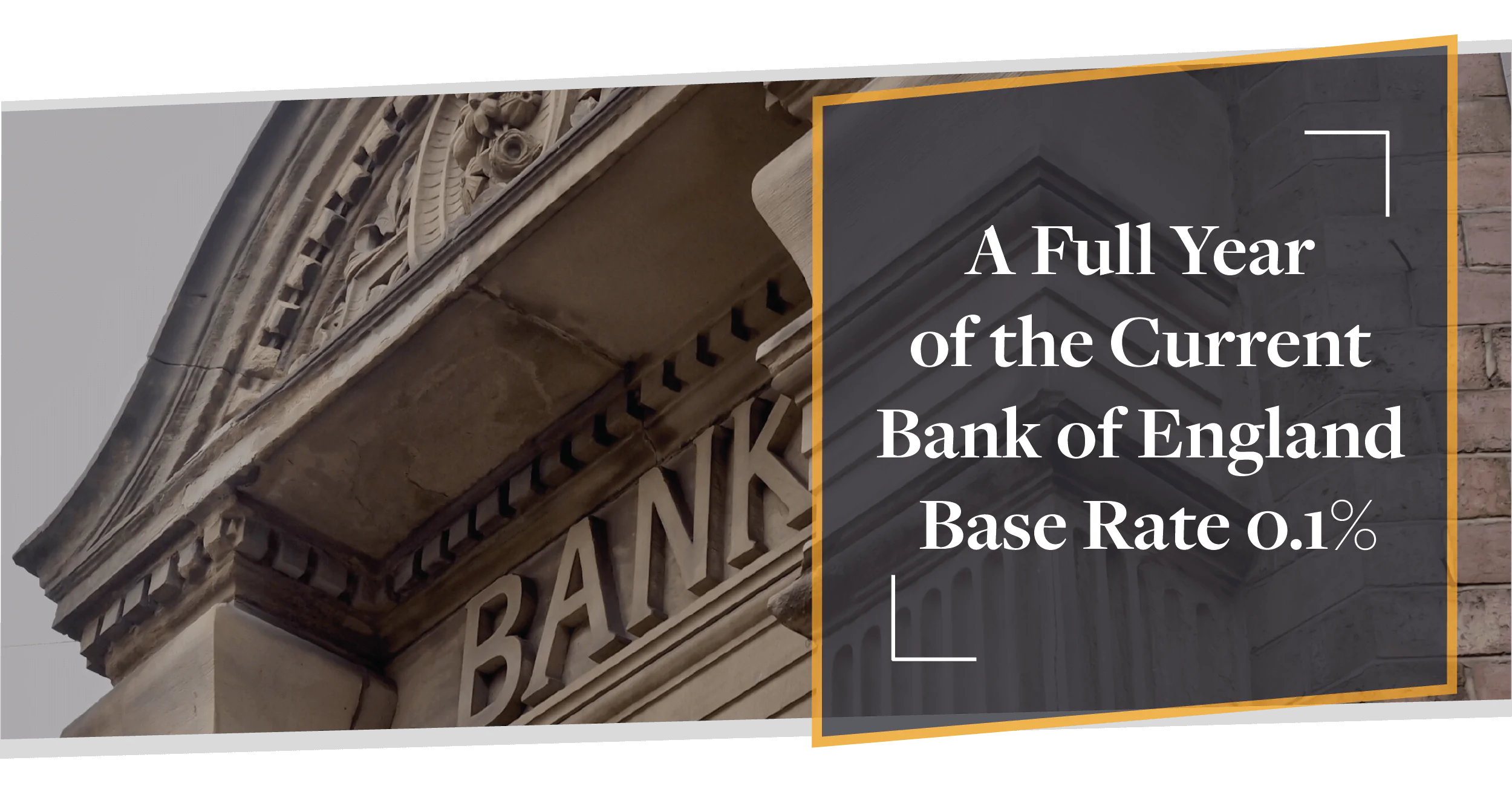 May 6th, 2021
The Base Rate has Been Maintained Today
With things approaching a new normal the Bank of England (BoE) met this week to discuss the current base rate. The Committee announced today that the base rate would maintain its position at 0.1%.
At its meeting ending on 5th May 2021, the Committee judged that the existing stance of monetary policy remains appropriate. The Committee voted unanimously to maintain the Bank Rate.

What's in the Blog?
Where has This Decision Come From?
Is There Risk of Inflation?
A Year of 0.1% : What it Means for the Mortgage Market?
Hear From CMME's Head of Mortgages
Useful Resources
Where Has This Decision Come From?
As is the trend in recent months this decision is pursuant to the emergency response to the Coronavirus pandemic early last year when the Bank of England slashed the base rate from 0.75% to 0.25%, and then once further to 0.1% in March 2020, where it has remained at a historic low since.
This was a measure intended to reduce the risk of inflation increasing and the maintenance at this rate continues to support this measure according to the Committee.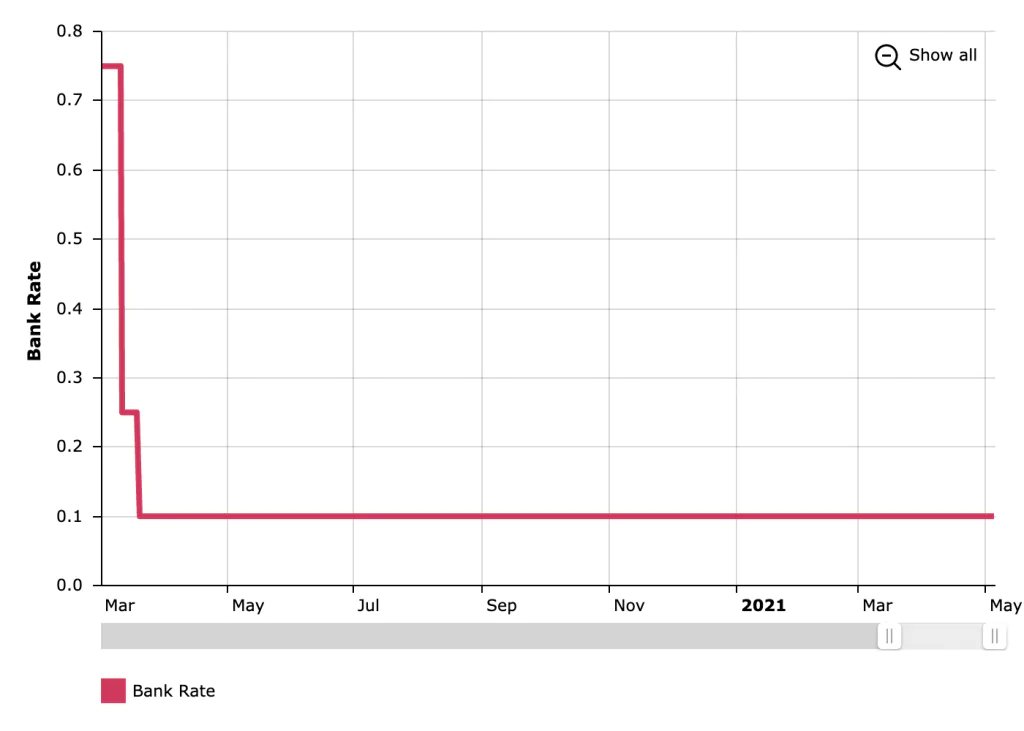 The changes to the bank rate in 2020-2021 from the Bank of England
Is There Risk of Inflation?
The Bank of England's Monetary Policy Committee (MPC) meet to vote on several monetary policies, including the base rate, to discuss how to meet the 2% inflation target set by the government.
In doing so they also aim to help sustain growth in the UK economy and employment. In yesterday's meeting, the Committee judged that the existing stance of monetary policy remains appropriate and voted unanimously to maintain the bank rate at 0.1%.
This, in addition to the bank rate, ultimately mean that the mortgage market can maintain its healthy stimulated position as we move forward.
It is important to note that a small amount of inflation can help to boost economic growth, by encouraging individuals to buy products and thus making it easier for businesses to increase employee wages.
More information about what was discussed in the meeting can be found on the Bank of England website.
A Year of 0.1% : What it Means for the Mortgage Market?
The Bank of England said that the initial decision to cut the rate was to help bolster cash flow for households and small business who had been affected by the pandemic.
For the mortgage market it has meant borrowing has been more affordable than ever, between the base rate lowering interest rates (particularly for those on tracker mortgages) and the Stamp Duty holiday there really has never been such a good time to organise your mortgage – despite the pandemic.
Hear from Simon Butler – Head of Mortgages for CMME, he said:
"Property values continued to rise in the UK during April, hitting a 2.1% increase month on month. That is the highest monthly rise since February 2014 (source – Nationwide Price Index), so it is clear that interest in the property market continues to be strong but a lack of attractive stock is helping to inflate property prices.
Amongst all of the good feeling that has been generated with the recent lifting of lockdown restrictions, it's unlikely that the Bank of England will raise interest rates to dampen the mood.
The Government's backing for 95% mortgages kicked off in April and the hope will be that would-be home movers are tempted to begin putting their homes onto the market as we head into the summer months."
The MPC will meet again to decide the bank rate on 24th June 2021.
5 top tips to Maximise Your Mortgage Potential in 2021
1. Improve Your Credit Score
In light of step one, step two is applying the knowledge that is gained in being aware of your credit score and what sits on your credit report.
Here are some quick tips for improving your credit score:
Register on the electoral roll
Check for any errors and have them removed
Pay off existing debt
Don't do lots of credit checks
Pay your bills on time, don't miss payments
Try an app like Credit Karma for keeping track and finding tips for improving your credit score.
2. Decide on Your Budget
With the 95% Mortgage Guarantee Scheme announced by Chancellor Rishi Sunak in March, borrowers can now see the return of 5% deposit mortgages meaning that the market is once more accessible to buyers with smaller budgets.
However, it's worth noting that lenders tend to favour individuals who have higher deposits, but this is true to anyone looking for a mortgage and not just contractors.
To access the most competitive rates you should be aiming to save anything between 10 and 25%. There are mortgage options out there for less than that, but they will be on a much higher rate.
We asked our experts everything you need to know about deposits, check it out here.
3. Get Your Paperwork Sorted
You will need to provide minimal documentation to support your application. Ensure your CV is up to date as it will be used to prove your skills and experience.
You will also need to obtain a copy of your current contract as this will be used to demonstrate your earnings. Using both documents we can avoid any issues to do with affordability.
Our process is a simple as that. We won't ask you for heaps of documents we might not need, we know the way you work, and we'll make the process as easy as can be.
We asked our experts everything you need to know about documents, check it out here.
4. Investigate the Market
Before you start your mortgage process, it's a good idea to have a look at the market – investigate what type of mortgage might suit you and your needs, what area would suit you and the costs associated with your new mortgage and property.
Whether this is your first mortgage or your fifteenth, preparing in advance can help make sure your goals are realistic and achievable.
For an idea of what's coming up this year for contractors, which might affect you and your mortgage plans, take a look at our recent article here.
5. Speak to a Specialist
The truth is that most lenders have little understanding about the contracting market, and as a result, their standardised procedures do not accommodate contractors.
We have agreed bespoke underwriting agreements with a comprehensive range of lenders enabling us to secure mortgage funding based on a multiple of your contract rate alone.
Useful Resources
Whether you want to talk specifics or are just after some general advice, CMME can help. Speak to us today on 01489 223 750 for a completely free, no-obligation mortgage consultation. Or click the button below.