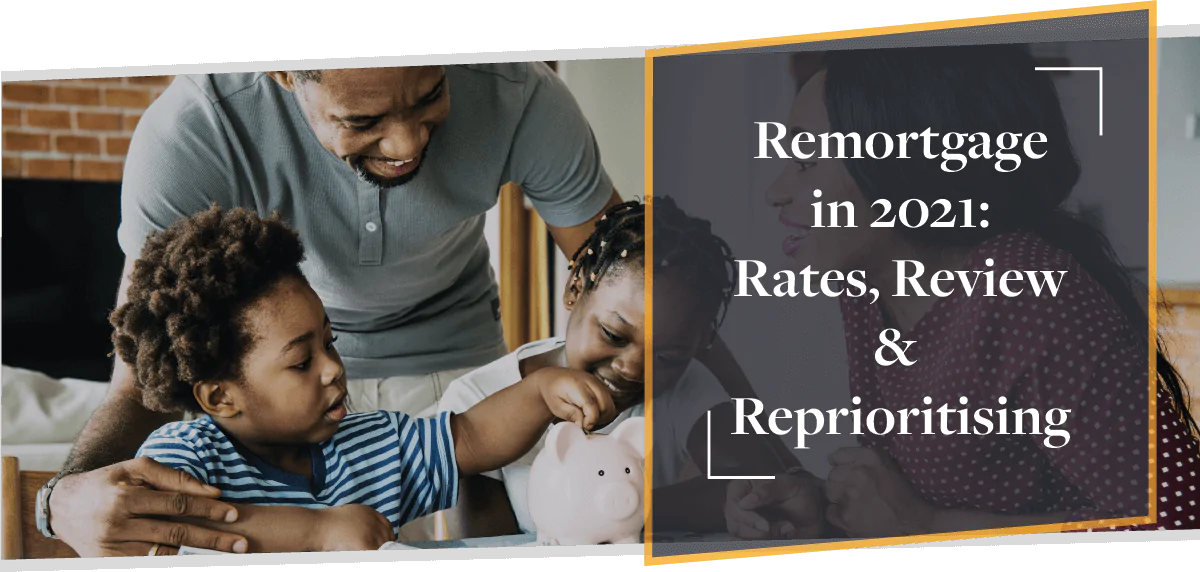 April 15th, 2021
Whether your current mortgage deal is due for renewal or whether you're just thinking about finding a better one, remortgage in springtime is a great way to refresh and make sure you're not paying a higher rate unnecessarily.  
2021 is unfolding in the wake of 2020 and you might not have prioritised the things you've been dreaming of doing amid the pandemic, now's the time to reprioritise those dreams. 
As well as this, with the new tax year just beginning you might be looking for a way to save cash or make an investment in your home. Remortgage could just be the way to do that. 

What's in This Blog?
Reasons to Review Your Rate
Try Our Calculator 
Fixed, Variable, Tracker
Remortgage for Renovations in Spring
Useful Resources

Reasons to Review Your Rate  
When you first organised your mortgage, you probably didn't go for the first option you saw, that's because it's a huge financial commitment and one that you're tied into for a long time. You (or your broker) more than likely shopped around for that original rate because you're sensible because you know that your mortgage is where a lot of your money is going to go. After all, your property is an investment for your right-now but also your future and your family's future. 
So, when it comes to reviewing your rate, why wouldn't you do the same? Making sure your rate is right for you is essential and it's as important as organising your original mortgage was, even if you're not moving home.
Need some more reasons why you might review your rate? We have them. There are some prime times you might want to reconsider reviewing your mortgage rate: 
It's due for renewal and you're about to move on to a Standard Variable Rate 
When you can see the end of your current deal on the horizon, it's a great time to think about remortgage.
When your current rate comes to an end your lender will automatically swap you over to their Standard Variable Rate (SVR) which is more than likely going to be higher than the deal you were on previously.
It's worth looking at the market because there may well be a better rate out there for you.
Your house has increased in value
With house prices rising at a rapid rate, your house might be worth a lot more than it was when you set your current mortgage deal.
If that's the case you may find you're now in a lower Loan to Value (LTV) band, this means you could be eligible for much lower rates.
Important to note:
Many people let early exit fees stop them from getting the best deal available – whilst exit fees are something you should consider before changing deals, it is frequently the case that the associated savings with your new mortgage rate could be worth accounting for the early exit fees.
You're interested in raising additional funds 
When you chose your mortgage originally, you made sure it met your needs. The smart question to ask when it is due for renewal is:
Does it still work for me?
Could it release equity to pay for that dream kitchen, or the loft conversion, or home office?
Could the equity consolidate debts elsewhere and make them easier to manage and your financial commitments more comfortable to live with?
Would the lump sum pay the deposit on a second investment buy to let property?
The pandemic over the last year has made a lot of us review our individual circumstances, whether that's with a view to our working arrangements or our health, added security has been a priority this year. 
Releasing additional funds for home improvements is entirely possible through the remortgage process, making your dreams a very achievable reality.

Try Our Calculator 
See how much you could save, try our calculator below. 

Fixed, Variable, Tracker
When it comes to organising your mortgage and then, later, your remortgage, there's going to be lots of jargon that's thrown around – when you try and research online or talk to your friends and families and to be frank, we want to keep it simple. 
Organising your remortgage shouldn't feel like you're trying to decipher some sort of code, it should be as simple as figuring out what suits you best. 
So, let's break it down:
Fixed-Rate
A fixed-rate mortgage is where the interest rate payment is fixed for a specific time. It then normally reverts to a variable rate. If you have a low loan to value (LTV) mortgage then you can benefit from fixing your mortgage rate as you should be able to secure a lower fixed interest rate for 2,3,5 or 10 years depending on your personal circumstances like income and age amongst other factors.
A Standard Variable Rate
Rate of interest payment that fluctuates over time with general interest rates. Homebuyers on an unfavourable Standard Variable Rate (SVR) waste an average of £4,500 every year, according to the Evening Standard. When your mortgage introductory offer ends you will typically be automatically moved to your lender's SVR which is often much higher than your initial deal. 
Your lender is required to write to you before this happens and this stage is a good opportunity for you to review your needs and wants when it comes to your mortgage. 
Tracker 
Tracker mortgage normally follows movements in the base rate set by the Bank of England. The interest rate is then set at a constant level above or below the base rate, rising and falling in line with any changes during the tracking period. This means that if the base rate falls, the amount you pay falls. Likewise, if the base rate goes up, so will your payments. 
Tracker mortgages tend to be for a set period, say five years, after which you usually transfer to a new tracker rate or a different type of rate altogether.

Remortgage for Renovations in Spring 
We see a lot of reasons for remortgage – to raise additional funds for a family wedding or help them with a deposit on their first home, to consolidate debt and at this time of year especially, renovations. 
NatWest found in their 2020 remortgage survey that 19% of homeowners remortgaged to fund home improvements – with this percentage of homeowners using remortgage, for this reason, it seems reasonable to suggest that many lenders will support remortgage for this purpose.
But why Spring? 
Better Weather 
When you've done any home decorating yourself you know that sunny days and warmer weather certainly come in handy when you're working on the house. Whether you're doing the work yourself or you're paying someone else to do it, warm weather means faster completion times – more available daylight hours to complete the job, the paint dries faster, cement sets quicker – whatever you're thinking about having done, spring is a perfect time to do it. 
Summer Ready
With our homes and gardens becoming the place we've spent the most time in the last year, and now moving forward, the place we can spend time with our friends and family (in our gardens only until restrictions lift) getting any renovations sorted before the summer arrives in full force. Have the new kitchen ready for summer get-togethers, or have the patio ready to go for summer cookouts. Spring is the perfect time to get any home projects completed so you can enjoy the summer in full swing! 

Useful Resources
Whether you want to talk specifics or are just after some general advice, CMME can help. Speak to us today on 01489 223 750 for a completely free, no-obligation mortgage consultation.