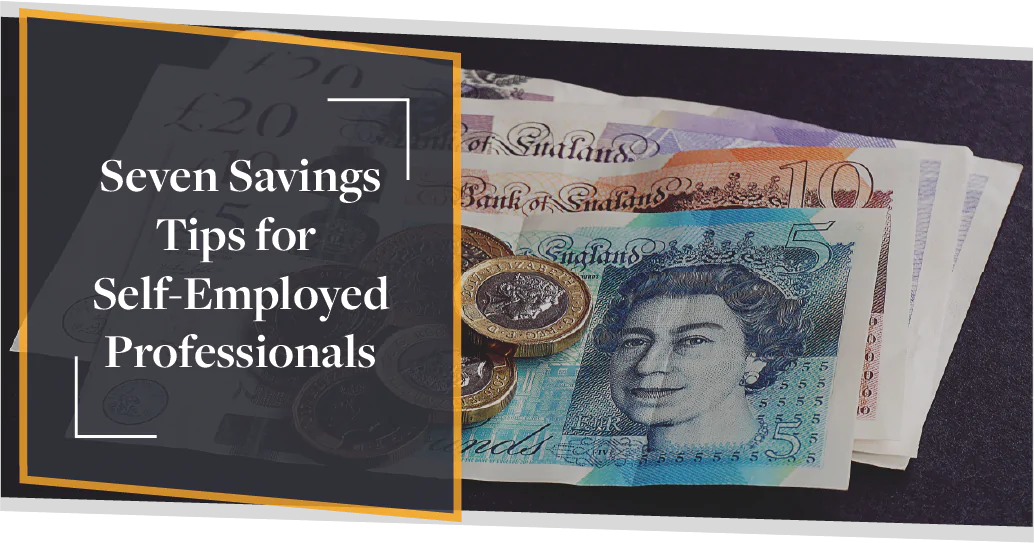 November 23rd, 2020
Seven Savings Tips For The Self-Employed
With 2020 causing many of us to reprioritise what matters most, CMME look at the seven savings tips self-employed professionals needs to know as the year draws to a close!

1. Check You're On The Best Deals
Check best buys for things like your utilities and mobile phone to see if you could be saving on your monthly outgoings – people often overpay on their mobile phones and utilities out of laziness rather than necessity so make sure you're on the best deal!
Use sites like Money Saving Expert or Compare the Market to see if you're on the best deals.
2. Save Your Change
It may seem simple but tucking away your change means that your savings grow pretty quickly without you really having to consciously save.
There are a couple of ways to do this and remember to do it regularly:
You could have a change bowl by the door, empty your pockets every time you come into the house and save up the pennies. Try a swear jar or something similar, £1 every time you do the thing you've designated not to do.
Use a change-saving account: Lots of banks now offer change saving accounts where the amount you spend when you shop is rounded up to the pound and this extra bit is automatically moved into your savings account.
Some of these include:
Lloyd Banking Group's Save the Change
3. Budget
Think about your budget, know your expected income and outgoings each month and try and stick to it. Outline a specific amount for things like groceries and luxuries, make sure you're not over-spending on things like utilities and wifi.
Keep your budget updated and follow it as closely as you can.
Try a budgeting notebook/spreadsheet or an app like:

4. Save When You Get Paid
When you get paid pay your bills and save as much as you can of whatever is left, you'll find that it builds up rapidly.
This is essentially large scale save-your-pennies tactic but if you're serious about your mortgage plans this might be a savings solution for you.
5. Quit Smoking
Health benefits aside, quitting smoking can save you a tonne of money!
The average smoker in the UK smoking 20 cigarettes a day will save a whopping £3,927.40 a year, according to Nicorette.
It seems like a pretty easy way to waste money if you do smoke at present and an easy way to tap into extra cash that you already have!
For comparison, owning a dog costs an average of £1,183 annually, under a third of what it costs to smoke 20 cigarettes daily for a year.
6. Make The Most of Your Loyalty Cards
Which? research finds that the average consumer will typically save between £1 and £4 for every £100 you spend with the loyalty schemes available this month.
With most supermarkets offering some sort of loyalty/reward scheme there are potential savings no matter where you shop.
As with most schemes of this kind you save more money the more you spend, however equally shopping less altogether could be a more effective way to save.
7. Take Advantage of The Stamp Duty Holiday on Your House Purchase
Now and until the 31 March 2021, home buyers will now benefit from exemption on Stamp Duty for the first £500,000 of borrowing, subject to the purchase completing before 31 March 2021.
This incentive came in response to the first national lockdown in order to stimulate a halted mortgage market back into action. With many homebuyers now looking to take advantage of these savings, buyers are advised to act before the 6th December 2020 in order to get their house purchase through to completion in time to make the most of these savings.
Potential Savings:
| | | | |
| --- | --- | --- | --- |
| Property price | Previous stamp duty bill | Revised stamp duty bill | Stamp duty saving |
| £150k – £200k | £0.5k – £1.5k | £0 | £0.5k – £1.5k |
| £200k – £250k | £1.5k – £2.5k | £0 | £1.5k – £2.5k |
| £250k – £300k | £2.5k – £5k | £0 | £2.5k – £5k |
| £300k – £350k | £5k – £7.5k | £0 | £5k – £7.5k |
| £350k – £400k | £7.5k – £10k | £0 | £7.5k – £10k |
| £400k – £450k | £10k – £12.5k | £0 | £10k – £12.5k |
| £450k – £500k | £12.5k – £15k | £0 | £12.5k – £15k |
| £500k – £925k | £15k – £36.3k | £0 – £21.3k | £15k |
That's our seven savings tips for self-employed professionals!

Useful Resources:
 CMME can give advice and support to self-employed people and offer bespoke advice on your individual situation. If you would like to know more, contact us today.