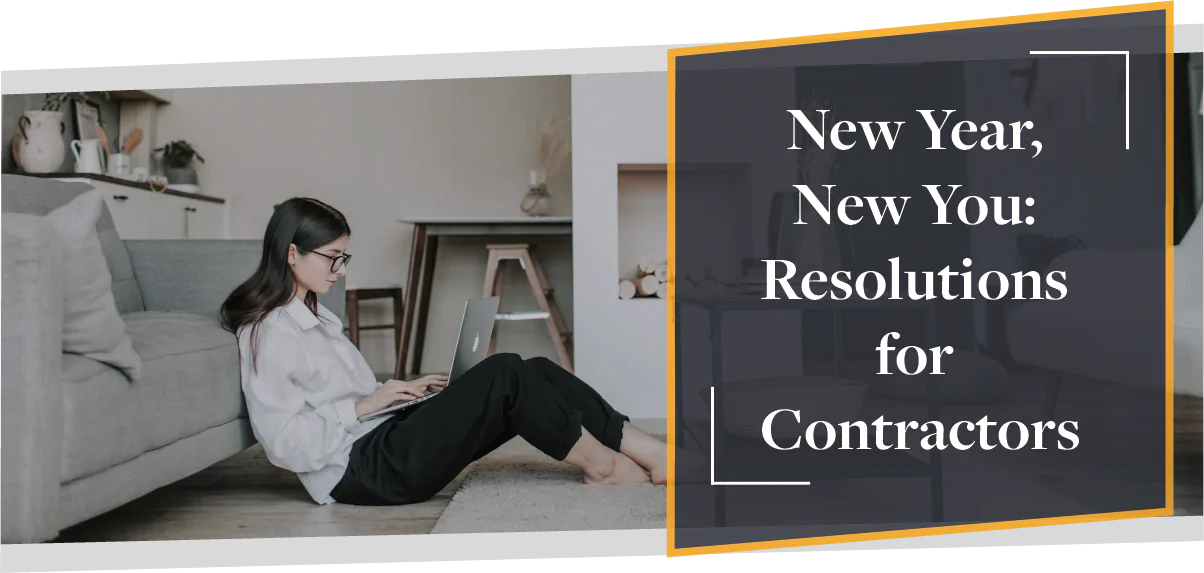 December 22nd, 2020
With New Year's just days away, it's time to start thinking about your resolutions. A new year is the perfect time to close a chapter and think about your priorities for the year ahead – it's cliched and we know it but the New Year is the perfect time to think about a New You. Or if not a 'new' you, an enhanced you.
To be a contractor, you already have a sense of independence and drive – we like your style – but how can you use your resolutions to get things done this year?

Make Sure You Still Love What You Do
 Becoming a contractor was something you chose, for love of your work or for a love of life. This year make sure you still love what you do and do what you love, think of it is as a way to ensure your best; your best mood, your best work, your best life.
"…Pursue the things you love doing and then do them so well that people can't take their eyes off of you." – Maya Angelou
Research at the University of Warwick estimated that workplace happiness increases productivity up to 12% meaning that happy workers are a guarantee for more productivity, more innovation, and less conflict.

Work Smarter, Not Harder
 It can be really hard to manage your time and your business when you're the one responsible for it all! That's why we think one of your new year's resolutions should be to work smarter, not harder.
By making sure that you're getting the most out of everything you're doing already, whether that's a full project or something menial, working smarter will save you time and energy and get you results.
Try one of these tools to get started:

Enjoy Every Project
This is in part 'do what you love' but it's easier than ever to take projects as a trigger reaction. As a contractor you have the freedom to turn work down if it doesn't stimulate your brain or isn't the work you want to be doing.
In 2021, try and start on the right foot, by enjoying every project you take on.

Invest In Home Happiness  
If 2020 has taught us anything, it's that home matters. You might have spent more time at home than ever this year, or you might be one of the people keeping the country going out on the frontline, no matter what you've probably come to realise the value of a space you're happy in like you never have before.
A happy home can come in many forms, whether that's a new TV or a whole extension, changing your space to fit you can never hurt.
Whilst we're working from home, it's really important that our working environment and our home lives are separate.
Whether this means converting that spare bedroom into a new study or extending your house to make room, now may be a good time to look at getting a Further Advance from your current lender; remortgaging to raise funds or if they're unwilling or unable to assist you could consider a Second Charge Mortgage to help fund those renovation plans.

Be Realistic
Be realistic with yourself as you head into next year, set goals that you can achieve and be kind to yourself about the goals you can't. 
This year set aims that are attainable and within reach and also stretch yourself to those just beyond.
Check out this TedTalk on how to achieve your most ambitious goals:

Useful Resources:
Whether you want to talk specifics or are just after some general advice, CMME can help. Speak to us today on 01489 223 750 for a completely free, no-obligation mortgage consultation. Or click the button below.