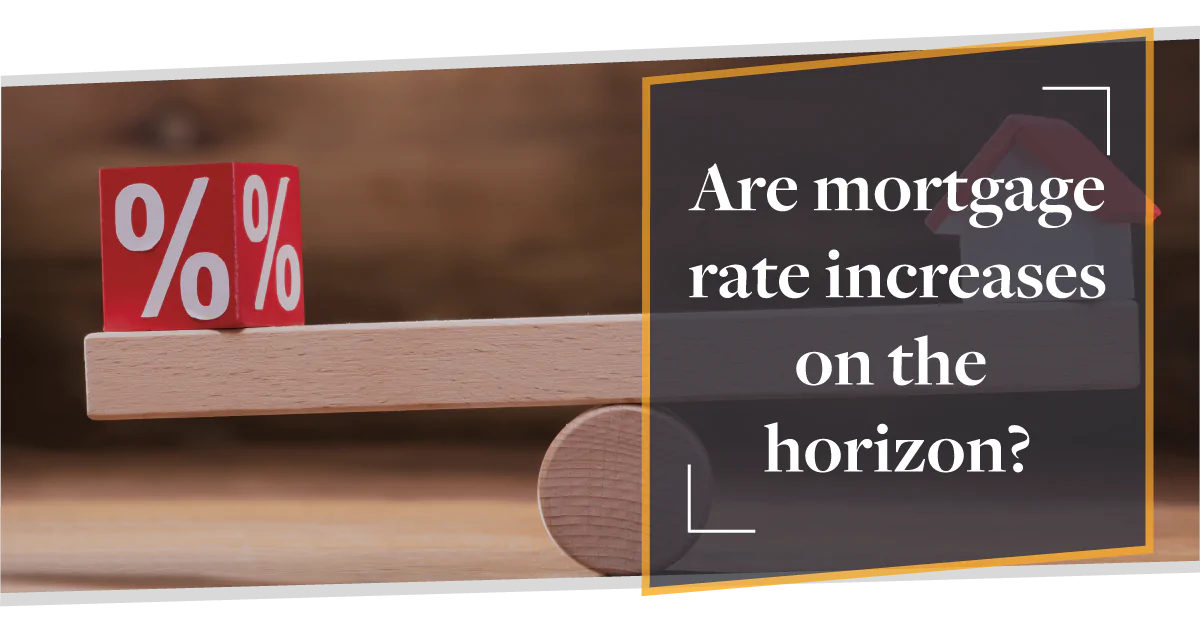 November 3rd, 2021
Interest Rates Increasing?
After a historic period of low rates set by the Bank of England, which as of March 2020 have been at 0.1%. This has meant that unsurprisingly lenders have been able to pass the savings on to clients and increased competition has meant homeowners have benefited.
However, the recent budget update has indicated that this is going to change, and it is expected that the Bank of England will increase the base rate as early as November 2021.
Some lenders have already anticipated the move and started to increase rates and TSB was the latest to announce rate changes on its residential range last week (October 29), as it increased rates by up to 0.40 percent on its two-year fixed first-time buyer mortgage for loan-to-values all the way up to 90 percent. Source: FT Advisor
Should you fix your mortgage?
If you are currently on a fixed-rate mortgage or perhaps thinking of applying for a new mortgage a fixed rate ensures that you can avoid any surprising rate changes or increases.
If you are already in a fixed-rate mortgage and it is coming to an end, this could mean that you move on to the lender's Standard Variable Rate (SVR). When this happens, you will start to notice your payments increase.

Initial Rate fixed for the first 2 years: 0.94%
After these two years, you will automatically move onto the Lender's SVR: 3.54%
You don't have to be a math's prodigy to estimate based on those two rates alone that your monthly payments will be significantly higher than the second rate
The mortgage amount: £350,000
The loan length: 25 years in total
On your initial rate, your monthly repayments are: £1309.57
On your lender's standard variable rate your monthly repayments go up to £1855.43
That's an extra = £545.86 a month or £6550.32 a year.
If you are on a tracker deal, it's unlikely you will be able to jump off it without paying an early redemption charge. But if you are paying the SVR you might want to fix it. Similarly, if your current fixed rate is due to finish in the next few months, you might want to lock into a good deal while you can.
Simon Butler, Head of Mortgages | CMME: While the Chancellor chose to invest heavily in the property sector in 2020 to boost the economic outlook for the UK, it seems unlikely that any form of stimulus akin to the stamp duty holiday will be introduced on Wednesday's budget. Pressures are building in other quarters, such as the increasing cost of fuel, the expectation of further rises to heat and run home during the winter months, and the impact that both of these factors will have on the wider economy.
Most pressing is the rise in inflation seen in recent months, which has prompted the Bank of England to suggest that interest rate increases may need to be implemented in the near term. That warning is likely to be a bigger focus for the financial sector than any of the announcements to be found in this period's budget.
I'm in a long-term fixed-rate already, what can I do?
The good news is that it is still possible to ensure that your mortgage payments don't suffer the increase of the price hikes. Generally, a lot of people fix in their rate for 2-5 years, and if you are concerned your payments increasing when that ends, renewing early may also be a benefit for you, although you may find that you need to pay an early redemption charge (ERC). This may still mean saving money in the long run.
Exclusive rates are also available from CMME, please contact one of our brokers to discuss further.
Useful Resources
Whether you want to talk specifics or are just after some general advice, CMME can help. Speak to us today on 01489 223 750 for a completely free, no-obligation initial mortgage consultation. Or click the button below.