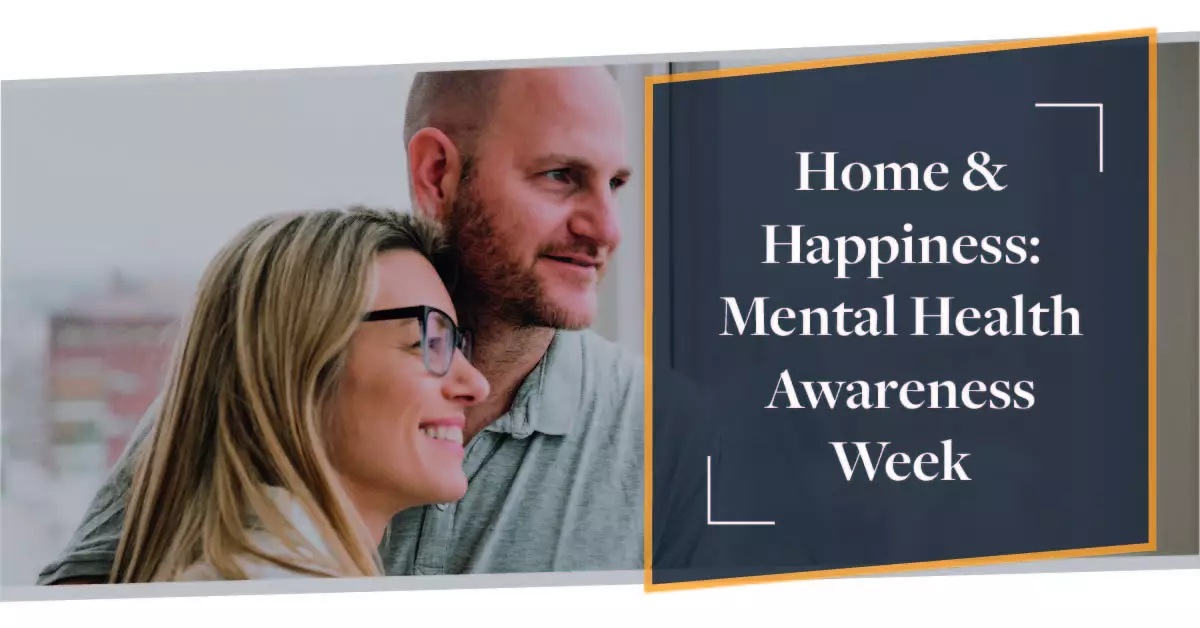 May 14th, 2021
All About Mental Health Awareness Week
Mental Health Awareness Week (MHAW) has been celebrated annually for the last 21 years to bring attention to mental health and to focus on achieving good mental health.
This year's MHAW is themed around nature. The Mental Health Foundation explain on their website, "During long months of the pandemic, millions of us turned to nature. Our research on the mental health impacts of the pandemic showed going for walks outside was one of our top coping strategies and 45% of us reported being in green spaces had been vital for our mental health."
As independent professionals your health and happiness are instrumental to your work and to your success. CMME covers how you can make your home, your haven whilst work from home continues to be prevalent for many.

What's in the Blog?
Home Happiness
Moving
Prioritising You & Your Family
Mood Boosting Tips & Tricks
Useful Resources

Home Happiness
There's plenty of ways to optimise the space you live in at present. Making our homes the best place for your mental health can often take a lower priority than other things on your to-do list, however, it's worth investing time in your own well-being.
Your garden
For most of us the pandemic has given a renewed sense of appreciation for our gardens and outside spaces. Though the lockdown restrictions are beginning to lift it makes sense for our health and wellbeing to invest in those spaces; being outside literally improves our mental wellbeing on a chemical level, we get a rush of endorphins every time we get fresh air.
Renewing your outside spaces can be as large or small a project as you wish but could include:
Landscaping
Hot tub
Patio
Decking
New lawn
Garden furniture
If you consider a more rigorous undertaking when it comes to renewing your garden you may want to consider remortgage to raise additional funds for this. It is a good idea to speak to a specialist broker to consider your needs.
Your home office
Over the last year with work at home suddenly and then increasingly prevalent, keeping your home and work life as separate entities has become more important than ever before.
Renovating a spare room or creating one is a great way to ensure that work doesn't seep into your home life, which is already an easy line to blur when you are an independent professional.
Again, the costs for implementing a change like this can range from as little as buying a desk to pop into the spare room to a much more significant sum. Either way, it's worth noting that nearly half of the remortgages in 2019 where equity withdrawn mortgages, meaning that it is entirely possible to utilise your existing equity to raise additional funds.
Moving Home
Whether your family is growing, or, at the other end of the spectrum, your kids have finally flown the nest, whether it's just time for a change, moving home can be the perfect opportunity to renew your sense of self and wellbeing.
Try our Calculator
If moving is something that's on the cards for you, getting an idea of how much you could borrow as an independent professional is essential to making that dream a reality.
Contractors, freelancers, and independent professionals are so often penalised by high street lenders which can lead to stress you shouldn't have to associate with moving home, something that should be an exciting experience – CMME strive to remove that prejudice for independent professionals like you.
Prioritising You & Your Family
As a self-employed professional, it can be a worrying time if you find yourself unable to work due to ill-health or injury.
Only a shocking 9% of self-employed workers have income protection, a recent study found. That means a staggering 91% of self-employed workers aren't protected if the worst were to happen.
And if you are in that 9% with existing cover, when was the last time you reviewed it?
If your role has changed due to IR35 or for any other reason, whether you're a contractor or an umbrella employee, you should review your cover to make sure it still matches your circumstances.
What types of financial protection should I consider as a self-employed professional?
This is a non-exhaustive list of the protections you might consider, however, it's important to think about what back-up you might want to have in place.
Income Protection Insurance:
This replaces part of your income if you are unable to work for a long period of time because of illness or disability:
You can insure up to 60% of your current income (salary and dividends)
Your take-home payments will be tax-free, as the tax is paid on premiums
A bespoke plan is built around your unique needs and budget
Critical Illness Insurance:
This pays out a lump sum if you're diagnosed with a critical illness. You can use the pay-out for anything such as payments for medical treatment or to pay off your mortgage.
Life Insurance:
This will ensure your family is taken care of in the unfortunate event of something happening to you.


Mood Boosting Tips & Tricks
1. Get fresh air
Get some fresh air, take a walk, get your daily dose of vitamin D. Fresh air increases the amount of Serotonin that our brains produce – the hormone that makes us happy – which means a walk outside will make you happier on a chemical level.
Coupled with the endorphins that make us happy from exercise a walk around the block before work or over lunch will lift your spirits.
More than this, getting outside gives us a much-needed change of pace, an opportunity to stretch and relieve the tension of hunching over a desk and boosts our immune systems meaning that we stay healthier with minimum effort!
2. Put work away at the end of the day
Out of sight, out of mind – it's a phrase most of us are familiar with but now is the time to act on it.
When the end of the day hits leaving work spread out across your desk is a sure-fire way to let work seep into the personal. Having a clear divide between the working day and your own time gives you time to regenerate and will ultimately make your work better as a result, bringing fresh eyes to it in the morning.
3. Take breaks
Breaks are proven to increase productivity. Countless studies have shown the benefits of brain breaks on productivity, creativity, and engagement. What's more, breaks that stimulate your brain can reduce stress, increase happiness and even help you live longer.
4. Eat lunch
This might seem basic but it's easy to forget that your lunch break is important – especially when there's no water cooler to chat around.
They say breakfast is the most important meal of the day, but lunch gives us the fuel we need to get through to dinner. Skipping lunch, asides from working too hard, can lead to exhaustion and over-eating, neither of which keep us happy!
Here's some tasty ten-minute recipes to try out:
5. Social plans
Make the most of your evenings, social plans in the evenings were always important but now that you no longer face the commute home, home time really means home time. Take advantage of that. Book a table at the pub and see your family or loved ones, head out for a game of golf or a walk with friends – see people.
Human nature pulls us to other people, to seek connections – making the most of your evenings by seeing your friends and family can make your days feel longer, make you happier and more productive during working hours.
This Mental Health Awareness Week prioritise you and your family, for a happier today and for the future. For more information on the annual Mental Health Awareness Week please visit the Mental Health Foundation's website here.

Useful Resources
Whether you want to talk specifics or are just after some general advice, CMME can help. Speak to us today on 01489 223 750 for a completely free, no-obligation mortgage consultation. Or click the button below.