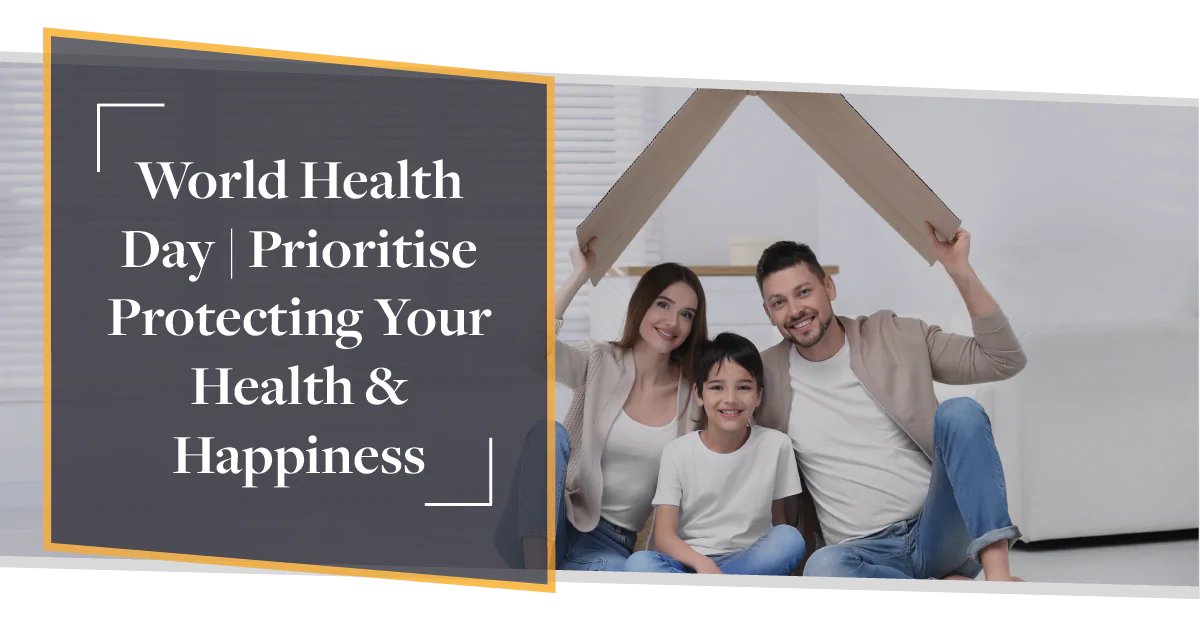 April 6th, 2021
Protection: Looking After What Matters Most
World Health Day marks the anniversary of the founding of the World Health Organisation in 1948, 73 years ago. The idea of the day is to draw attention to our health and how we protect it.
As a self-employed professional you're an independent spirit – we like your style. That's why we want to make sure you're covered, no matter what, so you can keep doing what you love to do.

What's In This Blog?
Why Should You Review Your Existing Cover?
Protection For The Self Employed
Income Protection
Critical Illness Cover
Life Insurance
Prioritise Home & Happiness
Useful Resources

Why Should You Review Your Existing Cover?
Only a shocking 9% of self-employed workers have income protection, a recent study found. That means a staggering 91% of self-employed workers aren't protected if the worst were to happen.
Now, if you're in that 9% with existing cover, when was the last time you reviewed it?
Here's some reasons to review your cover:
Smoker Status
Not only is quitting smoking good for your health (and your wallet) it's great for your insurance, if you've stopped smoking or using nicotine products, premiums can potentially be halved.
Diabetes Management
If you suffer from diabetes, it's worth noting that the way you manage your diabetes could change the premium you pay. There have been a number of diabetes specific insurance products introduced in last 3 years whereby premiums can come down the better controlled your diabetes is.
Historical Changes
Policies taken out prior to 2012, may be entitled to cheaper rates, despite now being older owing to the EU Gender Directive which came in meaning men and woman were charged same rates. Historically, men have paid more for life cover, and women have paid more for critical illness cover and income protection.
Your Health
There are a number of health changes that could reduce your premiums or remove exclusions from your policy:
If your health has improved
If there has been more time since a particular condition was diagnosed, or longer in remission of cancer for example
Better control of a particular condition such as high blood pressure
No re-occurrences of mental health or back problems
Additional Benefits
By reviewing your cover, you may be able to take advantage of additional benefits – lots of providers now include useful benefits such as 24/7 GP appointments, 2nd medical opinions with private GPs, mental health support without long waiting lists, physiotherapy and health checks.


Protection For The Self-Employed
As a self-employed professional, it can be a worrying time if you find yourself unable to work due to injury or ill-health.
Now's a great time to ask yourself, what types of financial protection should I consider as a self-employed professional?
This is a non-exhaustive list of the protections you might consider:
Income Protection
This replaces part of your income if you are unable to work for a long period of time because of illness or disability:
You can potentially insure up to 60% of your current income (salary and dividends)
Your take-home payments will be tax-free, as the tax is paid on premiums
A bespoke plan is built around your unique needs and budgets
Critical Illness Cover
Critical illness cover pays out a lump sum if you're diagnosed with a critical illness. This can provide peace of mind when what you need to focus on is your health. You can use the pay-out for anything such as payments for medical treatment or to pay off your mortgage.
Life Insurance
Life insurance ensures that your family is take care of in the unfortunate event of something happening to you.

Prioritise Protection For Your Home & Happiness
This world health day, make sure you, your home and your family come first. Some questions to think on:
What protections do you need to consider?
Are you covered if you were out of work for any reason?
Is your family protected if something were to happen to you?
How will you cover your mortgage repayments if you are taken ill?
Can you increase your peace of mind?

Useful Resources
Whether you want to talk specifics or are just after some general advice, CMME can help. Speak to us today on 01489 223 750 for a completely free, no-obligation consultation. Or click the button below.