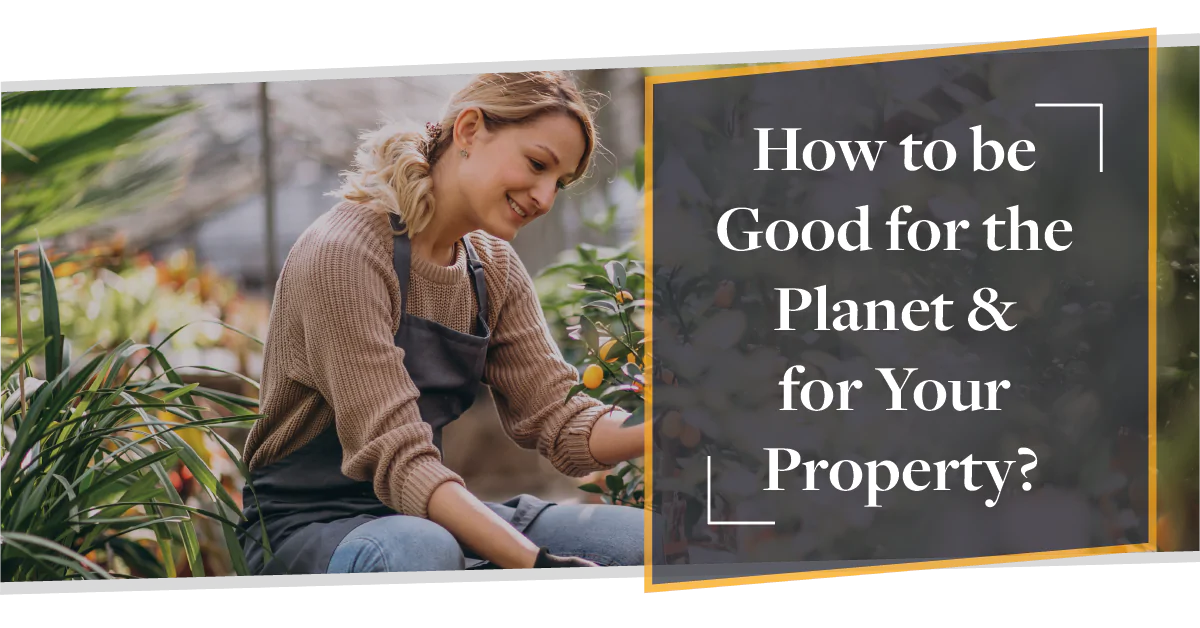 April 22nd, 2021
All About Earth Day 2021
Earth Day has been celebrated on 22nd April since 1970 and aims to 'diversify, educate and activate the environmental movement worldwide', with recent attention on climate change the day's focus this year is on restoration.
With restoration and renewal in mind then, how can you do your part as homeowners to be good to the planet and to your property?
Is there a way to do both? Can you be green and increase your property value? Where do you start? CMME discusses all this and more.

What's in the Blog?
Earth Day 2021 & Your Home
Home Improvements
Funding Home Improvements
Useful Resources

Earth Day 2021 & Your Home
When we consider our environmental impact, our home is one of the first places we should look.
A 'green' or 'eco' home more often than not refers to a building that is ecologically friendly. It makes a positive contribution to the environment; or at least has only a minimal negative impact.
One of the convenient bonuses of green choices for your home is that they'll often save you significant amounts on your monthly outgoings and make your house much more energy efficient.


What Home Improvements Could You Think About?
There are lots of simple home improvements that you can make that are good for the environment – not only this but they can also be very affordable to enact, save you money on your future monthly bills and increase the value of your property.
Investing in double glazing is good for the environment and for your energy bill. Not only this but double glazing may increase your property value. But how much will it cost?
The Double Glazing Network state anywhere between £150 to £600 per window is pretty reasonable for double glazing installation here in the UK.
Thinking about green energy is a great way to approach Earth Day 2021, and though it's an investment to get going, can actually help you reduce your monthly energy bills and increase the value of your home.
The price of a typical solar panel system, including installation, is about £6,200 according to Money Saving Expert.
It's important to remember that solar panels can potentially add value – but they could also reduce the value of your property – it's worth considering the length of time you will be in the property before you think about adding solar panels.
What's more environmentally friendly than the great outdoors? Having your garden landscaped can not only encourage wildlife and restore natural habitats, especially in cities, but increase your property value.
Landscaping your garden can get very pricey depending on what you want to have done, which is why we've included this breakdown as to the estimated costs you may be charged by tradesmen:
| | |
| --- | --- |
| Landscaping job | Estimated cost |
| Patio | £800 for 4m x 2m area |
| Decking | £800 to £1000 for 4m x 2m area |
| Remove patio & replace with lawn | £500 for 4m x 2m area |
| Real grass | Around £560 per 40m2 area |
| Artificial grass | £3000 for 40m2 area |
| Fencing (1.83m high panels) | Around £1000 for 4m x 4m garden |
| Brick wall | £650 for 1m x 12m wall |
| Raised vegetable beds | £200 to £800 for 4m x 1.5m depending on the height |
| Pond | £400 to £800 for 1.5m diameter |
| Railway sleepers | £1040 for about 50m |
According to the Energy Saving Trust: A quarter of heat is lost through the roof in an uninsulated home. Insulating your loft, attic or flat roof is a simple and effective way to reduce heat loss and reduce your heating bills. Loft insulation is effective for at least 40 years and it should pay for itself many times over.
From an ecological point of view, the more your house retains heat, the less energy you use, the better your home is for the environment. Below are some charts to demonstrate the cost and savings associated from the Energy Saving Trust.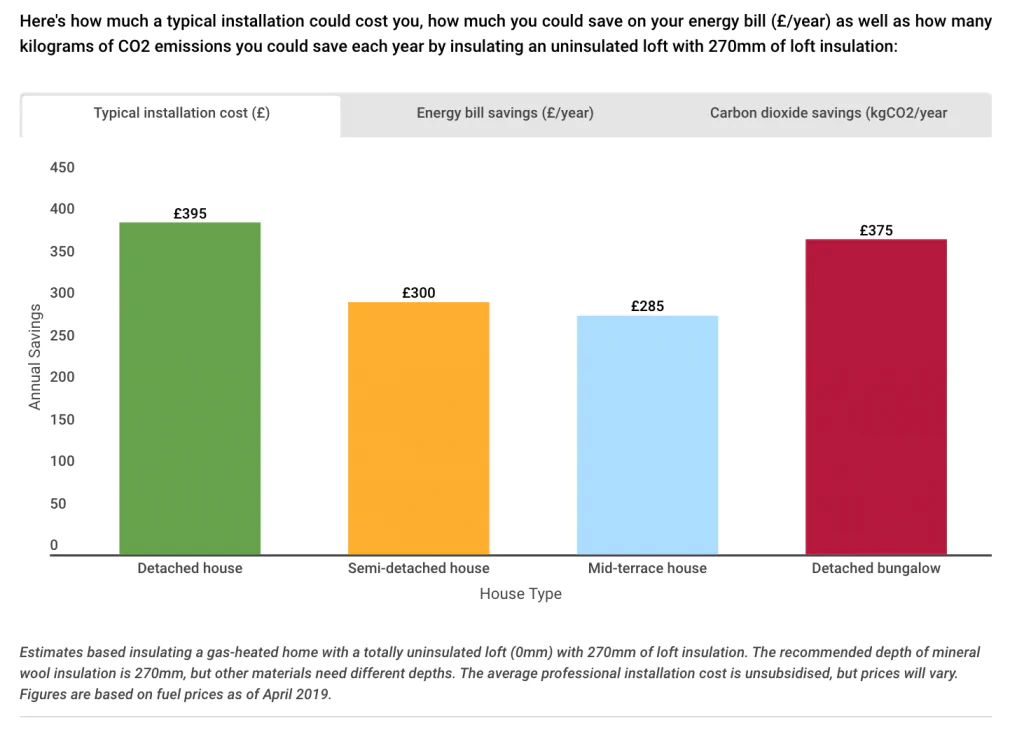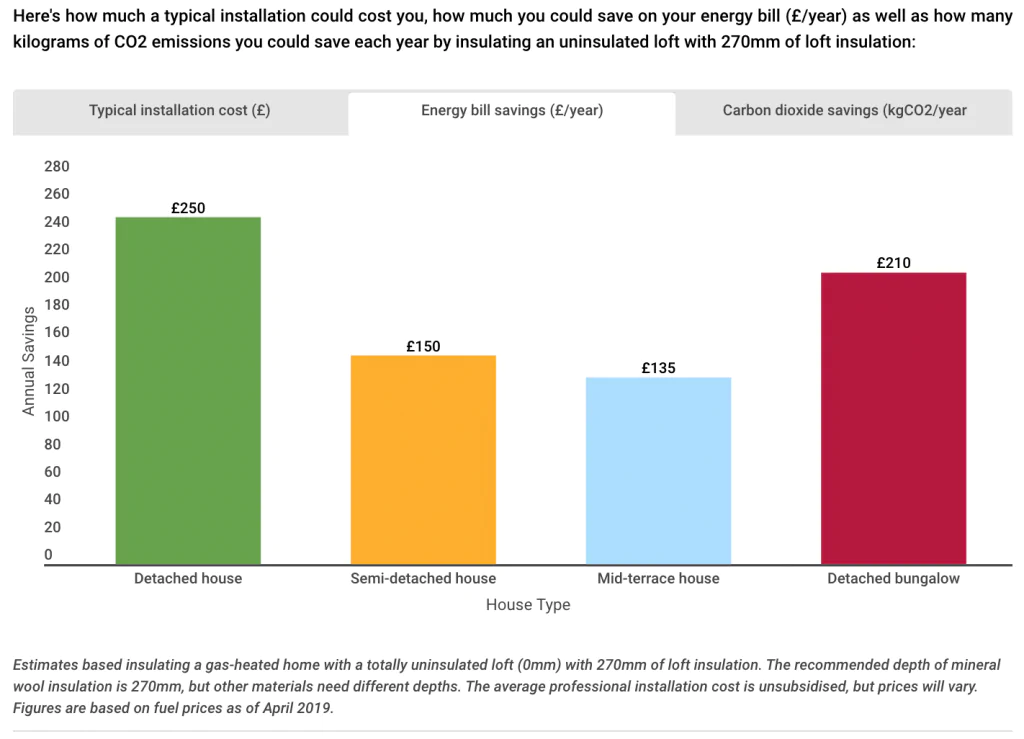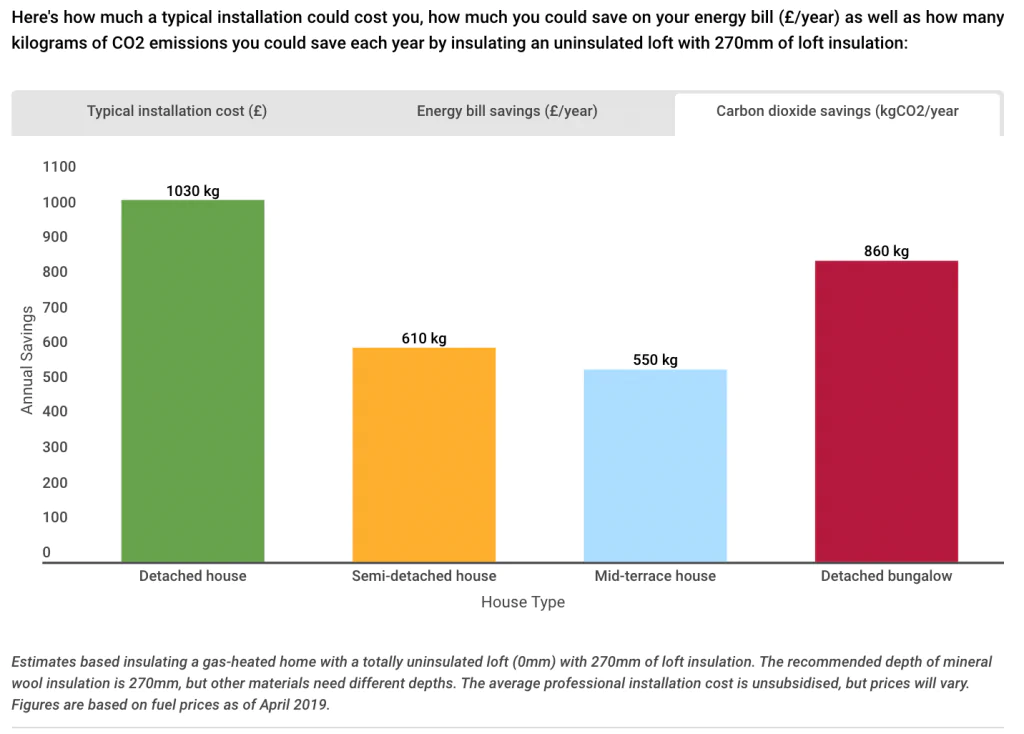 Funding Home Improvements
Can I Remortgage for Home Improvements?
As with all mortgages, your ability to remortgage will depend on your personal circumstances and the value of your property. Homeowners remortgaging typically raise funds for home improvements, debt consolidation or special occasions such as weddings.
Over half of remortgages in 2019 were equity withdrawn mortgages according to Finder – using remortgage to achieve your home improvement dreams is entirely possible.
Will my Current Lender let me Remortgage for Home Improvements?
NatWest found in their 2020 remortgage survey that 19% of homeowners remortgaged to fund home improvements – with this percentage of homeowners using remortgage, for this reason, it seems reasonable to suggest that many lenders will support remortgage for this purpose.
What do I Need to Consider Before Applying for a Remortgage to pay for home improvements?
Are you on a great deal already?
Has your home value dropped?
Have you had severe credit issues since your first mortgage?
 When Should I Remortgage: Before or After the Home Improvement Work?
For the most part, many will not have the extra funds to hand to fund your home improvements prior to remortgage.
Certainly, there are potential benefits to having your home improvements done prior to your remortgage if you have the budget to complete the work you would like to have done – after improvements, your lender may value your house higher; resulting in a lower Loan To Value and you'll potentially have access to better, deals and lower mortgage rates.
There's an element of risk with this method in terms of mortgage and interest rates changing whilst you're having work done.
Try Our Calculator

Useful Resources
Whether you want to talk specifics or are just after some general advice, CMME can help. Speak to us today on 01489 223 750 for a completely free, no-obligation mortgage consultation. Or click the button below.