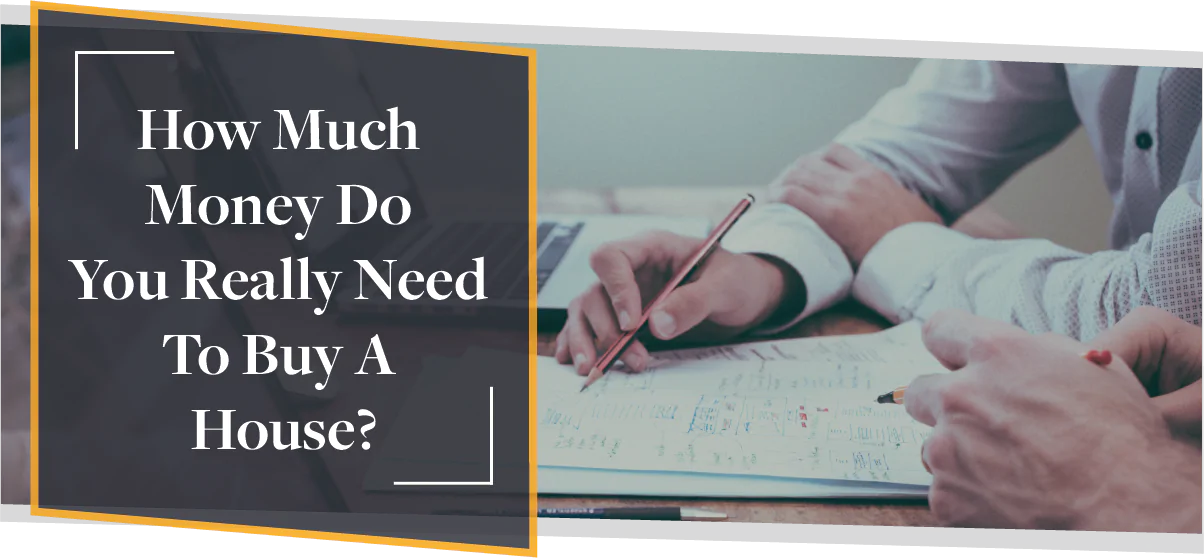 December 22nd, 2020
The average house price in the UK is £256,000. But rather than just going on the price of the property alone, it's a good idea to remember all the other cost associated with homeownership.
Putting this research in beforehand will help you prepare for the road ahead, which quite literally is paved with financial responsibility.
When it comes to working out how much money you need to buy a house, here are some of the top points you need to factor in.


Cost Of A Deposit
Unless you can afford to buy a property outright, you will require a deposit to secure the property before commencing a mortgage.
Typically, deposits for a house are 10% which for our average house price example would be £25,600. However, if you're a first time buyer, self-employed or if it's a buy-to-let purchase, lenders will usually command a higher deposit.
This could be between 15% and 20%, which would mean up to a £51,200 deposit could be required for the average property in the UK.

Securing A Mortgage
To secure a mortgage, you'll either need to opt for a traditional high street lender or a mortgage broker instead. Each will have associated fees, with mortgage brokers typically charging between 0.35% and 1% of the total mortgage costs for their services.
This would cost between £896 and £2,560 for our average property example.
Property surveys will also be required. While you are unlikely to need all of these surveys, these are the average fees that are associated with them.
Valuation survey – £150 to £1,500
Condition report – £300
Homebuyers report – £300 to £450
Structural survey – £600


Average Renovation Costs
There's an old saying which is to 'buy the worst property on the best street'. Trading a lower purchase price with the cost of renovation is a popular route for property buyers.
If you've never purchased a doer-upper before, quite a lot of work will be needed to turn it into your dream property, and in some cases – just to make it liveable!
Even if the house is fairly new, you may still want to put your stamp on the place with some renovation or at least basic decoration.
The cost will depend on the scale of the renovation. Plus the quality of materials you choose i.e laminate vs quartz worktops in the kitchen as an example. Here are some average costs to guide you.
New Kitchen – £6,000
New Bathroom – £4,500
New Roof – £5,500
New driveway (pavers) – £4,000
New windows – £4,500
Electrical rewiring – £2,750
Plastering – £400 per room
Rendering – £5,000
Painting/Decorating – £300 to £1,200
You may also want to look at more ambitious renovations such as extensions, loft conversions etc. This will give you more living space and increase the value of the property but will come at a cost.
It's also a sensible idea to set aside some contingency money if renovations run over budget.
Here's a handy rundown of Remortgage for Home Improvements

Moving Costs
A recent survey found the average cost of moving in the UK stands at £8,951. This covers aspects such as stamp duty, conveyancing (via a solicitor), the removal company and even postal redirection.
However, one of the largest fees is what your estate agent will charge which comes in around £3,000.
It goes without saying that for the amount they charge, your estate agent needs to offer excellent value for money. The temptation these days is to head to an online agent instead, which will try and tempt you in with (initially) cheaper fees.
But, given the service isn't local – the sale of your property isn't going to be top of their priority. So, you can expect your property stale to stagnate as a result.
That's why opting for a local estate agent instead will offer better value overall. Not only will they know the area like the back of their hand, but they will have a dedicated team behind each and every sale.
Rather than your property just being yet another number, it is more likely to be sold quickly and for a better price when actual humans are overseeing every step of the process.
Check out CMME's article on How to speed up the moving process

Storage: If needed
If downsizing or if there will be a delay between moving into your new property, then you're
going to need to factor in storage costs too. The cost for storage is worked out by the amount you need, and the length of time you require it for.
Insurance is also required, not least for high-value items.
The price for storage per square foot varies around the UK between £17 and £27 on average. This brings the typical cost of storing 100 square feet of belongings for 1 month to £189.
If possible, try to have a good clear out before you move. That way, not only will it reduce the need for storage but could earn you some money too, especially if you can sell anything you no longer need.

Additional Costs
As with any major life purchase, additional costs are to be expected. As well as the cost of securing your property, you're also going to need to include the cost of insuring it.
Namely, this involves both buildings and contents insurance. The average home insurance costs £163 a year and will be a condition of your mortgage.
Then there are any bills which occur as a result of leaving your current property. Most energy companies will issue what's known as a final bill.
Depending on how you pay your energy bills and what time of year it is, this figure could be quite steep.
You may also have to pay for end of tenancy cleaning or similar costs as you hand your current property back to your landlord. Even if you own your existing property, it's cleaning or maintenance costs are to be expected.
Property owners may also be liable for capital gains tax too.

Tips To Keep Costs Down
Leaving enough time to do your research will ensure you are not only fully informed but can source the best deals. For example, comparing insurance options as well as deciding whether a mortgage broker or lender would be right for you.
It also pays to check if you would be eligible for any government schemes for the renovation.
The Green Deal covers home improvements that will make your home more environmentally friendly, and could knock thousands off renovation costs if you qualify.

To Sum Up
Purchasing a property is an exciting prospect, whether it's your first ever property or if you're a serial investor. Understanding the costs involved will make sure the process runs as smoothly as possible.
This includes consulting the right people including a reputable estate agent and making a note of all the requirements such as surveys or renovation costs.
Be sure to take your time to ask plenty of questions at the buying stage, and never 'buy blind' which will help avoid any nasty surprises.
By seeking the proper advice and being realistic, it will help keep control over your total spend.

About the Author
Aaron Cambden, Director at Fairview Estates
Aaron has been working in the property industry for years and with that experience came the confidence to start Fairview Estates; a letting agent in Nottingham. After learning everything he could from some of the biggest names in property, the Fairview team can help you with anything you need.