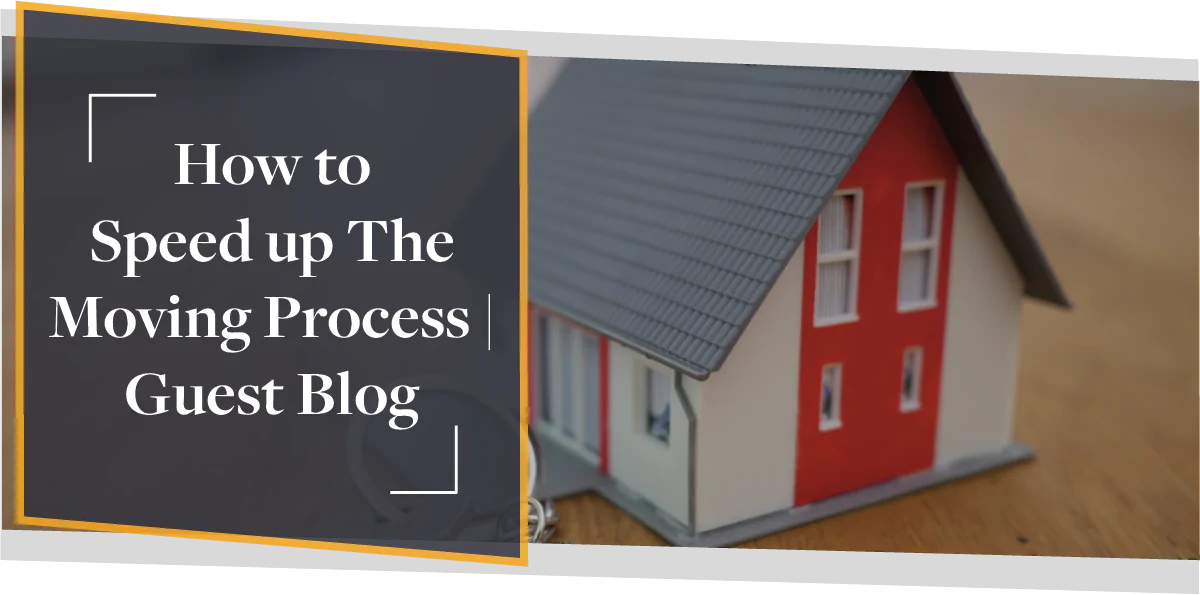 November 19th, 2020
The average moving process takes anywhere between 8 and 22 weeks to complete. For some, this timeframe is perfectly acceptable, but if you're in a hurry every additional day let alone week can feel like a lifetime.
There are many factors that can put your move on the slower side of things. Delays are not only frustrating but can cost you more money, especially if you are part of a long property chain.
But, with the right professionals by your side not to mention good organisation skills, you can prevent unnecessary delays. Here are our top tips on how to speed up the process to quite literally get you moving.


Top Tips To Speed Up The Moving Process
1.Sort Out Your Mortgage
It can take anywhere between 18 and 40 days to finalise a mortgage. The primary focus is of course on mortgage rates and getting the best deal. But if speed is the priority, you may wish to opt for a mortgage broker over a traditional high street lender.
Whereas a high street lender will invite you for a consultation and then make a decision (which could take days to process), a mortgage broker will hold a strategy call to access your position. They will either accept to work with you or advise on what your next steps should be.
Once accepted and after verifying the information with your bank statement and credit history, your mortgage broker will provide you with various quotes to get the ball rolling. They will draw up an Agreement In Principle (AIP) which takes around 24 hours to be approved. As all of the background information has already been checked and verified, the AIP is a lot more likely to go through, speeding up the process even more.
If you are a self-employed first-time buyer, the process works much the same. But you will need to have at least one year's trading under your belt so your financial position can be assessed.
The more trading history you have, the more products will be available to you. It's also advisable to have a 15% deposit, especially if your business isn't long established, as this will give confidence to lenders and ultimately help speed things up. Taking professional advice on your individual situation before you enter into a sale will also reduce the chances of any hold ups.
Why not try out our mortgage calculators? If you're a little stuck, give our CMME Mortgage team a call on 01489555080, and we'll help you out!

2. Choose The Right Estate Agent
These days, there are plenty of online estate agents, and the glossy TV adverts and initial reduced fees can be a huge draw for sellers. But such companies do come at a greater cost which is losing the local expertise which can help match the right buyers to your property. Plus, the ability to guide you on the best sale prices for your area.
If your home doesn't sell promptly, online estate agents are less inclined to take action because their profits are spread nationwide, rather than concentrated over a local area. Even if the sale has gone through, if there are any hold-ups on the other side, there isn't a local representative to be able to liaise with both parties.
We typically associate online services with being quicker, so it's good to be aware this isn't always the case especially with monumental purchases such as property.
While one option may seem cheaper initially, it may cost you more in the long run if there are huge delays with the sale or moving process.
Here are the 10 tips for choosing an estate agent!

3. Arrange Your Property Survey Quickly
Carrying out a property survey is the part of the process most people dread, but don't let any hesitation stop you from getting on with it. Not only are surveys essential, but they will provide you with insightful information regardless of which side of the process you're on.
There are various types of property surveys, and the level of survey required may also differ depending on the age of the home. For example, in older homes, a survey may be needed to assess if there are any damp or structural issues.
Even though it may throw up some unexpected problems, the selling process can't move forward without a survey, so don't delay as the sooner you find out about any issues, the quicker you can fix them.
Check out these tips for preparing for your survey!

4. Select The Right Conveyancer Or Solicitor
Once you have your survey report you'll need to send the details to your conveyancer. Look to instruct a conveyancer or solicitor at the same time you put your home on the market, which will avoid any delays further down the line.
Their role is to provide you with advice and information about the transfer of property ownership. They assist both buyers and sellers through the selling process.
The quality of the professional you choose matters here, so it's important they are trustworthy and experienced. There is a lot of paperwork to fill out, sign and return so you need someone who can do so efficiently. Slow turnaround times will ultimately stagnate the sale process, which neither party will appreciate.
Some useful resources:

5. Get On Top Of Any Other Admin
A myriad of paperwork is involved in a house sale. This ranges from proving proof of income with bank statements to the likes of completing a property information form, which details all the work done in the home and to what standard.
It goes without saying that should any information or forms be missing or incomplete, it's going to slow the moving process down.
Ideally, your estate agent will provide you with plenty of advice about what's required, as will your conveyancer or solicitor.
However, it's also a good idea to make a checklist and have a secure folder where all your documents can be kept. If any issues do crop up, sort them immediately so that it doesn't hold up another department or process.
Here's our expert guide to your mortgage admin: CMME's Ask the Expert: Deposits & Documents

To Sum Up
If time is of the essence when moving to a new house, don't delay in engaging with the relevant professionals, completing surveys and submitting any paperwork. Keeping in contact is key here, as you need to know expected timeframes for each part of the process.
While it can be demanding to keep up with everything, it's the only way to ensure unnecessary delays don't make the process any more stressful or lengthy than it needs to be.
Useful resources from CMME:

About the Author
Aaron Cambden, Director at Fairview Estates
With a love for property, analytics and a keen sense of people, Aaron has been working as a property expert for years now. His excellent knowledge of the local area means that he's able to help people buy their dream homes or sell their old property.