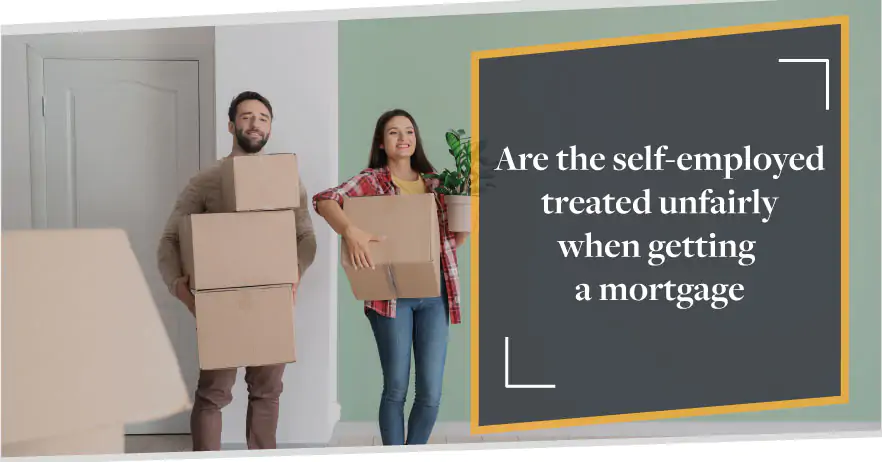 January 17th, 2022
Our research with IPSE shows that 12 per cent of self-employed people are looking to buy a home in the next five years. We believe that those who choose to work independently should be able to achieve this financial milestone, just as employees can. But is this really the case?
For 25 per cent of the self-employed, buying an investment property is a way to save for later life. Yet the first rung on the ladder – getting a mortgage – appears to be a step too large to overcome.
Every year, we conduct research with IPSE into how self-employed people in the UK find the process of obtaining a mortgage. And over the past year, it seems to be particularly difficult, with 38 per cent saying exactly that.
There are clearly barriers to overcome – but our question is whether lenders are treating freelancers unfairly. Let's explore the current situation.
The pandemic in-affordability
Every mortgage is hinged on affordability. For self-employed people, the pandemic has hugely impacted how much they can afford to borrow (or how much lenders perceive they can afford).
Our research reveals that 60 per cent of self-employed people say their turnover decreased during the pandemic. Of those, 47 per cent said their turnover had decreased by more than 40 per cent. When your income goes down, so does your affordability. It is understandable that self-employed people don't feel confident when applying for a mortgage right now.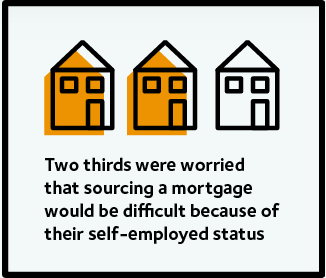 Not only that, but there are concerns the government's Self-Employment Income Support Scheme (SEISS) will also affect affordability. Of the 4.3 million self-employed people in the UK, 2.9 million used the financial help scheme. And our research found that 40 per cent of those who used the scheme were worried that they would be penalised for it when applying for a mortgage.
Another stumbling block – IR35
The new IR35 rules are also affecting self-employed people's affordability. They came into force in April 2021 and give medium and large-sized private business clients the responsibility to determine their freelancers' employment status.

We are already seeing signs that the new rules are impacting earnings. Our research shows that 80 per cent of those now working on inside-IR35 roles have seen their quarterly earnings drop by 30 per cent on average.
When it comes to applying for a mortgage, it is now more difficult for self-employed people to declare their earnings with certainty. And this will no doubt affect their affordability.
Are lenders turning down self-employed people?
There's a general feeling that lenders stand in the way of freelancers buying a home, with 38 per cent saying that they found the process of getting a mortgage either somewhat or very difficult. However, our research indicates that the tide may be turning.
Over half of self-employed say they currently own a home with a mortgage, which suggests these products are generally attainable.
We also found that lenders have been doing work to better support self-employed people. In 2020, 96 per cent of our survey respondents said they had to provide more paperwork because of their employment status. In 2021, that number dropped to 81 per cent, though it does remain high.
The proportion of freelancers who experienced a lack of low deposit mortgage offers also dropped, from 28 per cent in 2020 to just eight per cent in 2021. We expect that the return of some higher loan-to-value mortgages is accounting for this fall.
And as a final note, only 3 per cent said lenders turned them down because they had been on the SEISS scheme.
But are lenders treating self-employed fairly?
Although lenders do appear to treat self-employed people fairly when assessing mortgage applications, many freelancers still feel unsupported. In this year's research, 11 per cent said they found a lack of support from their lender or broker, and 16 per cent said the process was confusing.
You could argue that employees feel the same way about their lender or broker, but we believe that self-employed people may need additional support given their unique financial situation. Interestingly, 10 per cent said they couldn't find a broker who understood their situation. People clearly need more tools and information to find the right mortgage.
Progress for self-employed mortgages in 2022
We believe that specialist providers and products do help self-employed people achieve their home-buying goals. Likewise, lenders do appear to be making progress to treat people fairly. Yet there remains widespread uncertainty and a lack of confidence among freelancers when it comes to mortgage applications. More work needs to be done to raise awareness of tailored products and advice.
Useful Resources
Whether you want to talk specifics or are just after some general advice, CMME can help. Speak to us today on 01489 223 750 for a free initial, no-obligation mortgage consultation. Or click the button below.