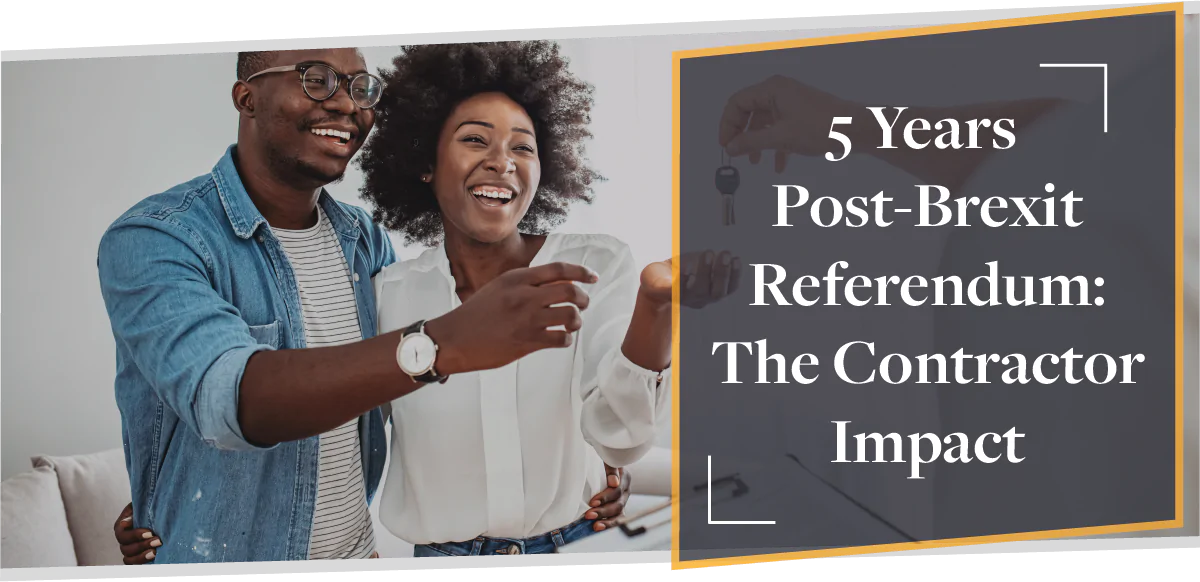 July 21st, 2021
If you're over the age of 23 you'll probably remember voting in the Brexit Referendum in 2016, a seminal political moment in the last decade. As the vote approached so did much uncertainty about the financial state of the UK post-vote. Now, just over 5 years Post-Brexit Referendum we're looking back on what the referendum meant for your mortgage then and what the five-year anniversary of the vote (and Brexit in action) means for your mortgage today.
Brexit remains a divisive issue, no matter your opinion on it – if you're a homeowner you've probably considered how it might impact your mortgage, house prices and interest rates. We're here to consider the actual impact seen and what the 5 year anniversary of the referendum means for contractors now.

What's in the Blog?
Looking Back on the Referendum
Brexit for the Self Employed
Brexit in Action: The Impact on Your Mortgage?
Why it Matters now?
Useful Resources

Looking Back on the Referendum
On 23rd June 2016, the UK went to the polls to vote on the future of the country's EU membership. The results were decided by a narrow margin of 51.9% to 48.1% to leave.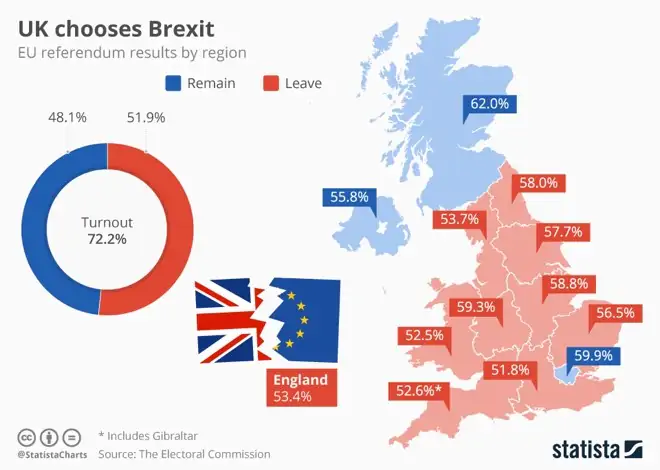 (source: https://www.statista.com/chart/5100/uk-chooses-brexit/)
Prior to the referendum the Bank of England Base Rate – set by the Monetary Policy Committee – was dropped to 0.25% to stave off the risk of a recession. The rate is voted on and set on against the governments outlined inflation goal and halving the rate was indicative of the uncertainty prior to the vote; a move we've seen almost replicated at the beginning of the pandemic.
Since the rate slash in 2016, the base rate has risen, but only up to 0.75%. Now due to Covid-19 it is at its lowest rate in history, just 0.1%.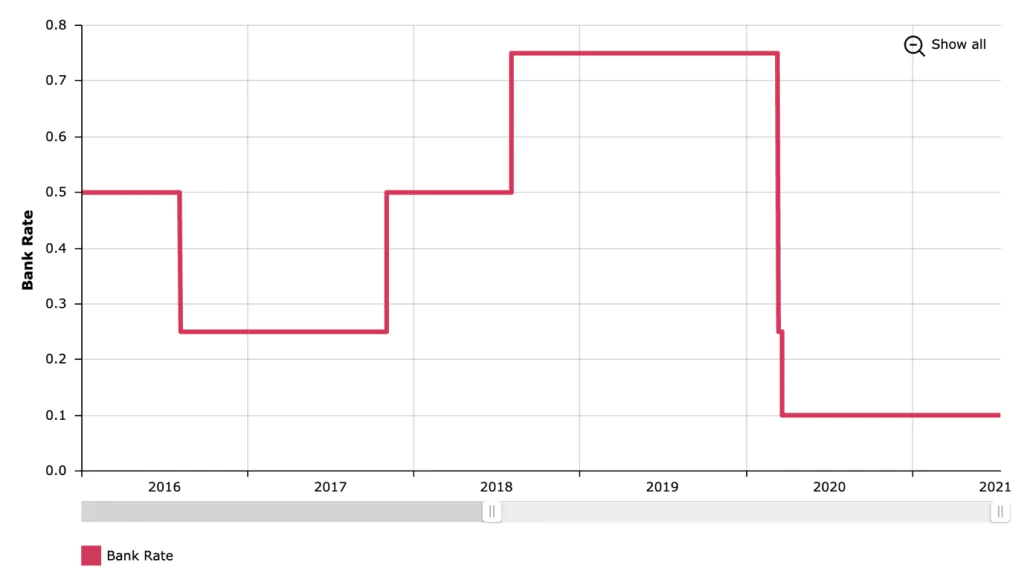 (source: https://www.bankofengland.co.uk/monetary-policy/the-interest-rate-bank-rate)
The Guardian reported at the time "The recent dip in long-term fixed-rate [mortgage] deals has been driven by investors seeking a haven for their cash in the run-up to the EU referendum". This is, in-part, why it's important to consider the impact of 5-years post-referendum now, because many people fixed their mortgage rates ahead of the vote and may now be moving onto unfavourable Standard Variable Rates.
The financial forecasts prior to the vote raised concerns for many like tighter lending criteria, lower availability of high Loan-to-Value mortgages and more stringent credit assessments. Understandably many people sought to fix their rates, move forward with house purchases, and give themselves as much financial security as possible – just in case.
In reality, even if Brexit in action has a short-term negative economic impact, which many economists predict, its impact is still, for now, likely dwarfed by the impact the pandemic has already had and will continue to have on the economy.

Brexit for the Self Employed
After some time of deliberation, The Trade and Cooperation Agreement was signed on 30th December 2020, was applied provisionally as of 1st January 2021 and entered into force on 1st May 2021.
A breezy 1246 pages long, the deal covers an extensive range of new regulations and technicalities which may affect you and your business.

While the implications will vary depending on the work you do, here are some key areas that may affect contractors:
Travelling & Working in the EU
Of course, whilst this has been complicated already for many contractors as a result of the pandemic, travel is perhaps the most obvious change to be anticipated with Brexit.
Significantly for anyone that travels within the EU regularly, Brexit will end the freedom of movement to some degree. From January 1st 2021, you can now travel to most EU countries for up to 90 days in any 180-day period without a visa for purposes like tourism (though make sure to account for Covid regulations).
For business travel, however, such as travelling for meetings, conferences or providing services, you will need to check if there are any extra entry requirements such as visas or work permits for the country you're visiting.
It may now be a requirement, if you are working on a longer-term contract, depending on who your client is, to pay into social security abroad, instead of National Insurance but you should check the guidelines for each country you are visiting.
Health insurance
Your EHIC will remain valid until it expires – you will need to replace it with a 'GHIC'
Selling services and working in the EU
There is no longer mutual recognition of professional qualifications
There are changes to Intellectual Property – check if you need to have an EU registered trademark
The main takeaway to understand is that the UK and the EU are now separate legal jurisdictions, as a contractor you will need to adapt to both sets of requirements accordingly.
You can find out more on the government website here.

Why Does it Matter now?
5 years ago the base rate, and subsequently interest rates, dropped
The base rate influences all interest rates, whether you're borrowing or saving which is why when it got slashed prior to the Brexit vote many sought to fix their mortgage rate whilst they were lower and thus more affordable.
If you fixed your rate for 2, 3 or 5 years then and have not shopped around for the best rate since you may be wasting money on an unfavourable Standard Variable Rate.
Last year rates dropped again
In an emergency response to the Coronavirus pandemic early last year the Bank of England slashed the base rate from 0.75% to 0.25%, and then once further to 0.1% in March 2020, where it has remained at a historic low since. Whilst it remains at 0.1%, remortgage might be able to make significant savings on your mortgage repayments, depending on your existing rate and other factors.
When you fix your mortgage rate, it's easy to let your introductory period end and let your rate roll over onto your lenders Standard Variable Rate and forget about it.
But why is this an issue for you? Because homeowners are wasting thousands of pounds a year on unfavourable Standard Variable Rates. This is because your initial mortgage rate is usually going to be an introductory offer and your SVR is likely to be significantly higher than this initial rate.
With the base rate at its current standing now could be a great time to consider remortgage, try our remortgage calculator to see how much you could save.

Loyalty Penalty
Citizen's Advice conducted a study into what they called a 'loyalty penalty' in the mortgage market. They described a detriment to mortgage customers, a 'penalty' paid when customers stick with the same lender after their initial fixed rate expires. At the time, Citizen's Advice reported that people often find the mortgage market far too complex and frequently don't have the time to shop around to get the best deal.
As a contractor, we know you already may face bias in the mortgage market because of your complex incomes and a lack of understanding from high street lenders, don't let this stop you from getting the best rate possible for your mortgage in 2021. We always recommend talking to an expert who not only understands the way you work but can do the legwork for you to find the best rate.
Could you be Saving Money?
Try our calculator to find out.

Useful Resources
Whether you want to talk specifics or are just after some general advice, CMME can help. Speak to us today on 01489 223 750 for a completely free, no-obligation mortgage consultation. Or click the button below.