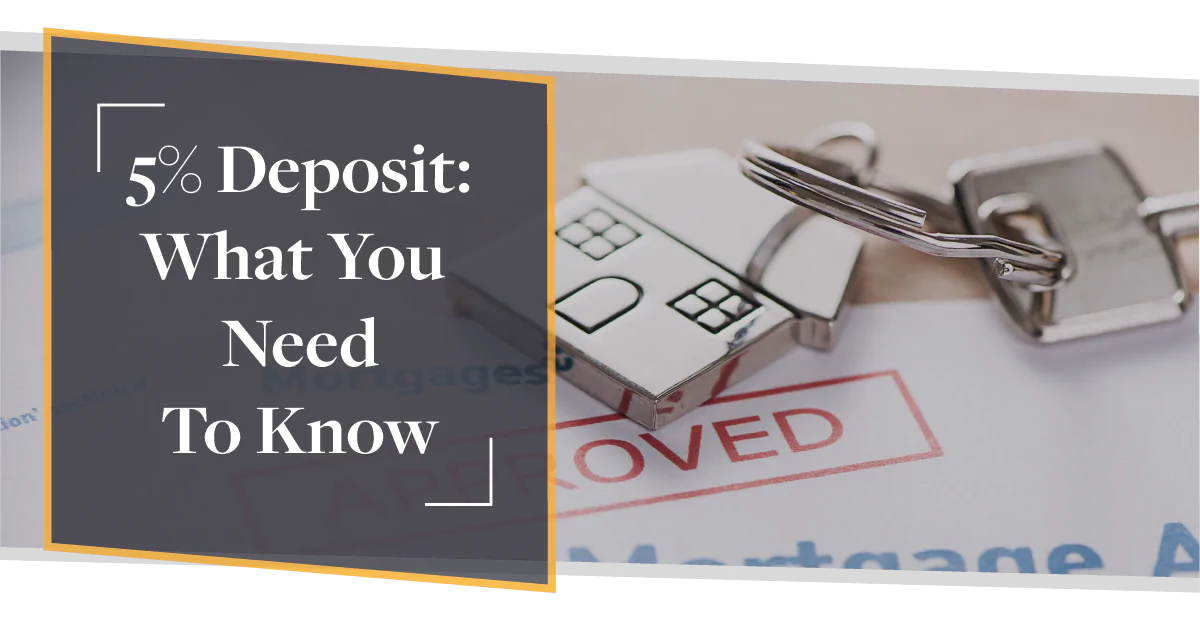 April 19th, 2021
It is well within reason to say that the pandemic impacted first-time buyers and home buyers with smaller deposits more so than others looking to purchase a property. As 5% deposit options reduced significantly it's been a difficult time for those unable to muster those larger 10-15% deposits.
The 95% mortgage guarantee scheme announced in the March Budget 2021 by the Chancellor is a game changer. CMME explains why.

What's in The Blog?
Industry Update
95% Mortgage Guarantee Scheme
Average Deposit in Cities Across England
Getting Mortgage Ready
Q&A With Our Mortgage Experts
Useful Resources


Industry Update: The 5% Deposit
95% Mortgage Guarantee Scheme
First-time buyers, home movers and previous homeowners with a 5% deposit will be able to access 95% Loan to Value (LTV) mortgages under the new scheme announced in the March budget by Chancellor Rishi Sunak. The new scheme, similar to the 5% Help to Buy Government scheme that ran 2013-2017, will run from April-December 2022. The key difference between the ongoing Help to Buy scheme, which is focused on new build property only, is that this provides buyers the opportunity to purchase existing homes with a smaller deposit.
To be eligible for a guarantee under the scheme; the mortgage will need to:
be a residential mortgage (not second homes) and not buy to let
be taken out by an individual or individuals rather than an incorporated company
be on a property in the UK with purchase value of £600,000 or less
be a repayment mortgage and not interest-only
Average Deposit in Cities Across England
Rightmove put together a list of average deposits for cities across England in 2020, for clarity we've added in the average 5% deposit based on their figures used here.
| | | | |
| --- | --- | --- | --- |
| City | Average 5% Deposit | Average 10% Deposit | Average 15% Deposit |
| London | £23,878 | £47,757 | £71,635 |
| Manchester | £8,389 | £16,778 | £25.167 |
| Birmingham | £7,936 | £15,873 | £23,809 |
| Southampton | £8,726 | £17,452 | £26,178 |
| Brighton | £15,480 | £30,960 | £46,440 |
| Stoke-on-Trent | £5,040 | £10,080 | £15,120 |
| Bradford | £4,497 | £8,995 | £13,492 |

Getting Mortgage Ready
1. Check your credit report
Lenders have become increasingly risk-conscious and are continually on the lookout for reasons not to lend. A good deposit and a satisfactory income is often not enough to secure a mortgage.
That is why it is essential to keep your credit rating up to scratch, leaving the lender no reason to turn you down. It's important to note that a poor credit score does not guarantee that you will not be approved for your mortgage application – in the same way, a good score does not guarantee approval – though a strong credit score is the first step towards approval.
Check out CMME's free guide on credit rating.
2. Improve your credit score
In light of step one, step two is applying the knowledge that is gained in being aware of your credit score and the details contained in your credit report.
Here are some quick tips for improving your credit score:
Register on the electoral roll
Check for any errors and have them removed
Pay off existing debt
Don't do lots of credit checks
Pay your bills on time, don't miss payments
Try an app like Credit Karma for keeping track and finding tips for improving your credit score.
3. Get your paperwork sorted
You will need to provide minimal documentation to support your application. Ensure your CV is up to date as it will be used to prove your skills and experience.
You will also need to obtain a copy of your current contract as this will be used to demonstrate your earnings. Using both of these documents we can avoid any issues to do with affordability.
Our process is a simple as that. We won't ask you for heaps of documents we might not need, we know the way you work, and we'll make the process as easy as can be.
We asked our experts everything you need to know about documents, check it out here.
4. Investigate the market
Before you start your mortgage process, it's a good idea to have a look at the market – investigate what type of mortgage might suit you and your needs, what area would suit you and the costs associated with your new mortgage and property.
Whether this is your first mortgage or your fifteenth, preparing in advance can help confirm your goals are realistic and achievable.
For an idea of what's coming up this year for contractors, which might affect you and your mortgage plans, take a look at our recent article here.
5. Speak to a specialist
The truth is that most lenders have little understanding about the contracting market, and as a result, their standardised procedures do not accommodate contractors.
We have agreed bespoke underwriting agreements with a comprehensive range of lenders enabling us to secure mortgage funding based on a multiple of your contract rate alone.


Q&A With Our Mortgage Expert
We asked one of our senior mortgage consultants, Ben Goble some questions you might have on your deposit:
What if my whole deposit is from a gift or inheritance? What if part of my deposit is a gift or inheritance?
In either of these instances most mortgage lenders require a full and thorough trail to the source of the deposit. In the case of a gift a lender will normally seek current bank or savings account statements which show the build-up of funds over a three-month period.
They will normally require a supporting letter from the provider of the gift, which will need to confirm there is no expectation that the monies are to be repaid or that they expect to receive proceeds from any future property sale.
In the case of an inheritance sum to be used for a deposit most lenders would be satisfied with legal documents that confirm the funds are due to be bequeathed to the borrower.
Do I need to declare anything with my deposit?
Mortgage lenders need to see a clear record that confirms the source of the deposit. Any instance where funds are being supplied by a third-party must be identified as this must be written into the mortgage contract.
Your solicitor will ask for similar evidence, so don't be surprised if they ask for the same level of evidence that is supplied to the mortgage lender.
What if my deposit is in my business account?
Most mortgage lenders are willing to accept funds being drawn from a business account, if there is no detrimental impact to the operation of the business's day to day activities and no other party has an interest in the funds provided.
These should normally be drawn as a dividend, as a company loan will often be rejected by a lender as the funds are being used for personal use, not business related. Naturally, this will require income tax to be paid but this is the most acceptable route to withdrawing company funds for a personal property purchase.
What if my savings statement is only produced yearly/annually?
This is not an issue if a clear build-up of funds can be identified, i.e., money hasn't appeared recently from an unnamed or untraceable source.

Useful Resources 
Whether you want to talk specifics or are just after some general advice, CMME can help. Speak to us today on 01489 223 750 for a completely free, no-obligation mortgage consultation. Or click the button below.