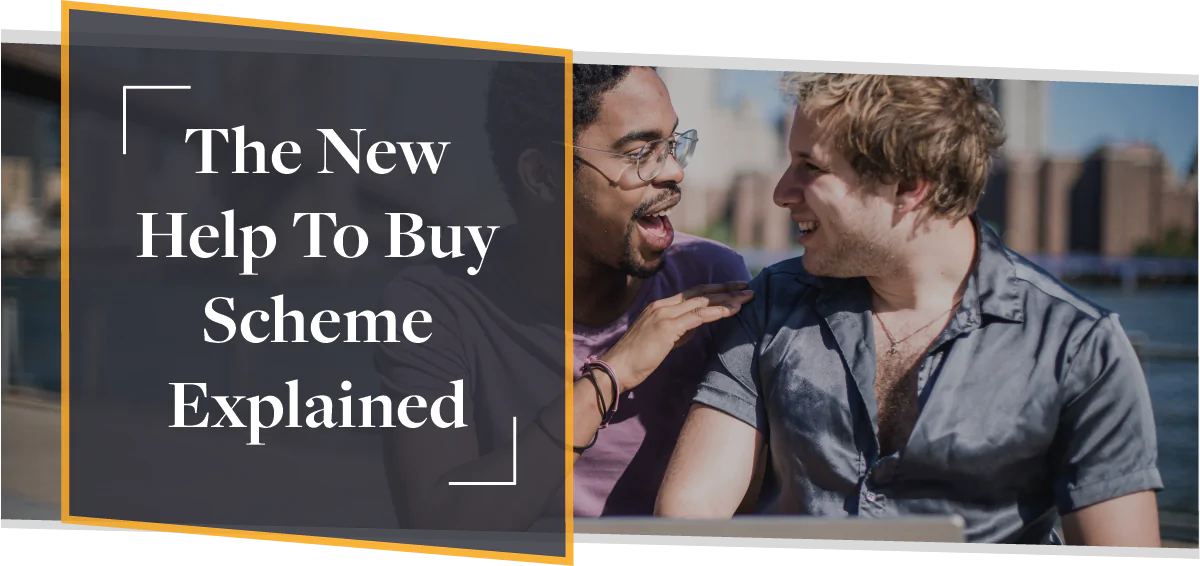 February 15th, 2021
The New Help To Buy Scheme
A government scheme aimed at helping first time buyers get onto the property ladder has been extended for 2021. The Help to Buy scheme has been running since 2013, with the aim of helping those unable to afford a deposit for a property, by offering them an equity loan to cover the majority of the cost.
The 2013 – 2021 Equity Loan Scheme ended 15 December 2020 for new applications but remains open for existing applications until 31 March 2021, to allow for completion of the transaction by the end of May. Help to Buy 2021 – 2023 began accepting applications from December 16th, 2020 and runs until 31st March 2023.
If you are yet to apply for a Help to Buy loan or are wondering whether the scheme could be right for you, here is everything you need to know.

What's In The Blog?
What is Help To Buy?
Help To Buy Requirements 2021
Regional Help To Buy Price Caps
What Deposit Is Needed For Help To Buy 2021?
To Sum Up
Useful Resources

What Is The Help To Buy Scheme?
Help to Buy works by providing those who qualify with an equity loan towards the cost of buying a property. Equity loans work by allowing you to borrow money using your home as collateral.
The amount you can borrow is up to 20% of the total cost of the property, increasing to 40% for those in London. For the first 5 years, the loan is interest-free, and you'll simply be required to pay a £1 a month management fee alongside your mortgage. In year 6, you'll start paying the loan back, at a monthly interest fee of 1.75%. The interest rate will rise each year, in line with the Consumer Price Index.
The loan must be paid back in full according to the agreed terms, or the property could be repossessed. Repayments begin either at the end of the equity loan term or when you pay off your mortgage. Also, if you sell your home or if you do not follow the agreed terms set out in your loan, you may be asked to repay the loan back sooner.
If the property increases in value and you go to sell it before you've paid the loan off, you'll repay the amount you borrowed at the current market rate, rather than the rate at the time you took out the loan.
That means if you borrowed 20% for a house worth £100,000 from the government (£20,000), and the property doubles in value over time so that it's worth £200,000, the 20% would become £40,000.
Although Help to Buy offers a much-needed cash boost for those struggling to get on the property ladder, it's definitely worth considering all of the financial implications at the time you take out the loan, as well as keeping an eye on your credit score.
You can read more about Help To Buy on the government's official website.


Help To Buy 2021-2023 Requirements
On the 2021 Help to Buy Scheme, you and anyone else you are applying with must be first time buyers. This is one of the main differences with the previous 2013 – 2021 version, since before the scheme was more flexible to include those who had previously owned a property.
Buyers must be at least 18 years old and unable to buy on the open market. As with any mortgage you wish to take out, you'll need to provide financial proof of your circumstances.
In this case, the Help to Buy scheme will need confirmation you're not in a position to raise the deposit yourself along with the person you're buying the property with if applicable.
The home must be a new build and purchased from a registered Help to Buy home builder. Before you apply, check which home builders in your area are providing Help to Buy homes.

Regional Help To Buy Price Caps
Due to varying costs of living throughout the UK, the Help to Buy scheme has regional price caps for the total cost of the property it will allow you to buy. These are as follows:
East Midlands – £261,900
East of England – £407,400
London – £600,000
North East – £186,000
North West – £224,400
South East – £437,600
South West – £349,000
West Midlands – £255,600
Yorkshire and The Humber – £228,100
The average property price across the UK is £229,748 according to Nationwide, which does make the scheme quite generous in that the price caps are mostly in line with the national or regional averages.
Also, given the properties will be new builds, this does reduce the financial strain of having to renovate an older property.


What Deposit Is Needed For Help To Buy 2021-2023?
For a Help to Buy home, the deposit will need to be at least 5% of the full value of the home. Compared with a deposit for a first-time buyer not on the scheme, this is a reduction of 15%.
That means if the property is worth £100,000, you'll be required to pay £5,000 upfront instead of £20,000.
You'll also be required to pay a reservation fee to secure your home, up to the value of £500.
The balance is making sure that you can afford the inflation on the rest of the deposit you borrow, seen as you will repay it at the current market rate at the time of selling. Unless you have already paid it off in full. Though, it may be easier to financially plan for future payments versus trying to scrape a deposit together upfront, which is the whole ethos of the Help to Buy scheme.
You can find out more about Deposits & Documentation for contractors here.

To Sum Up
Help to Buy 2021 – 2023 is a scheme for first-time buyers that is currently open for new applications. If you qualify, it will allow you to navigate the hurdle of raising a deposit for a property, by giving you a government loan to cover the cost.
The loan needs to be repaid in full, and you may end up paying back more than you borrowed, especially if the property dramatically increases in value and you sell it before you've paid the loan back.
And remember, this new scheme is only for First Time Buyer's wanting to buy a new build property from a registered homebuilder; eligible first-time buyers were able to reserve their homes from mid-December 2020 and get the keys to move in from 1 April 2021. The new 2021-2023 scheme runs to March 2023.

Author Bio
Aaron Cambden, Fairview Estates
After years working in the property market, Aaron has kept his ear to the ground and stays on top of legislation, laws and any changes within the industry. Offering Estate and lettings services, Fairview Estates is an authoritative source for all things property!
Useful Resources
Whether you want to talk specifics or are just after some general advice, CMME can help. Speak to us today on 01489 223 750 for a completely free, no-obligation mortgage consultation. Or click the button below.