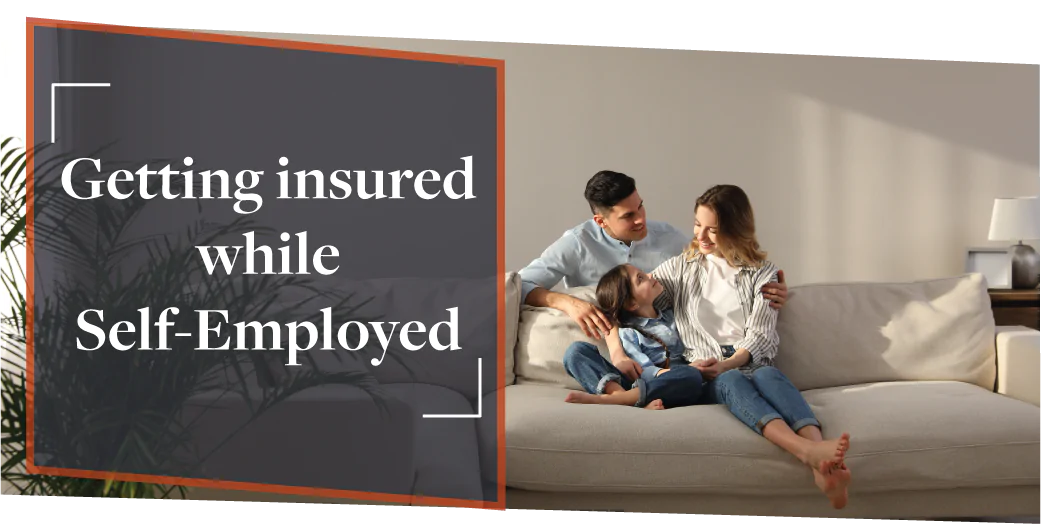 February 21st, 2022
Why do I need personal insurance?
As soon as you've agreed on a mortgage, it's time to start thinking about personal insurance. Should the worst happen and you no longer find yourself able to work, your family and dependents could be left without income security and unable to keep up with repayments.
Despite the risks that unplanned periods without work could cause, more than half (55%) of self-employed workers currently have no income protection insurance. This is despite nearly a third of self-employed workers feeling worried about what could happen if they can't work.
Getting insured as a self-employed professional can be tricky, but it doesn't need to be. Here's what you need to know about getting insured.

Can I claim personal insurance as a self-employed worker?
Nearly half of self-employed professionals mistakenly believe that they aren't eligible for personal insurance protection, so it's important to understand from the outset what kinds of insurance policies are open to you.
If you're concerned about affordability, awareness or confidence when approaching personal insurance, an advisor can help you find a policy that provides as comprehensive or targeted an insurance deal as you need.
Each lender will assess you against criteria, so it's important that you shop around to find the best prices and insurance deals to suit you.

Calculating your risk
We all hear news of a friend or a relative who
is off work for a few months, or
has been diagnosed with a serious illness, or
has unexpectedly died.
It's shocking and all the more difficult to imagine it happening to us.
Using the CMME risk calculator powered by LV you can see your chances of one of the above events happening before your chosen retirement age. The calculator uses population and industry statistics and your personal results are shown as a percentage.
Please remember, these results are only a guide and are not certain to happen. Everyone is different, as are their financial needs. If you are unsure what to do next, speak to a CMME adviser.


What insurance policies are open to you?
Some insurance deals will offer greater levels of coverage, so if you're looking for a more comprehensive level of protection, consider looking more into some of the following policies:
Life insurance ensures that your family is protected in case anything happens to you. If you pass away during the term of your policy, your insurer will pay out an agreed amount to the people you've named as beneficiaries.
Property insurance will help cover your home and all its belongings in case of crisis or misfortune. Whether your home is burgled or is hit by extreme weather, your business can be affected. With the right property insurance policy, you can make sure that your home and possessions are protected.
Equally, there are some other insurance policies that look to offer more targeted support in case of unlikely or worst-case scenarios.
Income protection insurancewill protect you in the unfortunate event that you are unable to work for an extended period of time. A bespoke income protection plan will help you cover up to 60 per cent of your income , helping you keep on top of your normal monthly outgoings.
Nobody can avoid becoming critically ill, but in the unlikely event that it happens to you, a critical illness insurance policy can help cover your costs as well as potentially paying for some of your medical bills.
Thinking about the possibility of falling ill and what it means for your dependents isn't nice, but it's important to consider how your family could be affected if the worst happens. The good news is that there is a range of different policies there to protect you and help you plan for the future.
As a responsible broker, we want to help you plan for the unthinkable, so contact us today and start planning for whatever the future holds.