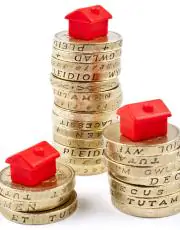 July 18th, 2016
The average asking price of a property throughout England and Wales has fallen by 0.9% according to figures released today by Rightmove.
The average price tag of a home listed on the property website now stands at £307,824, down by £2,647 from June.
Whilst asking prices have stuttered somewhat, Rightmove says it usually expects a drop of 0.4% in July, as many prospective buyers and sellers take time away. Backing up this footnote for July's drop in prices, it revealed that year-on-year prices have risen 4.5%, compared to the same month in 2015.
"With the onset of the summer holiday season, new sellers typically price more conservatively and the average drop in the month of July is 0.4 per cent over the last six years" said Rightmove director Miles Shipside.
"Perhaps unsurprisingly this July's fall is marginally larger, as political turbulence has a track record of unsettling sentiment." "The summary so far based on two weeks of post-Brexit-vote statistics is that the housing market remains steady, underpinned by the same fundamentals that have led to its recovery since the last downturn."
Rightmove said that buyer demand in the immediate aftermath of June 23rd's referendum vote was consistent with 2014 levels, though down 16% from 2015, which in turn was somewhat artificially inflated with the Conservative election victory in May.
The result of June's EU referendum could have a dramatic impact on London house prices, according to one industry expert. "With the recent fall in the value of sterling, property in the capital is around 10% cheaper for those buying in dollars, and considerably more for those with euros" said Taj Kang, Business Development Director at Contractor Mortgages Made Easy.
"Brexit will damage the UK economy, with some companies almost certain to have to relocate sections of their business in order to retain access to the EU single market."
Britain's decision to leave the European Union has caused turbulence throughout the world's financial markets, triggering political chaos in Britain, and causing the pound to tumble.
The Royal Institute of Chartered Surveyors suggested on Thursday that uncertainty fuelled by Brexit had caused a "marked drop" in activity in the housing market, causing projected sales volumes to dwindle.
Article By: Jon Hatfield, Senior Mortgage Consultant at Contractor Mortgages Made Easy
Media Contact: Sarah Middleton, Public Relations Manager
Tel: 01489 555 080 
Email: sarah.middleton@contractormortgagesuk.com