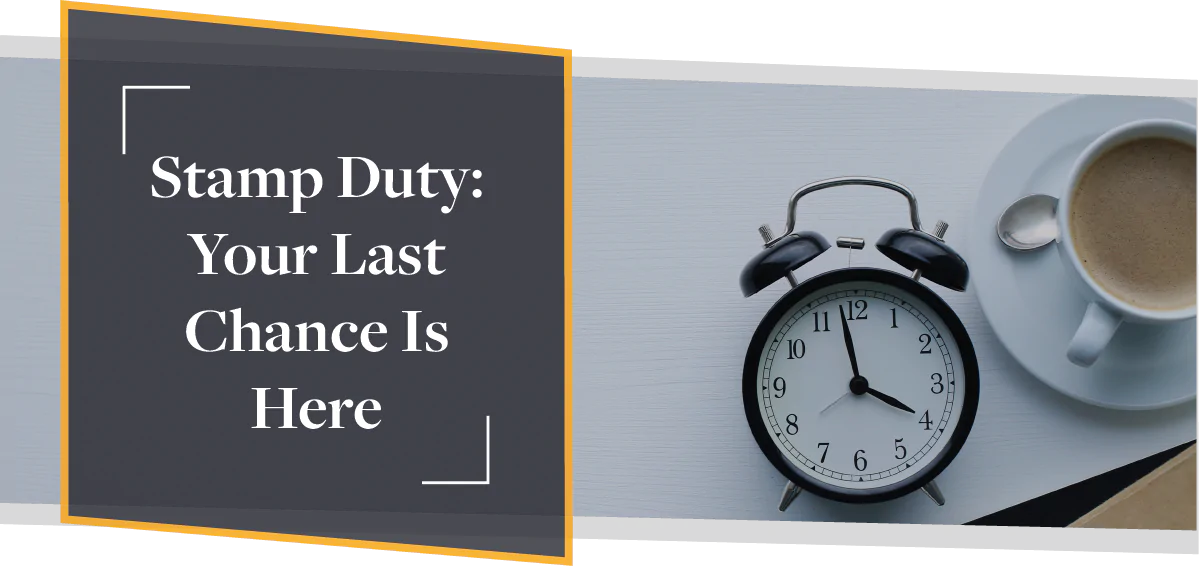 January 26th, 2021
Stamp Duty Holiday Due To End March 2021
Following the March 2020 lockdown, Chancellor Rishi Sunak implemented a holiday on Stamp Duty Land Tax for home buyers up to a certain threshold. Stamp duty land tax is one of the various costs that home buyers ordinarily need to account for when buying a home, however, with the current stamp duty exemption buyers can stretch their cash further and get more house for their money.

There's Only 68 Days Until 31st March 2021
To take advantage of the current stamp duty holiday, you need to complete on your property purchase on or before 31st March 2021.
Though time is getting tighter every day, it may still be possible for you to still meet the deadline.

What Is The Stamp Duty Holiday?
The idea behind the threshold change was to stimulate a market that had reached a standstill involuntarily in response to COVID-19. And it has worked.
Many homebuyers have benefited from the additional savings over the last year which increase exponentially based on the cost of the house.
Realistically, potential homebuyers wishing to take advantage of the Stamp Duty holiday should act quickly as the house purchase needs to be completed by this end date in order to be included within the holiday.
Here's a breakdown of the Stamp Duty changes within the brackets:
Property price
Previous stamp duty bill
Revised stamp duty bill
Stamp duty saving
 £0k –

£200k

£0.5k – £1.5k
£0
£0.5k – £1.5k
£200k – £250k
£1.5k – £2.5k
£0
£1.5k – £2.5k
£250k – £300k
£2.5k – £5k
£0
£2.5k – £5k
£300k – £350k
£5k – £7.5k
£0
£5k – £7.5k
£350k – £400k
£7.5k – £10k
£0
£7.5k – £10k
£400k – £450k
£10k – £12.5k
£0
£10k – £12.5k
£450k – £500k
£12.5k – £15k
£0
£12.5k – £15k
£500k – £925k
£15k – £36.3k
£0 – £21.3k
£15k
You can find out more about the Stamp Duty holiday in our recent article here or on the government's official website here.


Are They Going to Extend The Holiday?
The Chancellor is facing pressure ahead of the deadline to extend the holiday to Stamp Duty to maintain the buoyancy of the UK housing market's as the pandemic continues.
At present, homebuyers who hesitate on their mortgage plans risk losing out as the number of days left to benefit from the holiday are running out – whether this pressure will impact the chancellor's decision cannot yet be said though it is certainly something that should be considered ahead of the next budget discussion.


How Can You Speed Up The Process Of Getting A Mortgage?
 1. Have Your Deposit Ready To Go
One of the biggest hurdles with any house purchase, particularly in the wake of the reduction of high Loan To Value (LTV) mortgages – though these have now started to return – is having your deposit ready to go.
If you're looking for the lowest interest rates or for a lender to bend their lending criteria, a deposit of 25-30 percent will usually provide access to the most favourable terms.
Get your deposit ready as soon as possible to expedite your mortgage process.
Check out CMME's Ask the Expert: Deposits & Documents
2. Speak To Your Estate Agent To Manage Expectations
With the Stamp Duty holiday savings, time is of the essence. Speak to your estate agent about this and get a realistic idea of whether the process is likely to allow this. If you're in a chain with your house purchase, even small things out of your control could delay the process up.
If you're banking on stamp duty holiday savings, have a chat with your estate agent before you commit to make sure everyone in the chain is on the same page about moving things along quickly.
3. Be Prompt With Returning Any Documents Required
It's a good idea to make a checklist of any documents you may need to provide to your mortgage broker or estate agent and have a secure folder where all your documents can be kept. If any issues do crop up, be proactive in resolving them so that it doesn't hold up another part of the process.
You will need to provide minimal documentation to support your application. Ensure your CV is up to date as it will be used to prove your skills and experience.
You will also need to obtain a copy of your current contract as this will be used to demonstrate your earnings. Using both of these documents we can avoid any issues to do with affordability.
As well as this, you will need to provide the usual ID and proof of address which will typically constitute some photographic ID like a valid passport or driving license and a bank statement, utility bill or council tax bill for proof of address.
4. Arrange A Mover
Sometimes the moving part of moving can be a bigger issue than you'd think. From do-it-yourself to family help to move to a professional mover – your options here will present varying costs and degrees of effort required on your part.
If you decide to hire a professional – get quotes and availability from different companies in advance so you are ready to book them on exchange.
 5. Be Proactive  
Ask your mortgage advisor and estate agent what to expect next and if there's anything you can be doing to speed things along.
You can't go wrong with keeping in touch with everyone involved.

In Summary:
The Stamp Duty holiday is coming to an end – and soon – unless anything changes, we should assume that the March 2021 end date will hold. Thus, if you're looking to take advantage of the potential savings associated, you should begin to action your mortgage plans as soon as possible.
Remember, your mortgage needs to be completed by 31st March 2021 in order to save.

Useful Resources  
Six Simple Steps To Secure A Mortgage In 2021 | CMME
Progressing Your Mortgage Plans Amid Lockdown 3 | CMME
2021: The Year Ahead For Contractors | CMME
Whether you want to talk specifics or are just after some general advice, CMME can help. Speak to us today on 01489 223 750 for a completely free, no-obligation mortgage consultation. Or click the button below.