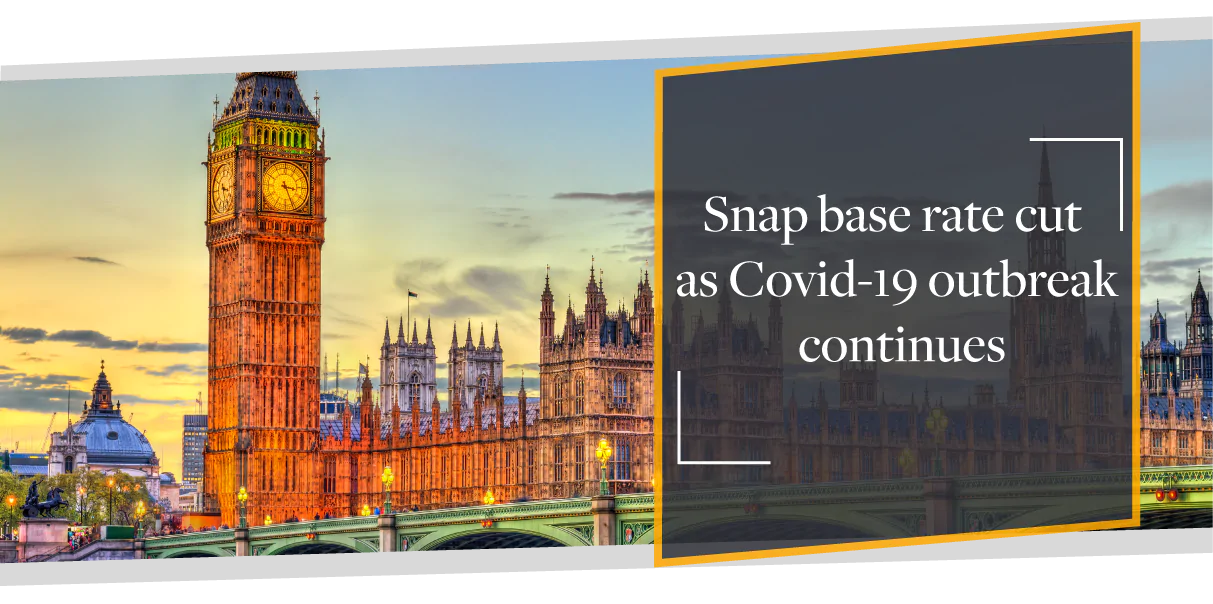 March 11th, 2020
On what is now being dubbed "Black Monday" by some market observers, the economic impact of Covid-19 became irrefutably evident. As international stock exchanges felt the brunt of sudden investor panic, considerable losses were made. Various major UK companies lost around £125bn in value at the close of trading, mirroring the results seen across Europe and the US causing a base rate cut of mortgage rates.
Such significant losses had already raised the stakes for the first UK budget since October 2018, providing the Government and recently promoted Chancellor Rishi Sunak to make their mark. Seemingly pre-empting an approach to safeguarding a UK economy that has been struggling back to a position of strength after a challenging year in 2019, the Bank of England took the unprecedented decision to cut the UK base rate by 0.5%, from 0.75% to 0.25% per cent on Tuesday.
Maximum Impact for the budget
While citing a rapid decline in trading conditions and reductions on non-essential items, the outgoing governor of the Bank of England, Mark Carney, stated that "The Bank of England's role is to help UK businesses and households manage through an economic shock that could prove large and sharp, but should be temporary." He noted that by linking the base rate cut to the Chancellor's budget, the steps would provide "maximum impact" to support the UK economy.

Mr Carney remained resolute when questioned on the potential for Covid-19 to create a similar level of economic disruption to the financial crisis of 2008 when the BOE was also forced to make an emergency rate cut. He suggested that "There is no reason for it to be as bad as 2008 if we act as we have, and if there is that targeted support."
You can use our online remortgage calculator to work out your remortgage savings here
From the 1st of April, the 0.5% cut will be passed onto mortgage borrowers with an existing tracker interest rate product. But what is not immediately clear is whether the reduction will be passed onto customers due to take a new interest rate from UK mortgage lenders.
Is this a long-term solution?
Interest rates for borrowing have remained at an all-time low, despite the BOE raising the bank base rate as recently as August 2018. Lenders are already feeling the pinch from an extended period of low-interest rates, but Covid-19 may also play a further part in any decision to attack the mortgage market.
Halifax and BM Solutions, two of the largest contractor-friendly players in the residential and buy to let mortgage sector, closed their Belfast processing centre on 10th of March to complete deep cleaning after a staff member had been diagnosed with Covid-19. It is worth noting if you are worried about Coronavirus then you should consult with the NHS website 
A view from CMME
Simon Butler, Head of Mortgages for CMME noted, "Widescale interest rate reductions would put considerable strain on these businesses during this period. While there is no clear indication when they will be able to move back onto the site, this will have an impact on lending decisions."

Simon also noted that the impact of forced reductions to existing tracker rates will prompt lenders to balance the books elsewhere. He commented: "HSBC has today confirmed that they will pass the 0.5% saving onto customers with a tracker product, while in the same press release, they also confirmed they will be increasing many of their 2- and 5-year fixed products."