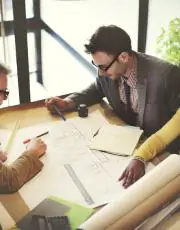 August 12th, 2016
There is currently a huge demand for housing in the UK especially in and around the cities such a London and Manchester. This has had a big knock on effect to many contractors looking to purchase their first home or looking to upsize.  Even the higher earning contractor is starting to be priced out of the market. These over inflated prices are causing people to consider building their own home to escape the fast moving market.
Self-build mortgages are still in their infancy, but are becoming much more popular as it allows a contractor to design and build their own bespoke home without the need for compromise on specification and lay out.
Self-Build mortgages require a good size deposit, as nearly all the lenders will only loan you up to 75% of the plot value and 75% of the build cost. The money is released in stages as the build progresses and funds can be used to buy the land itself.
Foundations and groundwork
Walls/brick finished
Roof
Wind and watertight
'First fix' – cabling and pipes, internal walls, ceilings and plastering
'Second fix' – fixtures and fittings, bathrooms and kitchen complete
Completion of the build
Once built, the average Self-Build will have 75% of the mortgage outstanding. This will then leave you free to remortgage and take advantage of current record low interest rates.
The term 'Self-build' does not only apply to brand new builds, but to also include commercial properties, dilapidated buildings and properties that could be turned into residential homes. Or people planning on knocking down old properties and building a new one in its place.
Taking the developer out of the equation can also mean you'll be saving on costs as their profit margin is not taken into account. There is nothing stopping you rolling your sleeves up and doing some of the work as long as the property is signed off by the building inspector and comes with one of the National housing certificates such as NHBC.
When working out the cost of your Self-Build there are some important factors that need to be considered:
The cost of buying the land
The fees for professionals, including Architects, Consultants, Bricklayers, Engineers, Plumbers etc.
Surveyor and Solicitor fees
Borrowing costs (i.e. mortgage set up and repayment figures)
Insurance
The self-build mortgage is potentially a viable option for contractors but specialist professional mortgage advice is essential to give you the best chance of success.
Article by: Jon Hatfield, Senior Mortgage Consultant at Contractor Mortgages Made Easy
Media Contact: Sarah Middleton, Public Relations Manager
Tel: 01489 555 080
Email: media@contractormortgagesuk.com