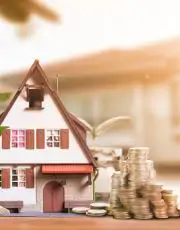 March 28th, 2017
Getting on to the housing ladder is a cherished ambition for contractors, but many – especially those who are new to contracting – dismiss the idea of house purchase and opt to rent.
But if you aspire to be a first time buyer, then think again. Because when you drill down into the cost of renting versus property purchase, you'll be pleasantly surprised.
According to estate agency group Savills, latest forecasts show rental growth will be stronger than house price growth both in the short-term and over a five year forecast period.
And the predicted growth in rents isn't small; from now until 2021, average rents are forecast to rise by a total of 19% – and by 24.5% in London, where access to home ownership is most difficult.
By contrast, the five year growth forecast for house prices is an average of 13% by 2021 (with the East of England the top performer at 19%).
This gap will be even more pronounced in London, where rents are predicted to rise by 24.5%, and house prices by 10.9%.
JLL, another estate agency group, has come up with similar figures. It predicts a 17.6% increase in rents across the UK by 2021, with London rents rising 19.9%, far outstripping predicted rates of inflation.
Why are rents rising faster than house prices?
According to Savills, one reason is "post-referendum economic uncertainty". In other words, the fall out of Brexit.
A second factor is the effect of the increase in the rate of stamp duty on second homes, which came in last April. Figures from the Council of Mortgage Lenders (CML) show the number of mortgages taken out by landlords buying new properties plummeted during April 2016.
From April this year, there are further changes to tax relief for landlords, with the amount of Income Tax relief landlords can claim on residential property finance costs being restricted to the basic rate of tax.
These disincentives to investing in buy-to-let are restricting the growth of the rental market – a simple case of a squeeze in supply, with increasing demand, leading to rent rises.
Can I afford a mortgage? Rent versus purchase
If you choose to rent, what can you expect to pay? Figures from the Valuation Office Agency, show the average monthly rent from October 2015 to September 2016 in England was £650. London had the highest average monthly rent at £1,473, and the North East had the lowest at £480.
Here's a typical example:
Take a property in London valued at £325,000. If you take out a two-year fixed mortgage, with a deposit of £16,250 it would cost you £901 a month. Over five years the property should increase in value to £342,403, giving you equity of £84,739.
Compare this to renting a similar property in London at £997 per month, increasing to £1241 over five years.
We'd argue that a mortgage may well be the more cost effective option and you are also on the property ladder.
You don't even need a large deposit – there are lenders who offer 95% loan to value ratio. In fact, with a Barclays family spring board mortgage you don't need a deposit at all, so long as a relative can provide 10% of the property's price as security.
If you're a first time buyer contractor who is renting and wants to get on the property ladder, or if you are living in the family home and are weighing up renting versus property purchase, just get in touch with the team for some help and advice.
Representative Example:
23 years would require 24 payments of £1,560.62 followed by 276 payments of £1,738.25 The total amount payable would be £517,696.88 made up of the loan amount plus interest. The overall cost for comparison is 4.60% APRC representative.
Media Contact: Sarah Middleton, Public Relations Manager
Tel: 01489 555 080
Email: media@contractormortgagesuk.com