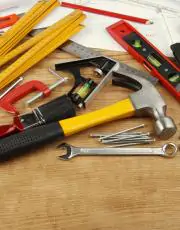 March 31st, 2017
Moving house can be a daunting prospect. But staying put can be equally challenging, particularly if you need, or want, to do some extensive renovations to make your house a home.
Deciding whether to remain where you are – perhaps, if you're into DIY, doing some home improvements – or to up sticks, is the type of decision being made by contractors, freelancers and self-employed homeowners up and down the country, every day.
And what better time to think about it than in spring, when people get itchy feet and turn their attention to moving or to renovating their house?
So whether you are heading out to property viewings or looking at interior design options and ideas, here is our essential guide to making up your mind.
Stay or go – should you move house?
First, what sort of contractor or freelancer are you? Are you a serial home-mover, the type of person who likes to relocate every couple of years? Are you a keen renovator, who likes to have a new bathroom or kitchen in the latest mode? Or do you go further with your improvements, and plump for completely doing up a house and, perhaps, extending it?
It's likely you'll already have a gut feeling of whether to stay or move, but to help you decide, write a list of all the pros and cons of moving versus staying. Include things like:
Availability of good schools
What space you need
Location
The current and projected value of your property
What amenities there are in the area
The commute to your likely workplace
The views of your family and friends
Your children's friendships
Finally, but perhaps most importantly: do you have the budget to move or would staying be more economical?
A report in the Daily Mail in December 2015, based on research by insurer Aviva, pointed out that people fail to take into account the full cost of a move. While they are aware of having to budget for things like solicitors' fees and Stamp Duty, they don't factor in redecoration, repairs and renovation.
According to the survey, on average new homeowners spend more than £10,000 doing up their property in the first year – with one in five paying for the renovations on their credit card.
That equates to an annual first-year home makeover cost of £6.8billion, based on the near-670,000 moves that happen each year.
So, if you are going to move, make sure you have the funds. Equally, if you're staying but planning renovations you need enough to pay for them.
Extending your contractor mortgage could be one way to boost your funds. Have a chat with the team here at Contractor Mortgages Made Easy, and we can help you go through your options.
Only you can answer the question "should I stay or should I go", but doing some careful planning, and exploring your finance options, will help you make up your mind.
Media Contact: Sarah Middleton, Public Relations Manager
Tel: 01489 555 080
Email: media@contractormortgagesuk.com