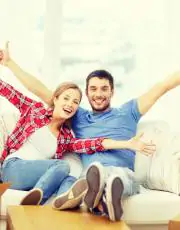 October 4th, 2016
First time buyers in the UK are able to choose from a far wider range of record low mortgage deals since the result of Brexit in June.
Research by Which? Mortgage Advisers found that the number of mortgages on offer increased by 13% since the 24th June, with around 5,366 mortgage deals available at the end of September, compared to 4,736 in June.
Which? also recorded the average rate of mortgages on offer had fallen from 2.99% to 2.85% from June to September respectively.
Rise in first time buyer deals
Despite fears of economic downturn leading to increased inflation leaving mortgages more expensive, rates have actually become cheaper following the Bank of England's decision to cut the base rate in August.
In September, the deals available to first time buyers with a 5% deposit rose by seven to 245, and the number of mortgages available for 80% loan-to-value also increased from 516 in June to 609 in September.
The average interest rate on a 95% mortgages for first-time buyers dropped by 0.13% to 4.14%.
Existing homeowners and remortgagers are also seeing more options available, with the number of 60% loan-to-value deals increasing from 345 in June to 421 in September, with the interest rate dropping to an average of 2.23% (0.07% lower than pre-Brexit).
Tracker mortgages vs. fixed-rate mortgages
With an expected rate drop in November, an increase in the Bank of England's base rate is unlikely any time soon, so if you are looking for a property or remortgaging then this could make a tracker mortgage more of an option.
However, Which? Have found that tracker mortgage rates have increased by 0.05% since the referendum to an average of 2.23%.
Fixed rate mortgages though have slightly higher average rates at 2.84%, giving you the stability of knowing that your payments won't increase for the duration of the term.
What about house prices?
Although it is still too early to tell the full effect of Brexit on house prices, there hasn't been a significant fall, as some experts indicated could happen. And although some regions in the UK have seen small decreases, nationally prices remain stable.
David Blake, principal adviser at Which? Mortgage Advisers, said: "Lower interest rates and an increase in the number of mortgages on the market is excellent news for house hunters.
"In a complex property market it's important to get yourself into the best possible position before applying for a mortgage.
"Seeking independent advice from a reputable mortgage adviser can help with this and ensure you get the best possible mortgage deal."
Article by: Amy Adams, Marketing Executive at Contractor Mortgages Made Easy
Media Contact: Sarah Middleton, Public Relations Manager
Tel: 01489 555 080
Email: media@contractormortgagesuk.com