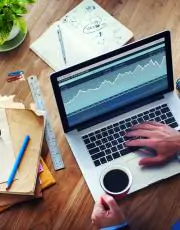 February 24th, 2017
A lot of us will remember how complex it used to be to try and invest money through various Investments and ISAS, and the small forest of trees that were needed to supply the paper work that would be sent by providers to try and explain to us what was happening with our money.
For those of us brave enough to open these letters and read the 15-page report that we had been sent, would more often than not still be unclear on what has actually been happening with their hard earned pennies. And this is all before you have begun to think about the various old pensions that you have spread across a lifetime worth of employers.
So, what is the answer to this 'deforestation', and equally as important, how can managing our investments be made easier?
The answer came as part of the wider Retail Distribution Review (RDR), specifically Online Investment platforms. These platforms are quickly becoming a 'one stop shop' for your investments.
With a platform, you remove the need to hold investments with differing providers, making administration of your investments a lot easier. It also gives you the ability to move funds between the various wrappers that you have nearly hassle free.
So, what can you hold on a platform?
Your Pension (SIPP)
Stocks and Shares ISA
General Investment Account
Investment Bond
This list is not comprehensive, but as you can imagine, having your main investments held in one place, with the ability to move them much more easily, could be quite substantially beneficial. Not only will it remove the need to try and track various investments with differing providers, it can also make the administration of the funds easier. And in holding your investments on one platform, you will normally find that you benefit from a reduction in cost of the platform itself, as the cost is normally linked to the fund value held on the platform.
Alongside the immediate benefits, you will also find that planning for your retirement can become much easier, as a lot of these platforms will provide you with a retirement planning tool, which given that you can see your investments in one place, will make future planning simpler. On top of this, in keeping with the rise of technology you would also be able to see the physical movements in your investments at your fingertips, removing the need to read a large confusing report, and of course, who doesn't like seeing how much their money is hopefully growing.
So, if you think this sounds like a good option, and the thought of saving a forest and seeing your investments grow appeals, then please contact us at Contractor Wealth and let us see if we can plant your investments in to a platform for you, and make your future planning much easier to understand.
The value of investments may fall as well as rise and past performance is not a guide to future returns.
Financial advice is given by Contractor Wealth Management Limited which is an appointed representative of Intrinsic Mortgage Planning Limited and of Intrinsic Financial Planning Limited who are authorised and regulated by the Financial Conduct Authority. Intrinsic Financial Planning Limited and Intrinsic Mortgage Planning Limited are entered on the FCA Register (http://www.fca.org.uk/register) under reference 440703 and 440718.
Media Contact: Sarah Middleton, Public Relations Manager
Tel: 01489 555 080
Email: media@contractormortgagesuk.com