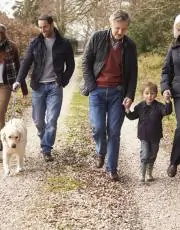 November 11th, 2016
If you are a parent, the health and wellbeing of your children is almost certainly one of the most important factors in your life. Being able to provide your children the best start is a very big driver in why many go to work. You've probably taken certain risks moving into the contractor space to be able to either obtain a higher income or maybe the flexibility to be able to educate them to a high standard or give them the opportunities you never had and to be able to spend more time with them.
For parents, the biggest excitement is watching your children grow and experience new things but also to be able to guide them, offer advice and suggestions so they can start to make their own decisions and shape their future. It can however be worrying to think that one day you may not be there anymore to guide them. The vast majority of people we speak to would describe themselves as fit and healthy and they probably are. The issue is that no one plans to be ill.
If the worst were to happen, and you are survived by your children, the ability to provide for them will almost certainly been taken away.
This is a subject that we always take seriously with clients. Whilst many people plan for their own future through retirement planning, investing into pensions or property etc. they forget about planning for the future of their family. It's an area that most people have not thought about, but after discussions with clients its normally one of the most important areas for them to protect.
One of the lesser known protection options on the market is Family Income Benefit. This plan can provide a monthly income in the event of you suffering a critical illness or because of death to your family over a specified period that you chose. That may be until your children reach a certain age, or your mortgage would have been paid off, for example. It gives you peace of mind, that if you pass away and you're no longer there to be able to guide them, you can still help them financially and ensure you're still providing for and shaping your children's futures.
If you would like to discuss this future, please do contact our expert team on 01489 555 080 or email enquiries@contractormortgagesuk.com
Article by: Simon James, Senior Associate Director at Contractor Mortgages Made Easy
Media Contact: Sarah Middleton, Public Relations Manager
Tel: 01489 555 080
Email: media@contractormortgagesuk.com