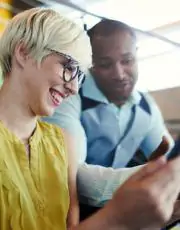 May 9th, 2017
We like to give labels, and there's one for the new group of millennials now moving into the workplace – Generation Z.
These are young people in their late teens, early twenties who are following hot on the heels of Generation Y – those millennials born post 1980.
They are a new generation and they have new outlook on life. They don't want to be tied to one workplace. Many don't want to go to university. They are entrepreneurs, who are increasingly opting for self-employment, freelancing and contracting as a career – indeed there has been a 26% increase in the number of professionals aged 16-29 registering as self-employed over the last eight years.
But this generation of young professionals feels their approach brings its challenges when it comes to homebuying. Entrepreneurial they may be, but few will command the income of older, fellow millennials like Mark Zuckerberg!
This generation of young professionals harbours the belief that home ownerships can't be for them, and renting is the only option.
Are they right? Well, we're glad to say, they're not.
With some research, planning and good advice, home ownership is well within the grasp of the millennial generation, including Generation Z, just as it was for their parents and grandparents.
Getting on the property ladder
Buying a home is a cherished goal of young contractors, freelancers and the self-employed. Sure, renting gives you a roof over your head but once you move on you've nothing to show for all the money you've spent.
One hurdle many young professionals feel they can't overcome is getting together a deposit. But this can be made possible. If you are in a position to ask your parents, there are options out there that will enable them to loan you the money and ensure they receive their money back, with interest, after an agreed length of time.
Government innovations like the Help to Buy ISA and the new Lifetime ISA – or LISA – are also geared towards getting first-time buyers on the property ladder.
We said many millennials are opting not to go to university, but many still do. And this means they are likely to be saddled with a student loan. The temptation may be to pay this off as soon as possible, over and above the required repayment schedule which kicks in when your earnings top £21,000. But don't be hasty. If you have credit card debt, clear this first because lenders will take this debt into account, even if you are on 0% interest repayments. It's hard to believe, but a £1,000 credit card debt could have more negative impact on your chances of getting a mortgage than a £25,000 student loan. Food for thought.
While we are mentioning credit, one area young freelancers overlook is getting a credit footprint. Your credit rating is important, so establishing a footprint – for example by using a credit card and paying it off every month – is one way of achieving this. You can find more information about how to check on your credit rating here.
But your credit score isn't a deal-breaker. Some lenders look beyond this, so selecting a lender carefully is essential.
How to select a lender
Before you pick your lender and your mortgage product, do your homework. There are hundreds of lenders and thousands of products out there, all offering something a little different. The mortgage industry is most definitely not a one size fits all, and whatever you pick will be with you for up to five years.
Better still, ask for professional support to help guide you through. Quick Move Now figures show that 34% of housing transactions fall through. You don't what this to happen, because you could lose the property you are hoping to buy. And – back to credit scores again – being refused a mortgage could adversely affect your score.
If you are a millennial – in particular in Generation Z, a young professional, just starting out on the road as a freelancer, contractor or entrepreneur – the world is your oyster and getting your own house could be just one pearl waiting for you.
Don't be deterred by those who say renting is your only option. With the right advice, support and planning, getting on the housing ladder is just a step away.
Media Contact: Sarah Middleton, Public Relations Manager
Tel: 01489 555 080
Email: media@contractormortgagesuk.com