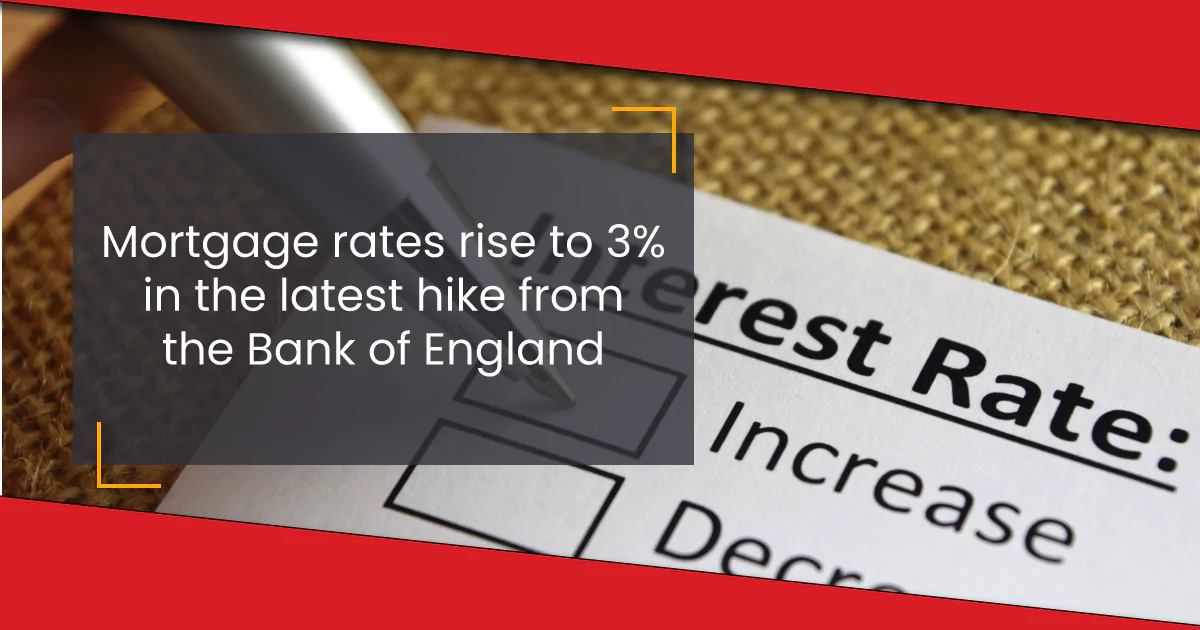 November 3rd, 2022
In the latest announcement from the Bank of England (BoE), UK base rate has been increased to 3%. This is now at the highest level of interest in 14 years. This could mean an increase to millions of monthly homeowners payments.
What has changed with mortgage rates since December 2021?
The first in the string of recent base rate rises happened in mid-December 2021 and saw a rise from 0.1% to today's announcement of 3%. The Bank of England have opted for this tactic in order to curb inflation, which continues to rise.
As of Thursday 3rd November, the base interest rate stands at 3%. This means that mortgage rates are at their highest level since 2008.
What is the mortgage base rate?
It's the rate the Bank of England charges other banks and other lenders when they borrow money and it also impacts savings, as of today it is now 3%. The base rate influences the interest rates that many lenders charge for mortgages, loans and other types of credit they offer people.
Why are mortgage rates rising?
Mortgage rates are climbing because the BoE base rate is rising as the country attempts to fight rapidly increasing inflation.
Factors leading to the UK's current inflation situation include the lasting impacts of the COVID-19 pandemic, supply chain issues relating to Brexit and other supply chain issues stemming from the Russia-Ukraine conflict and subsequent trade embargos.
How will the latest rate rise impact my mortgage?
If you're a mortgage holder, you may be impacted by the latest change.
Tracker mortgages track the base rate, and Standard Variable Rate (SVR) mortgages change with interest rates, so if you have either of these types of mortgages, you're likely to see your monthly payments increasing.
Fixed Rate Mortgage You might not be impacted if you have a fixed rate mortgage, though it's worth paying attention to when that rate ends and what the situation might be at that stage.
Purchase If you're hoping to get a mortgage, the options available to you will be similarly affected. And you may also find that other costs and expenses in your life rise with interest rates.
Simon Butler Head of Mortgages said "While this is worrying times for borrowers, we are urging clients to reach out to us sooner rather than later. We are seeing lenders change their rate offers far more frequently and the earlier you can act, the more certain you can be to lock in a rate for a fixed period of time.
If your mortgage is due for renewal in the next 6 months (This may differ for certain lenders) a CMME mortgage broker can still secure a rate to be executed once your current deal expires, although this is booked in we will still shop around the market to see if a better deal becomes available and action as appropriate"
Keep an eye on our website for the latest information on mortgage rates. And, for help securing a mortgage as a self-employed professional in these tumultuous financial times, don't hesitate to get in touch.
---