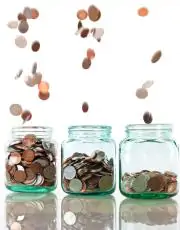 June 28th, 2017
With the Monetary Policy Committee keeping the Bank of England (BoE) base rate at its all-time low of 0.25%, despite three members of the meeting voting in favour of a rise, savers are on the path for more challenging times, not helped by the current political climate.
High street savings rates were historically based around the BoE base rate, but now, banks use it only as a loose guide, with the banks offering anywhere between 0.05% to 1.3%. Given the current rate of inflation riding high at 2.9%, taking up any of these options is going to result in a loss in 'real terms' of your money. This doesn't seem like it is going to change anytime soon, and given the lack of alternative competition, savers are struggling to find a solution where they are not going to suffer for trying to save.
So, what is the solution, and what options do savers have in order to get some real 'bang' for the money they have worked so hard to accumulate?
Utilise the markets – whether it is long term savings in the form of a pension, with many tax advantages and the potential for real growth, or fulfilling a shorter-term goal with a Stocks and Shares ISA, again with gains free from capital gains tax and more accessibility, the markets are still one of the few places that a saver can realistically expect to get some real returns on their savings.
Venture Capital Trusts (VCT's) – albeit very high-risk investments, if you see yourself as a Peter Jones, then you could try investing money in start-up companies that aren't generally listed, and see if you can make your money grow, and in return for taking the risk, you will find that you are being rewarded for the risk with benefits from income tax mitigation.
Buy to Let Property – a very popular form of utilising savings for the past few years, you could always invest in property and look for a rental return on your money, and then hopefully some capital gains if the property market continues to rise as it has done over the years. However, one must bear in mind that there are tax implications when investing in this way, and quite some leg work required too.
Above are just a few different options that people could try in order to see their money grow, but beware, all of these options, and others such as peer to peer lending all come with risk, but to put it frankly, can you really expect to make any money in the current climate without taking risk.
If you would like some professional planning to try and help mitigate the risks you are going to take, and to give you some guidance on turning those pennies in to pounds, then please contact Duncan Craze at Contractor Wealth to see how they could help you.
The value of investments may fall as well as rise and past performance is not a guide to future returns.
Financial advice is given by Contractor Wealth Management Limited. Registered in England and Wales under Company number 07773485 at 9 London Road, Southampton, England, SO15 2AE. Contractor Wealth Management Ltd is authorised and regulated by the Financial Conduct Authority under FCA Register reference 582895 and is an appointed representative of Intrinsic Financial Planning Limited; on the FCA Register under reference 440703 and Intrinsic Mortgage planning Limited as reference 440718.
Media Contact: Sarah Middleton, Public Relations Manager
Tel: 01489 555 080
Email: media@contractormortgagesuk.com