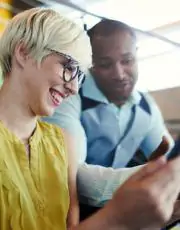 September 21st, 2017
In good news for those trying to get a foot on the property ladder, recent figures indicate that the average price paid by first time buyers dropped by 10% in August.
As the market reaches the end of the slow summer period and the industry looks forward to a rise both in sales and prices, statistics show that first time buyers are at an advantage, despite there being an estimated average of nine buyers chasing each available property.
Though the market in London is prone to huge regional discrepancies, it appears as though the countrywide average has been dragged down by spectacular falls in property prices in some of the capital's more exclusive neighbourhoods. Despite prices rising in the rapidly gentrifying areas around Brixton and Hackney, over the last year decreases of 10.2% and 6.9% have been recorded in Kensington and Chelsea and Camden respectively.
This fall in UK property prices has also been reflected in a more positive outlook amongst first time buyers. Whereas 39% of first time buyers in 2016 believed their first foray into the property market was going to be difficult, only 35% of those asked this year profess the same belief. Similarly, the issue of sky-high pricing is also becoming less prominent. While 37% of those questioned believed prices were a significant hurdle in 2016, only 27% do so in 2017.
However, the number one issue faced by first time buyers remains financing. This may explain why more and more people are depending on specialist lenders to help them through the process of buying a property. At a time when fewer people are earning their livelihoods through traditional working arrangements and more are freelancing or working independently, specialist lenders are playing an important role in ensuring many first time buyers aren't left behind by the banks and other traditional lenders.
With many experts predicting that the UK property market has bottomed out and suggesting prices should begin to rise again soon, now might be the best time for a first time buyer to make a move. This is particularly true of those looking to buy in London, where prices have risen each year for the last six years and the drop in prices we're seeing in some areas is likely to be a temporary phenomenon. Though the current outlook for first time buyers is good, the property market is prone to sudden fluctuations and it's important that those thinking of making their first purchase don't leave it too long.
Media Contact: Sarah Middleton, Digital Marketing Manager
Tel: 01489 555 080
Email: enquiries@cmme.co.uk