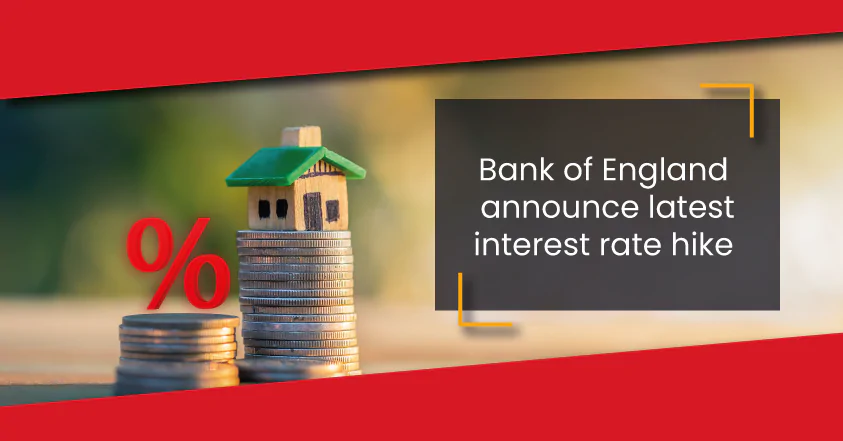 September 22nd, 2022
The announcement following the Bank of England's Monetary Policy Committee's meeting means interest rates on debt and savings will increase – for the eighth time in 10 months.
How will this increase impact borrowers?
The prospect of a base rate rise is not ideal for anyone with debt, such as people with mortgages. Higher interest means what you've borrowed will be more expensive to pay back. For a large debt like a mortgage, even a small increase in the base rate can have a notable impact on your monthly payments.
Amid the cost-of-living crisis, this further rise won't be welcomed by any borrowers. How much your mortgage repayments will increase depends on a few factors, such as your mortgage deal, how much you've borrowed and how much of your mortgage you've already paid off. If you're on a fixed-rate mortgage, you'll remain at your agreed rate until the deal ends.
Will interest rates rise again?
Further interest rate increases are not off the table, with inflation set to rise even further from around 9.8% to as high as 14% by the end of the year. The Telegraph predicts that the base rate could rise to 3.75% by the end of 2022 to try and keep inflation under control.
Since December 2021, the Bank of England has raised the base rate seven times – taking it from an exceptionally low 0.1% to 2.25% announced after today's PMC meeting. Commenting on the issue on Wednesday, PwC economic Hoa Duong explained to the BBC that further rises are likely.
"The size of this package means that the impact of [the base rate increase] on restraining inflation would be limited and multiple hikes are likely in the near future."
Simon Butler Head of Mortgages for CMME Said "This further exacerbates things for the common lender and those looking to purchase for the first time. A lot of companies have been changing rates more frequently in the lead up to the announcement and more are soon to follow.
We are recommending clients who are currently fixed in a mortgage to reach out sooner rather than later. Generally, there is never a bad time to speak about securing a new deal."
Controlling the impact on your mortgage
If your fixed mortgage is set to end in the next six months, we'd strongly recommend looking for your next deal. In fact, it's never too early to explore your options, particularly at a time of such uncertainty. Speaking to a broker will help you review the market and find the best deal for you, whether that's with your current provider or a new one.
Even if you're not so concerned about the base rate increase, looking around for a new deal is an excellent opportunity to raise funds for other important things, such as your wedding, home improvements or debt consolidation. Get in touch with CMME to find out how we can help you find a great rate for you.