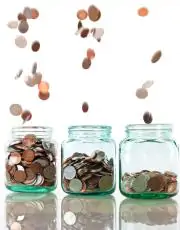 September 21st, 2016
With savings rates across the UK falling after the Bank of England base rate drop to 0.25% in August, savers have never had it so bad. Across the UK Banks and Building Societies have announced rate reductions on many of their savings accounts to their already low rates. With rates so low, savers with a healthy amount of £10,000 in an account awarding the current predominant rate of 0.01% interest will receive only £1 in return over the course of a year. And it doesn't look like there is an end to it any time soon.
A recent analysis of savings accounts from the financial information Moneyfacts.co.uk found that in August over 388 individual cuts were made to savings rates, with just 3 rate rises. That made it the 11th consecutive month of cuts.
Rachel Springall, finance expert at Moneyfacts, said that "savers are clearly facing challenging times", but warns that there could be more bad news to come: "The latest decision to drop the bank base rate and the impact of Government lending initiatives will continue to push rates lower still – there is no end in sight. Providers are lacking an appetite for savers' deposits thanks to these initiatives, which are not likely to be reversed any time soon".
So what can savers do to beat the bleak outlook of interest rates? Well, if you're on the property ladder or looking to remortgage there could be a solution. While rate cuts are bad news for savers, it is good news for mortgage borrowers.
Often overlooked by mortgage hunters, an offset mortgage might be the answer if you want the compromise between lower interest on your mortgage whilst also having easy access to savings. With this mortgage option, you keep your savings in an account that is linked to your mortgage and is used to reduce the amount of the loan you have to pay interest on. For example, if you had a mortgage of £200,000 and savings of £25,000, you would only be charged interest on the difference left: £175,000.
And not only that, many offset mortgages are relatively flexible, with many allowing you to make unlimited over repayments – leaving you able to pay off the mortgage faster (term reduction) and therefore paying less overall.
If you are a contractor you are usually in a good situation to benefit from an offset mortgage. If you have access to savings as well as variations in income; then an offset may be the answer to making your money go further if savings rates in the market are not ideal. Offset mortgage rates are only a few percentage points higher than regular rates currently meaning it is now more of an option to many contractors.
If you are looking for a new mortgage and have a savings account that isn't earning, then contacting a contractor-friendly mortgage consultant to explore whether or not an offset could be for you may be the next step.
Media Contact: Sarah Middleton, Public Relations Manager
Tel: 01489 555 080
Email: media@contractormortgagesuk.com