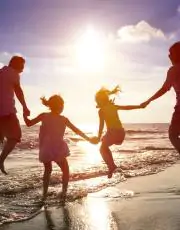 September 13th, 2017
AS THE NEW SCHOOL YEAR KICKS OFF, WE TAKE A LOOK AT THE GENERALLY ACCEPTED NOTION THAT SCHOOLS PLAY A KEY ROLE IN DECIDING LOCAL HOUSE PRICES.
Proximity to local school services is usually one of the first things to be included on an estate agent's sales particulars, often appearing before other important details such as the number of bedrooms, bathrooms, and reception rooms.
The fact that prospective buyers are likely to read about nearby primary and secondary schools even before the number of bedrooms in the property, tells us a great deal about the factors the public consider to be important when buying a home.
But how much more will people pay to live close to a school? What if that school has a strong reputation compared to others in the area? What influence does a good Ofsted rating have on local property values?
Looking at data from the Land Registry, the Department of Education (DoE), and Ofsted, it's possible to identify a link between property prices and proximity to good school services. The Land Registry's database of the 860,000 property transactions recorded in 2016 and 2017 can be used to determine how much houses are being sold for in various areas. This data can then be cross-referenced against DoE and Ofsted databases in order to calculate which schools had been awarded 'outstanding' school status.
Containing over 3,200 schools, these databases provide a large data set to work with and the opportunity to calculate average house prices around those secondary schools deemed 'outstanding.' To measure how proximity affects these prices, the area around the schools was broken and the average house price was calculated for properties one, two, three, four, and five miles from the school.
It's important to note that, in order to ensure its unique geographic and social composition didn't distort findings, London was excluded from the study in order to ensure that findings were meaningful and accurate across the country.
Based on the data, it can be concluded that proximity to an 'outstanding' school has a drastic impact on property prices. Since the beginning of 2016, properties within one mile of 'outstanding' schools have sold at an average 20% more than properties located within one mile of a school that wasn't graded 'outstanding.' Across the country, this equates to a staggering average price premium of £47,000. This difference is even more noticeable when you look at specific property types. For instance, a detached house within one mile of an 'outstanding' school is on average 28% more expensive than a detached house close to a non-outstanding school.
In general, the price premium does decrease as you move further away from an 'outstanding' school. However, this drop-off in prices is markedly less for detached and semi-detached properties, whose buyers are still willing to pay a premium for houses one to two miles from 'outstanding' schools. For detached houses, this translates to a 10% premium or an additional £35,000. For semi-detached houses this means a 7% premium or an additional £14,000.
It's also interesting to note regional variations in price, with the East of England proving particularly expensive for those looking to move within one mile of an 'outstanding school.' With a property in such an area selling for an incredible £117,000 more than a property within a mile of a 'non-outstanding' school, the East's 46% premium is the highest in the UK.
So what does this mean for homeowners and potential buyers? Well, if you currently own a home close to an 'outstanding' school but the kids have flown the nest, now would be a good and potentially lucrative time to sell. On the other hand, if you're searching for a home close to a good school, be prepared to pay quite a premium for the privilege and understand that property type and regional variation can have a big impact on how much you can expect to pay.
Media Contact: Sarah Middleton, Digital Marketing Manager
Tel: 01489 555 080
Email: enquiries@cmme.co.uk