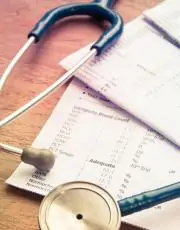 November 10th, 2016
November marks the annual 'Movember' month, where the UK charity campaign heads up the month-long awareness campaign into common men's health problems. From cancer and mental health issues to inactivity, health figures have shown that the UK is unprepared for critical illnesses that are now very much common issues.
According to the Association of British Insurers, although the UK saw 825,000 life insurance policies sold in 2015, only 430,000 critical illness policies were taken out in the same time period. Although many people see life insurance as a 'must have' it is unclear why critical illness is less at the forefront of many people's minds. With figures showing that millions of Britons are undergoing treatment or have previously suffered from a critical illness each year, the issue must be addressed.
Chris Atkinson, head of innovation for Zurich UK Life, comments: "Consumers who do have an option on whether to buy cover, first need to know what critical illness cover (CIC) is and does, and more importantly what it will offer them and their loved ones."*
He says: "Unfortunately, too many people still have an 'it won't happen to me' attitude, whereas reality shows one in three of us are likely to be diagnosed with cancer during our lives."
In 2015, Macmillan published figures showing that over 2.5 million people in the UK were living with cancer and that the number of cancer survivors would increase per decade by around 1 million. This would leave an estimated 4 million people living with some sort of cancer in 2030. Added to that, the British Heart Foundation have previously shown that around 7 million people in the UK are currently fighting cardiovascular diseases and that 515 people are admitted on average every day to a hospital with a heart attack.
These illnesses are now both critical and all too common. Aegon*** also released figures in 2015 that showed cancer accounted for 50% of critical illness claims made by men. And it's not just the older generation that should worry. In 2015, the youngest cancer claimant was just 47 years old.
Taking out a critical illness policy is key to ensuring both yourself and your family are financially secure. Unlike life insurance, a critical illness policy will pay out a tax-free lump sum on the diagnosis of the critical illness, rather than on death. This means that you will be able to clear debts, such as a mortgage, and help take away the stress of your financial health and concentrate on your own personal wellbeing and recovery.
To talk to one of our award-winning protection specialists about critical illness, life insurance and other protection options, please call 01489 555 080.
The Movember Foundation tackles men's health on a global scale, year round. They address some of the biggest health issues faced by men: prostate cancer, testicular cancer, and mental health and suicide prevention. A few of the team at Contractor Mortgages Made Easy are taking part in growing their 'mo's' in support of this fantastic cause.
You can donate to help change the face of men's health here: https://uk.movember.com/team/2268857
Download our free guide to Critical Illness here: https://www.contractormortgagesuk.com/guides/critical-illness-guide
Article by: Amy Adams, Marketing Executive at Contractor Mortgages Made Easy
Media Contact: Sarah Middleton, Public Relations Manager
Tel: 01489 555 080
Email: media@contractormortgagesuk.com
* https://www.ftadviser.com/critical-illness/2016/11/03/reasons-for-poor-take-up-of-critical-illness-cover/
** https://www.ftadviser.com/critical-illness/2016/11/03/reasons-for-poor-take-up-of-critical-illness-cover/?page=2
*** https://www.ftadviser.com/critical-illness/2016/11/07/cancer-claims-on-rise-among-men/?page=1