August 11th, 2015
One of the key pledges made by the Conservatives, during the party's election campaign in May, was to provide funds to aid in the development of unused brownfield lands to produce property for first time buyers. The plan moved forwards this week, as the Government have reportedly set aside a £36m fund to be used to begin the necessary work required to allow the building to begin.
From that sum, £26m will be attributed to allow the locating and purchasing of promising sites, with the remaining £10m set aside for local authorities to further adapt existing brownfield sites for housing development to begin. The Government are keen to push forward the plan, as another key factor in the party election manifesto was the promise that a Conservative government would produce 200,000 new homes in the UK by 2020.
It is expected that the fund will also provide financial aid to improve the quality of newly built property, with monies also being distributed to housing associations, developers and architects to work on the project. A fundamental aspect of the scheme will see the properties being solely offered to first time buyers below the age of 40, with a 20 per cent discount against market values available in every case.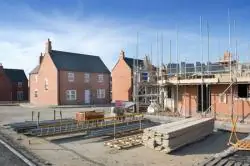 The fund forms part of the new Housing Bill, introduced by the Government in July, to provide a restructure of current regulations to allow the new starter home scheme to begin. As part of the scheme, the Government have set terms out for local councils to adhere to, with the requirement for comprehensive planning to be set out before land is redeveloped.
The bill also requires that land owners release underused brownfield sites to allow development; confirms that, in the Government's words, all 'reasonably sized' housing developments must include a proportion of new starter homes, and additionally brings forward the revised regulation to allow developers to be exempt from development costs such as the Community Infrastructure levy.
Regarding the impetus behind the scheme, the minister for Housing, Brandon Lewis, said: "Helping young people achieve their dream of home ownership is a real priority for this government. We've already helped more than 100,000 households buy a home through our ground-breaking Help to Buy scheme and starter homes are another game-changer."
Espousing the Government's commitment to supporting UK developers, he also claimed that, "This fund will help kick-start that change and show young people across the country the quality they can expect when they buy a starter home. It's further proof that this government's long-term economic plan is on track, supporting the aspirations of hard-working people everywhere."
Article By: Simon Butler, Senior Mortgage Consultant at Contractor Mortgages Made Easy
Media Contact: Raman Kaur, Public Relations Manager
Tel: 01489 555 080
Email: media@contractormortgagesuk.com