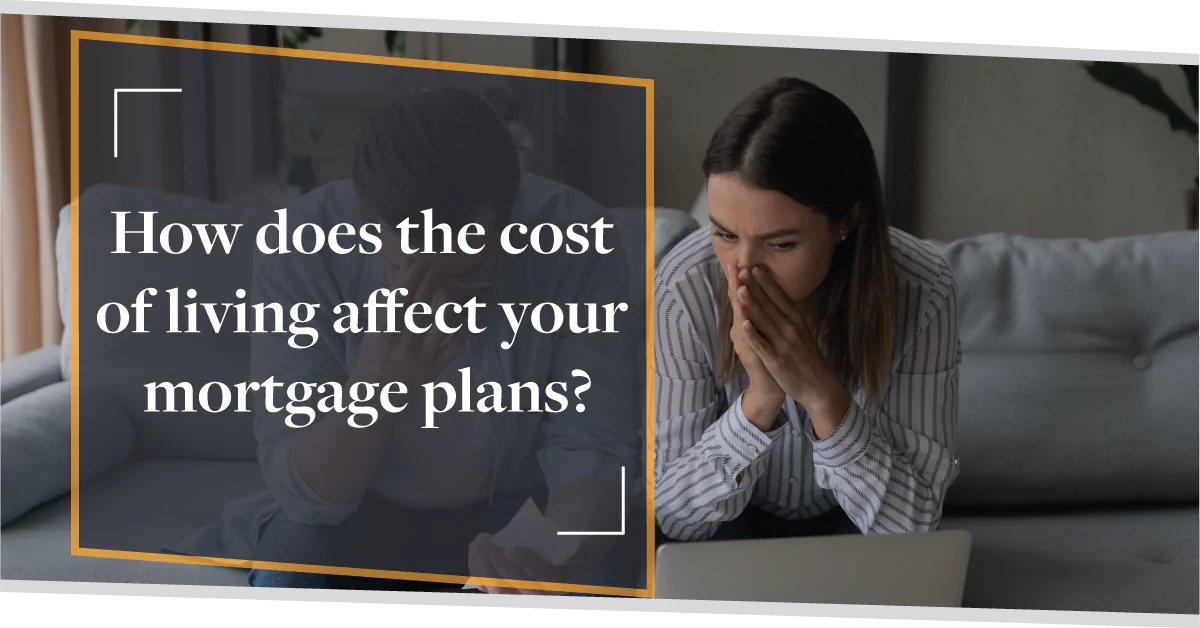 May 10th, 2022
During a cost of living crisis, it's natural to worry about your mortgage (one of the most significant investments most people will make in a lifetime). Read on and find out what impact you can expect the crisis to have.
In the past few years, the people of Britain have been hit with some huge blows in terms of the cost of living, with rapidly rising energy prices marking the latest of these.
We are now officially in a cost of living crisis, and it's an especially uncertain time for self-employed individuals. With this in mind, it makes sense that many people in the same boat as you are worrying about mortgages.
Whether you're self-employed and currently hunting for your first home/attempting to secure a mortgage, or self-employed and already a homeowner with a mortgage to pay, the rising cost of living will impact you. In this guide, we'll explore how, and we'll equip you with all the information you need to handle the adjustments you might have to make.
Understanding the cost of living crisis
In 2022, inflation has continued to increase, with consumer prices 7% higher this March than in March 2021. This is mainly due to strong demand and supply chain bottlenecks and has worsened the cost of living crisis by making everything more expensive.
Energy prices are also contributing to the crisis, as touched on above, and domestic gas prices have increased a dramatic 28%, while domestic electricity prices have gone up 19%. This is due to the rising global demand for gas as pandemic restrictions lift, and energy prices have also been negatively impacted by the Russian invasion of Ukraine. In April 2022, pressures on household budgets soared almost overnight when:
Ofgem increased the energy price cap by 54%
National Insurance increased by 10%
Council tax rose by 3.5%
The income tax threshold was frozen
Water bills rose by 1.7%
Lateral flow tests (LFTs) stopped being offered to the British public for free
As a self-employed individual and business owner, this situation is undeniably stressful and creates uncertainty – both at work and at home.
How will the cost of living crisis impact your mortgage?
If you currently have a mortgage, you might be concerned about how your repayments will be affected. The answer to this question will depend on the type of mortgage you have. If you're currently on a tracker mortgage, you'll likely see your repayment rate continuing to rise with the base rate. Similarly, if you're on another kind of variable rate mortgage, you'll see repayment increases as the cost of living continues to rise.
It's worth considering switching to a fixed mortgage to protect yourself from skyrocketing rates in the coming months, especially if you can do so without incurring a sizable early repayment penalty charge, or ERC as it is also referred to. This is especially important when considered in the context of other rising household bills and fees.
Should you find yourself in financial difficulty, struggling to afford the new costs, it is possible to take a break from your mortgage. Contact your mortgage lender to see whether they offer forbearance, which may take the form of an authorised payment holiday (usually up to three months).
Will the rising cost of living make it harder for you to get a mortgage?
If you're a self-employed person planning to purchase a property in 2022, you're likely worried about how rising costs will affect your ability to get a mortgage. This process is already complex in terms of proving your earnings and demonstrating your eligibility, and the crisis doesn't help simplify things.
Lenders determine whether you can be approved for a mortgage by:
Checking your credit score
Receiving proof of your deposit
Examining your incomings and outgoings
In a cost of living crisis, outgoings increase. From food bills to gas bills, it all adds up to more money heading out of your bank account each month. Lenders are aware of this, and some are already adjusting their lending criteria in line with higher household bills.
So, yes, the rising cost of living might make it harder for you to get a mortgage. But it won't make it impossible or even improbable. It might simply require some readjustment and recalculation.
This could mean setting your sights on a cheaper property – perhaps a project property that can be renovated over time. Or it could just mean increasing your deposit and saving up for longer to reduce that required monthly repayment. To explore all of your options, the best thing you can do is seek professional advice.
Is now a good time to buy a property?
Whether now is a good time to buy or not will ultimately come down to your personal situation and the particular impact of the cost of the living crisis on you. If you decide you're ready to apply for a mortgage and get on the property ladder, spring is generally a great time to start looking, as the availability of properties is normally higher.
It is worth noting that according to some sources there is a potential drop in house prices on the horizon, so you might consider waiting to benefit from this decrease, which The Centre for Economics and Business Research believes could be up to 13%.
If you'd like to start exploring the possibility of a mortgage as a self-employed person, we can help. Reach out to our advisers for professional support and expert advice.