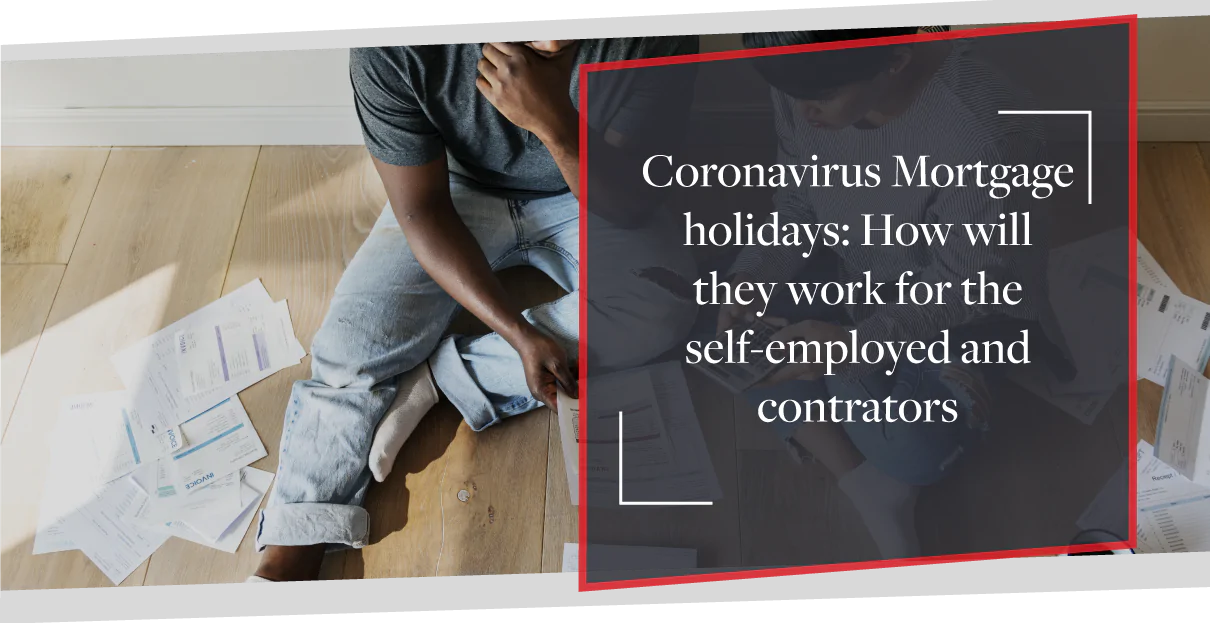 March 31st, 2020
The global economy is facing a period of uncertainty and it's impacting the way we live in every way. This includes the housing market and there are complications surrounding mortgages. To prevent things from escalating further the British government has put measures in place to protect people's mortgages. The biggest precaution to be adjusted to support borrowers is the 'mortgage holiday'. To give you a clearer idea of what it means we're going to tell you how it applies to those who are contractors or self-employed.
What is the mortgage holiday and how does it work?
Due to the coronavirus outbreak, many people's income is being affected and as a result, they are at risk of falling into financial trouble. To prevent this from happening banks have revised their current policy on providing a temporary break on mortgage payments. This has been done to provide relief on what is many people's largest outgoing month to month. The 90-day relief period will be added to the end of the total mortgage terms. These are the general terms, but it will vary from lender to lender, so it's important that you check what your mortgage provider is agreeing to offer.

What are the advantages to the mortgage holiday?
The biggest advantage is the temporary financial break for many people who are facing changes to their work and income. This is particularly beneficial for many contractors and self-employed people who are seeing a big change in their finances. Taking a mortgage holiday will give self-employed people a chance to apply for the government's relief funding too. (This is expected to be received in June 2020.)
What are the disadvantages to the mortgage holiday?
While a financial break is ideal for some, it may not be the best idea for everyone. It has to be evaluated on a case by case basis. It's important to consider factors such as the fact that interest will still be accrued on the overall balance and will still be payable. Mortgage providers are still formulating policy and are trying to find a way to adjust to working from home and with potentially fewer staff due to the coronavirus. This is important to note because many lenders are currently struggling to cope with the volume of calls from customers requesting access to a payment holiday. One of the most important questions to ask your mortgage provider when you do get in contact is whether taking a mortgage holiday will affect your credit rating – this could be the case for many people.

What should you do if you're considering applying for a mortgage holiday?
If you are certain that you want to take the mortgage holiday it's important to talk to your lender in advance. This can prevent it from affecting your credit rating, which is important to consider when working as someone who is self-employed. An additional measure that should be taken is keeping a record of every conversation that is had with your mortgage provider. Doing this would protect your future interests, for example, if you wanted to remortgage in a year or two, as there would be evidence to show that you took a payment holiday and that you didn't miss a payment. You can also reach out to your mortgage provider to see if there is an alternative option available to you that is more beneficial for your individual needs and circumstances. For example, some lenders are offering a three-month interest only payment instead, which is less detrimental to your mortgage in the long term.
If you are looking to remortgage, use our remortgage calculator to give you an idea of your new monthly payments
It's important to approach the idea of a mortgage holiday with an open mind. You should consider your individual circumstances and think about the long-term impact of the different options available to you. It's always best to talk with your mortgage provider so they can tailor the solution to your individual needs and circumstances. The coronavirus outbreak is a rapid, uncertain and ever-changing situation and it's important to keep up to date with how it's impacting your mortgage. Lenders will need to review the mortgage holiday scheme further if the crisis continues into the summer months of 2020.
for more information on the latest coronavirus news stay up to date on the NHS website for the latest details