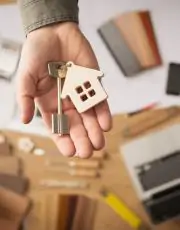 September 1st, 2016
The Governments 'June Quarter' report showed a 6% increase in the number of new homes being built compared to the same period last year. So far for 2016, a total of 139,030 new homes have been built, with more still under construction. But, is this figure good news to those looking to purchase a property and what could it mean to contractors looking to buy?
Although the year's numbers look optimistic, the Government's annual target of 200,000 new homes for 2015 was missed by over 28%, with a total of only 142,890 houses being completed for that year. And although this year has shown great promise, housebuilders expect a slump in completed builds from now until 2017 in the wake of the EU referendum and Brexit aftermath.
Even if the Government target was hit for 2016, Shelter, the UK's national housing charity have suggested that the target needs to be increased to at least 250,000 to solve any housing crisis.
Is self-build the answer?
Although building your own home won't solve the current housing crisis, it does add to more housing for the future and whilst also giving contractors the opportunity to build a custom home to their own specifications.
Simon Butler, Associate Director at Contractor Mortgages Made Easy, commented; "Contractors are seeing that self-build homes are a real possibility now, choosing to build their own home to their requirements."
He added; "Contractors are aware of the risks, but with any self-builder they look at the situation from a long term perspective. Most people build their home for the future, and so short term fluctuations in the market are not usually major deliberations. The main restriction for contractors not being able to build their own home has been mortgage funding limitations. However, this is something that we are able to address, giving contractor would-be self-builders a wide range of funding options and products."
With many options and products available to purchasers, it can be extremely overwhelming to try to find the right deal to suit your circumstances as a contractor. However, our experienced mortgage specialists can help you make sense of every possibility, as well as giving you access to exclusive deals as a contractor.
Article by: Amy Adams, Marketing Executive at Contractor Mortgages Made Easy
Media Contact: Sarah Middleton, Public Relations Manager
Tel: 01489 555 080
Email: media@contractormortgagesuk.com