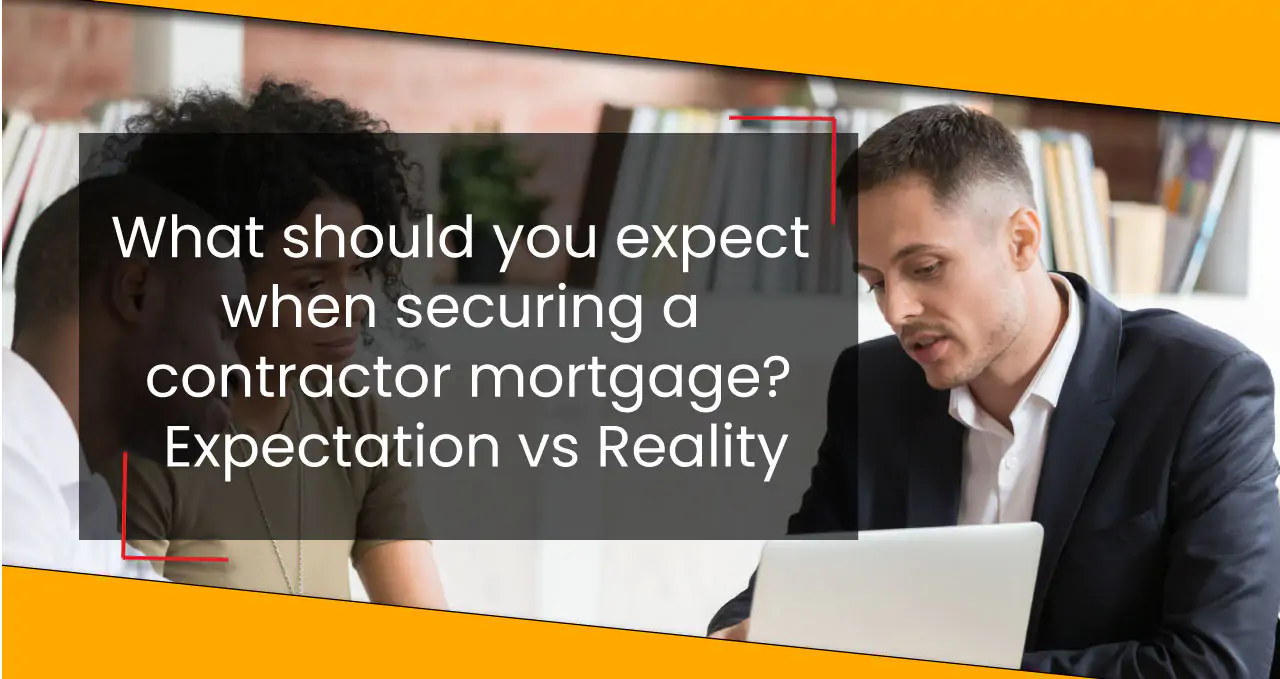 July 8th, 2022
If you're a contractor searching for a mortgage, you might find the process more complicated than you anticipate. Here's everything you need to know to ensure a seamless application process.
In the UK, a growing number of people are self-employed, freelancers or contractors. This way of working can bring many benefits.
People can move away from the typical 9-5, creating a flexible schedule that works for them, leaving time for other commitments, and becoming their own boss. In other ways, it can be stressful and challenging to navigate.
Securing a mortgage as a contractor, for example, is quite different from securing a mortgage as someone in traditional employment.
There are new hoops for contractors to jump through, from needing larger deposits to needing to prove income over several years.
Still, home ownership isn't off the table. With the proper guidance and support, you can cut through the jargon, understand what's required of you and file a contractor mortgage application successfully.
What is a contractor mortgage?
While there isn't a specific "Contractor Mortgage" product per say, it is a mortgage that is secured based on individual contract rates, CV, and contracts rather than just accounts or pay-slips.
Ultimately, it's up to the lender whether they want to offer a mortgage or not on a case-by-case basis.
The definition of a contractor's status will often depend on how they pay income tax, and a range of accordant mortgages are available for:
Self-employed contractors
Fixed-term contractors
Short-term renewable contractors
Agency workers
Umbrella company contractors
Sub-contractors
Professional contractors
Workers on zero-hours contracts
Limited companies
How do I get a contractor mortgage?
In the past, getting a mortgage as a contractor was tough, especially for a first-time buyer. These days, though there's still plenty you need to get right, applications from contractors have a much higher success rate.
If you're hunting for a contractor mortgage right now, the most important thing you need to know is that lenders will often average out your income over the last few years to estimate your income (so that they can then calculate the amount they're willing to lend you).
To facilitate this process and strengthen your chances of being approved, you'll generally need to:
Prove the reliability of your income
Offer up all the documentation and evidence you're asked for (invoices, copies of agreements, SA302 tax calculations, proof of expenses, proof of identity and address, signed accounts, recent bank statements)
Save up a sizeable deposit
Optimise your credit score
Look beyond mainstream brokers and lenders at specialist contractor mortgage providers
As with any applicant, your potential mortgage supplier will consider your age, the length of your mortgage, your property type and more.
As a contractor, you'll find they'll pay extra attention to how long you've worked in your sector, how long you've been a contractor, and how long-term your current contracts are (including studying your contract renewal track record).
Common expectations and assumptions on day one
Beyond contacting an adviser for guidance, plenty of research is the best thing you can do when preparing to apply for a contractor mortgage.
The more you know, the more you can dispel common myths and misconceptions about the process. Here are some expectations and assumptions debunked:
It's really hard to get a mortgage as a contractor – this isn't entirely true. While it won't be as simple as it would be if you had a permanent job role, getting a contractor mortgage is very possible, especially if you have a steady income and a proven track record of work.
You need so many years of self-employed accounts – yes, but only three years in most cases. Plus, as the buying landscape shifts, an increasing number of lenders are considering and accepting applicants with just two years' worth of accounts.
You need a massive deposit – you don't need something ridiculous like 50%, but you might need more than you first anticipated. Some lenders cap the loan-to-value limit at 80-85% for contractors rather than the standard 90-95%, meaning you'll need a deposit of 20-15%.
You'll struggle to secure a joint mortgage – the opposite might actually be true, especially if the other person in your mortgage purchase partnership IS in traditional employment, as this should increase the amount you're approved to borrow.
Preparing for a contractor mortgage can be stressful. If you're seeking help with the application process, please reach out to one of our advisers today for the thoughtful advice and expert guidance.