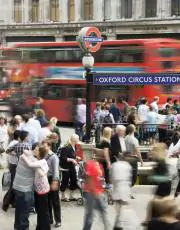 June 15th, 2017
Living in digs is no picnic for contractors. Although it's hoped that rental accommodation has moved on from the days of ITV's comedy Rising Damp, if you're a contractor in digs while it may be a 'home from home', it's just not the same as being at home.
At the same time, living in work digs is an option many contractors choose over the daily commute from their own home, which may be many miles away and involves high travel costs.
Where once the London commute involved coming from no further than Surrey, contractors may now be commuting hundreds of miles. According to a report by the TUC in 2015, the number of people spending more than two hours travelling to and from work every day jumped by 72% over the previous decade to more than 3 million. That's an awful lot of time spent sitting in a car or on a train!
So is there an alternative for a contractor forced to choose between work digs (and living away from home), or a lengthy daily commute?
We believe there is, and it can be a more cost-effective option than both a commute or renting near work, plus it is an investment. We're talking about purchasing a second home.
Contractor mortgages and second homes
The two likely routes to look into: either purchasing a property which is closer to work, where you live in the week and then go back to the family home at weekends; or living near work and purchasing a property as a weekend getaway.
Owning a second home is increasingly popular. Statistics from the 2011 Census show 1,570,228 people in England and Wales said they had a second address in England and Wales outside the local authority of their primary residence, that they used for 30 days or more each year. And of these, 11% classified their second addresses as holiday homes, while 15% used them for student accommodation or for work.
According to a report in the Telegraph in 2016, while coastal locations are naturally popular for those wanting that weekend getaway, London has the highest proportion of second homes, at just over 28%.
And what is interesting about this is that it can be more cost-effective to own a second home in London and pay a mortgage than it can be to rent. Although the average cost of renting in London fell in last year, it is still nearly £1,250. Surely that makes buying a second home an attractive choice for contractors looking to get out of digs or cut the daily commute?
Of course, as a contractor or a professional, you need a certain level of income, but there are many mortgages out there for the purchase of a second home.
If buying a second home is an option you, as a contractor, would like to explore please get in touch with the team at Contractor Mortgages Made Easy for help and advice.
Media Contact: Sarah Middleton, Public Relations Manager
Tel: 01489 555 080
Email: media@contractormortgagesuk.com