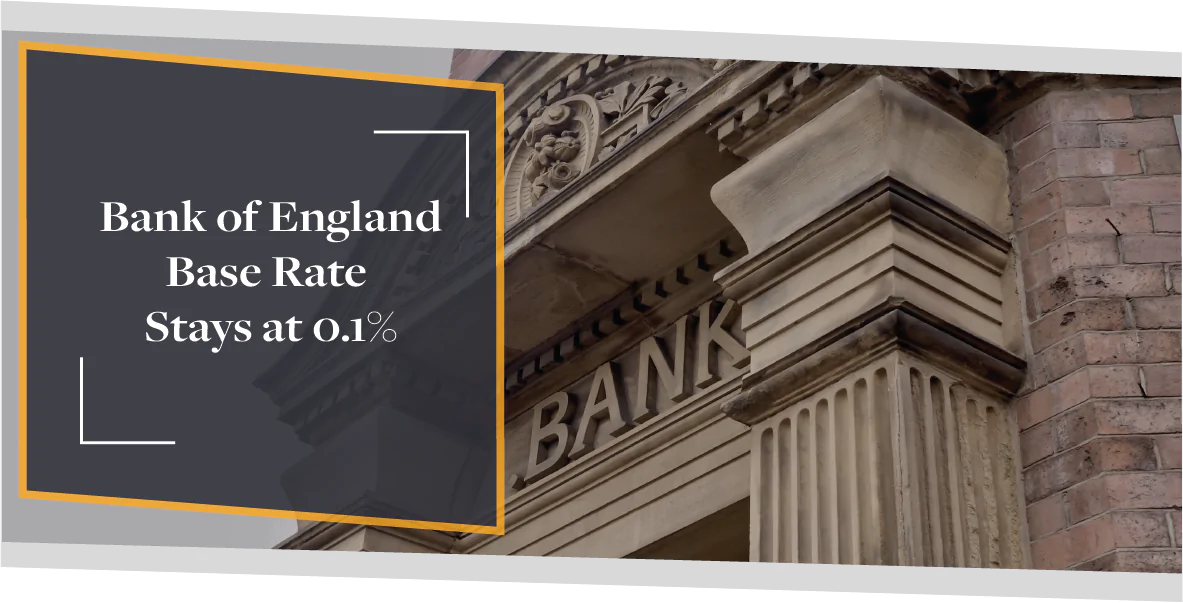 September 17th, 2020
The Bank of England (BoE) announced this morning that the base rate would maintain its position at 0.1% but, what does that mean for homeowners?
In an emergency response to the Coronavirus pandemic, the Bank of England slashed the base rate from 0.75% to 0.25%, and then once further to 0.1% in March 2020, where it remains at a historic low. This was a measure intended to reduce the risk of inflation increasing.
More importantly for homebuyers, the Bank of England base rate affects all loan and mortgage interest rates in the UK. By maintaining the current BoE base rate at 0.1% borrowing is cheaper, but it also means that the returns on savings will be less as well.
The history of the bank rate changes from the Bank of England
Reducing the risk of inflation?
The Bank of England's Monetary Policy Committee (MPC) meet to vote on a number of monetary policies, including the base rate, to discuss how to meet the 2% inflation target set by the government. In doing so they also aim to help sustain growth in the UK economy and employment. In yesterday's meeting the committee voted unanimously to maintain the bank rate at 0.1%. More information about what was discussed in the meeting can be found on the Bank of England website.
Yael Selfin, chief economist at KPMG UK, indicated that low inflation (well below the Bank of England's target of 2.0%) will "Serve to protect households' spending power at times when many are feeling under pressure".
Despite Eat Out to Help Out helping to temporarily reduce the risk of the inflation rate increasing in August and into September, the Bank of England chose to not increase the base rate today as the longer-term outlook remains uncertain.
It is important to note that a small amount of inflation can help to boost economic growth, by encouraging individuals to buy products and thus making it easier for businesses to increase employee wages.
What does that mean if you are a contractor or self-employed and looking to secure mortgage finance?
Is now a good time to get a mortgage then?
Though house prices rose by 2% in August, according to Nationwide Building Society, there are many factors that support considering a review of your current mortgage terms. A low base rate means lenders can continue to offer low-interest rates for borrowers. When accounting for this and the stamp duty holiday, now could also be a great time to consider home buying or property investment.
Simon Butler – Head of Mortgages for CMME said: "Since the lockdown measures have been lifted the property market has seen a return to pre-lockdown levels of activity. Lenders have continued to offer historically low-interest rates in a bid to recapture business lost while the property market was subdued. We expect this to continue while the stamp duty levy continues to be waived into early 2021."
The MPC will meet again to decide the bank rate on November 5th 2020.
CMME can give advice and support to self-employed people and offer bespoke advice on your individual situation. If you would like to know more, contact us today.